In Romans 8:22-23 we find these words:
"…the whole creation groans and labors with birth pangs together until now. Not only that, but we also who have the firstfruits of the Spirit, even we ourselves groan within ourselves, eagerly waiting for the adoption, the redemption of our body." (emphasis added)
For anyone watching today's news, it is easy to see that there is trouble in most every part of our world. The passage of Scripture above is more relevant today than ever—at least since the days of Noah. A good example currently is what is happening on the continent of Australia. Many millions of acres have been burned; in fact, over 65,000 square miles, and close to one billion vertebrate animals have perished. Estimates of a third of the world's koala population has been killed and many species are now on the threshold of extinction—yet for the most part, the fires are still out of control.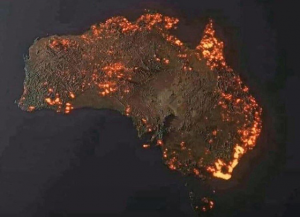 Many parts of our world are suffering with record-breaking storms, floods, famines, pestilences and ravaging diseases. We have on-going wars and the rumors and threats of much greater wars. On top of all this there are now more active volcanoes each single day than we used to have in an entire year. Earthquake fault lines are becoming more active all around the world and new fault lines are forming every day. A very real possibility of not only colossal earthquakes threatening, but the very real possibility of world-wide mega-quakes rob many scientists of their sleep. Even the Solar System which is home to our earth is being affected by exotic cosmic rays, particles, fireballs, waves of energy, and energy pulses. Is Planet Earth groaning? Yes! Is creation groaning? Are people around the world groaning? Yes and Yes!! This might include many of you reading today's Update!
The reason I mention these things is to remind us that no matter what happens in our world, God is always aware and is always in control. Many of you are probably facing your own personal 'earthquake.' We will not understand it all on this side of heaven, but there is a day when we will be given the understanding. Until then, we must continue trusting Him no matter our circumstances. The Psalmist wrote these words:
But You, O LORD, are a shield for me, my glory and the One who lifts up my head! I cried to the LORD with my voice, and He heard me from His holy hill. I lay down and slept. I awoke, for the LORD sustained me. I will not be afraid of ten thousands of people who have set themselves against me all around. Arise, O LORD! Save me, O my God! Psalm 3:3-7
The saga I have written about for months is continuing in the Idlib-Aleppo region. There was a very brief cease-fire, but as usual, it did not last. In spite of the continuing air assaults, bombings, missiles and artillery fire, the House of Blessing missionaries have continued to stay on in the area so as to meet as many needs of the civilian population as possible. 
The last time Pastor R called me, he told me of at least 380,000 people that had to flee once again. HOB missionaries and volunteers always move with the refugees, but that is not an easy thing to do. It is wintertime and scores of those fleeing left without anything but the clothes they wore. They have no shelter from the rain, wind, and snow. As usual, it is the elderly and very young that are lost first. 
The flu continues to be a serious problem. Pastor R said that the flu strain is one that is very hard to beat and shows signs of becoming an epidemic. Many of the people have serious digestive system problems, and thousands are struggling with diarrhea. At the time of his call, at least 1,000 of the HOB missionaries had the flu and were unable to do anything for anyone else. There are many bodies needing to be buried, but there are few well and strong enough to do so. 
The stormy weather has also taken down well over 800 tents. Because so many of the HOB missionaries are down with the flu, they are not healthy enough to help others rebuild their tents as they have over the last few years. 
As for news concerning the growing tension between Iran, its proxies, and other nations, including the U.S., Pastor R said that things are not quieting down. Missiles, rockets, and mortars have not stopped. Iran and its proxies have vowed to run all foreign troops out of the Mideast. Iran also continues to threaten to wipe Israel off the map. Experts are saying that Iran is only months from nuclear breakout, but there are those who dispute this and say that Iran already has nuclear weapons–or has access to them. Regardless if it is true or not, Iran's intent is obvious, and has been for quite some time. When a major war does break out, Israel will be forced to hit their enemies very, very hard. The devastation will be so great, it will affect every nation in the Middle East, and by extension, the rest of the world.
This will of course also greatly affect the House of Blessing. The missionaries are committed to stay in the field, no matter what comes. If there is war, the field of souls will only become riper for harvest. It is an historical fact that times of disaster bring many to their knees when nothing else does. This was the case in the United States when the Trade Tower buildings were brought down on 9/11. In Australia today, many are turning to God to save their country. Even atheists and very secular people have been praying. Many have been shaken awake from their slumber, and many have turned to God. The revival in the United States after 9/11 was relatively short-lived. Hopefully, it lasts longer in Australia. 
It is sad to see that evil in our world is raising its ugly head at an unprecedented rate. Right has become wrong and wrong has become right. The Bible predicted there was a time coming like this right at the end of the Age. The fires, along with historic disasters all around the world are signs that the world at large is heading for a dramatic end-of-the-age showdown between the forces of light and darkness. Unfortunately, the world itself will turn against God and the love and goodness He has offered through His Messiah, Jesus Christ. This same Messiah, the LORD of Lords and KING of Kings is imminently due to return! Are you ready??
Let's pray with great earnestness for the House of Blessing, Pastor R, all of the leadership, and the thousands of HOB missionaries and volunteers. They are facing times of crisis but we serve a prayer-answering GOD! They also need our support. All donations received go exclusively to the missionary work of the House of Blessing. Thank You!
Forever in His Service,
Jake Geier