I have had the opportunity to speak with Pastor R several times in the last few days. He told me about a new challenge being faced in Syria; cholera. To be clear, cholera has been faced before in the Mideast, and the House of Blessing missionaries have had to deal with its effects before. This however is the first time this year.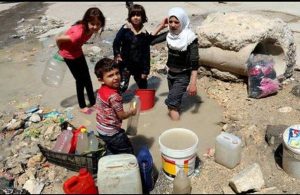 For those that may not be aware, cholera is an acute diarrhoeal infection caused by ingestion of contaminated food or water. It is a disease that can kill within days if not treated. The provision of safe water and sanitation is necessary to prevent and control the transmission of cholera and other waterborne diseases. Severe cases need rapid treatment with intravenous fluids and antibiotics—which is not available in the refugee camps.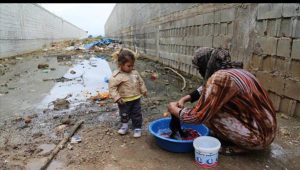 At the end of September, the Syrian ministry of health reported 400 infections and 33 deaths. This number is much higher by now. According to reports I received from Pastor R, there have been quite a number of the HOB community of believers who have become infected, with dozens already having died of the disease. 
At the time of my last contact with Pastor R, cholera had been reported in at least five large refugee camps spanning Syria from Idlib and Halab provinces in northwestern Syria where the cities of Aleppo and Idlib City are located, all the way across to eastern province of Dayr az Zawr located adjacent to the Euphrates River bordering Iraq.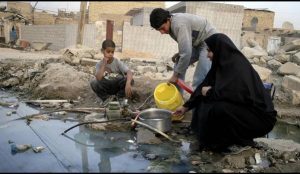 The source of the disease is apparently vegetables that have been grown in soil that was contaminated. The vegetables and grasses were also watered with contaminated water. The House of Blessing, aside from doing everything they can to treat those infected, is arranging to take tractors in order to destroy the contaminated fields. HOB was also able to reach out to new believers who, though quite poor, were able to donate enough to purchase ½ truckload of wheat so the people can prepare at least some food to feed their families.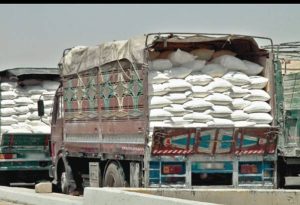 As of September 30, HOB leaders had already reported 120 of their community who had become infected and at least 17 who had died. Just a couple days later reports had already come in telling of 450-500 infected and nearly 70 dead. Cholera is a terrible disease, especially when proper treatment is not available. At last report, the United Nations has not responded to what is happening. 
I received another call from Pastor R two days ago, telling me that a few of the HOB brothers, including Omar, Sami, and Mussa have made arrangements to borrow funds to purchase two more full truckloads of wheat and fresh water to distribute to the people. Of course, regular readers know that the House of Blessing is not just working to help these desperate refugees with food and water, but also the Good News of the Gospel. The missionaries continue to go from tent to tent, sharing the Gospel, answering questions, praying for the people, and leaving them with whatever they can to help, including their Oregano tea mix that has been so effective. The harvest of souls continues in spite of cholera, the Covid 19 virus, the flu, or any other disease found among the refugees. They really need our prayers!
Pastor R continues praying for many people as they come to see him. He also has regular meetings with HOB's leadership so they can discuss the work of the ministry and pray together. 
I mention the Good News of the Gospel often. What is the price of this Good News the missionaries are sharing? As I was reading the parable again in Matthew 13, along with a devotional written by Jonathan Cahn today, I spent some time thinking about the subject this morning. According to the parable, a man found a field containing a priceless treasure. When he inquired about the price of the field, he found that it would cost him everything he owned. The man then sold his possessions and bought the field. Because of his purchase of the land, he now also had possession of the priceless treasure. Question: How much did it cost the man to buy the land? Answer: Everything he had. Question: How much did he pay for the treasure? Our immediate answer may be, 'everything the man had.' But, did he really??  The treasure was clearly priceless, but the land he purchased had an actual price attached to it.. He was able to afford the land, although it cost him everything. The treasure, however, cost him nothing! 
I am sure the reader understands my inference. Quoting Jonathan Cahn, he put it into these words:
"You can never earn or warrant God's blessings, or His salvation, or eternal life. A million years of perfect works couldn't purchase it. It's priceless. And yet it's given freely, apart from any work, undeserved, and solely by the grace of God. That's the treasure. But there's another side to the story. Though the treasure is free, it causes the man to go out and do everything he can, use everything he has, let go of everything he can let go of, and give everything he can give in response to having found the treasure. Salvation is the treasure beyond price and yet given freely to all who freely receive it. But the treasure is so great, that if you truly receive it, if you realize what you have, it will lead you to do everything you can, to use everything you have, and to give everything you can give in response to having found it. If you've truly found this treasure, then it must lead you to love God with all your heart, mind, soul, and strength, and to love others as yourself, to forgive as you have been forgiven, to give as you have been given to, to make your life a gift of love, and to do all this in joy in light of the treasure that has now come into your life. If you've found the treasure that is beyond price and freely given, then live a life that is of the utmost of value and the greatest of worth, and do so freely. This is the way you possess the priceless."
This is the good news that is shared with those who have never heard of such a priceless gift. But, the choice to accept this free "priceless" gift, can be costly in our fallen world. Brother Ibrahim is still grieving the loss of his wonderful wife, three young children, and his mother to ISIS militants who shot them to death, leaving him a message that he is next if he does not stop speaking of Jesus Christ. He needs encouragement, resolve, and strength to go on with his calling. None of us can help him in person, but we can pray…and we must! Thank you. He and his family are just the latest of a very long list who have paid the ultimate price for their faith in Jesus. Only the Lord knows if our turn may still come along! 
Just before I conclude this update, I need to touch on a subject that I had hoped not to have to mention. It has come to my attention that someone, or maybe multiple folks, have been denigrating the ministry of the House of Blessing. Rumors have come to my attention, saying that the ministry of HOB is not a genuine ministry as well as a few other untruths. My own involvement with Pastor R and the House of Blessing has now spanned well over ten years. I have spoken and prayed with Pastor R many hundreds of times during these years, as well as heard countless testimonies of miraculous connections made with HOB by people from all around the world. I have also, on occasion,  had the rare privilege to personally speak with a few of the sheikhs or imams (who could speak English), men who had found the Lord Jesus as their Savior through the ministry of the House of Blessing. One example of these men was Sister Mufiedah's late husband, Nabeel, the night before he was martyred.  It is a terrible disservice to do damage or attempt to destroy a missionary ministry empowered by the Holy Spirit, one that has reached many hundreds of thousands of lost and misguided souls over the 10 1/2 years I've been writing for them. It is also a great insult to the memory of the 5,000++ HOB martyrs during the same period of time. Soon, all of us who are truly followers of Jesus Christ our Messiah will be called HOME into the presence of the One who bled and died for us, but woe to those who attack or attempt damaging God's work. Enough said…
Please continue to pray for the House of Blessing, its leadership, and especially for Pastor R. It is the answers to the prayers of God's people that continues to sustain him. God may not always answer our prayers as we would like, but He always answers those who earnestly pray!
Forever in His Service,
Jake