As I begin today's Update, I would like to draw your attention to a passage in Isaiah:
60 Arise, My people! Let your light shine for all the nations to see! For the glory of the Lord is streaming from you. 61 Darkness as black as night shall cover all the peoples of the earth, but the glory of the Lord will shine from you. Isaiah 60:1-2 (Living Bible)
In today's time of great distress, perplexity, and fear of what is coming about in our world, as foretold by Jesus in Luke 21:25-26, true followers of our coming Messiah and KING have a light to shine in this darkening world. The first chapter of the Gospel John references this light:
4…In Him was life, and the life was the light of men. 5 And the light shines in the darkness, and the darkness did not comprehend it. 6 There was a man sent from God, whose name was John. 7 This man came for a witness, to bear witness of the Light, that all through him might believe. 8 He was not that Light, but was sent to bear witness of that Light. 9 That was the true Light which gives light to every man coming into the world. 10 He was in the world, and the world was made through Him, and the world did not know Him. 11 He came to his own, and His own did not receive him. 12 But as many as received him, in them He gave the right to become children of God, to those who believe in His name. John 1:4-12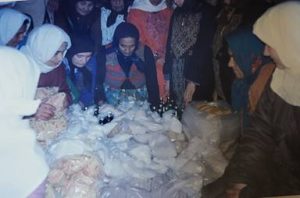 True followers of Jesus have followed the instructions He left for believers 2,000 years ago, telling them to evangelize the world until He returns. This is what the true Church has done. Darkness in this world is nothing new, but as we are now at the very end of the age, the darkness brought on by the powers of evil is becoming suffocating. The intent of the Evil One and his malignant army is to drive humanity to a place of accepting an answer to the world's problems from anyone, even the devil himself. And eventually, that is to whom most people will give their allegiance. Our job as believers is to reach and rescue as many of these as possible before it is too late.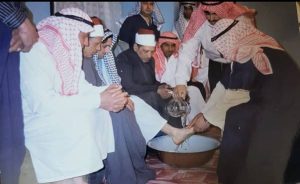 The House of Blessing experienced two extraordinary interventions by the Lord this past week. The first came about when Omar, Sami, and Mussa made a decision to evangelize in a different area. As they were walking, they came across an older man who had injured his feet or ankles and so was unable to walk. They of course offered to help him. They first applied some simple first aid and then picked him up and carried him to his home. This man's name was Ahmmad.
As the brothers talked with Ahmmad, they learned that he was a high-ranking sheikh, or Imam. They asked about his wife and Ahmmad said that she was no longer living. He had one son, named Muhammed, who lived with him. As they continued talking, Omar, Sami, and Mussa began to share a few things with him about Jesus. As Ahmmad showed more and more interest, they continued. Ahmmad said he heard about the prophet Jesus but knew very little about him. He asked if they could tell him more. Of course they didn't need to be asked twice! All three men, in turn, shared with him, as long as they had the sheikh's ear. Finally, Ahmmad said, "I have served for 35 years and taught the teachings of Islam to my followers. Would God forgive me even though I have been teaching such lies all these years? Is forgiveness available for even someone like me?" Omar assured him that the power of the Blood of Jesus to cover sin—any sin—is unmatched. God would not only forgive, but totally remove his sins to where they no longer exist. God would give him a clean heart and a new start.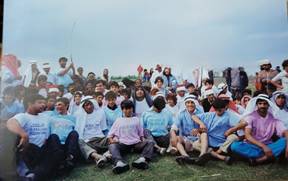 After Ahmmad prayed and gave his heart and life into Jesus' control, his son, Muhammad, also did the same. He also prayed a prayer of repentance.  Then several of their close family and relatives did the same. Then, of course, it was time for a baptism! What a celebration they had! 
Something extraordinary then happened. Ahmmad began to ask questions about the work of the House of Blessing and how the work of the missionaries is carried out. After hearing what HOB is all about, he asked what it is that they needed the most. The brothers explained the enormous task they had taken on in dealing with the cholera epidemic and what they were doing to try and eradicate the problem. Ahmmad asked if he would be allowed to help. They said they would take any help they could get. In their minds they anticipated any small gift of $5, $10, or maybe even $20, and they would be grateful for whatever God provided to help with the project. Ahmmad then excused himself and said he would return in a few minutes. 
The sheikh then went into the back part of his house and opened the floor where he had cash hidden. He had been saving it for the past five years. His plan had been to build a new mosque. Ahmmad then handed the money to the brothers and said, since he had become a follower of Jesus, he now had no desire to build the mosque and would rather put the money to good use helping his people, not only to deal with the cholera plague, but also to share the Good News of the Gospel with them. When Omar and the other two men looked, it was $90,000! Omar, Sami, and Mussa were stunned and speechless. Who other than God could arrange such a miracle, especially in a time of such great need? God's ways are absolutely amazing!
This made it possible for HOB to pay for the materials to complete the last half of the project. Ahmmad's son, Muhammad, and family members then joined the volunteers to help them complete the job. It was a great blessing that God provided this miracle early enough in the season that the work could be completed before the onset of harsh winter weather. Even Ahmmad was able to join in the work because about two hours after Omar, Sami, and Mussa had prayed for healing of his legs, feet, and ankles, he was completely relieved of pain and was beginning to walk again. Praise God!
That was the short version of God's first intervention. Now for the second…
While all of the missionary groups continued moving from tent to tent, sharing the love of God with each family, Omar happened across 18 people who had perished from the cholera epidemic but had not yet been buried. Omar checked them thoroughly and found that all 18 were indeed dead. They had no pulse, and their bodies, not having had any blood circulation, were already cold as ice and lifeless. They were gone. As he started walking away, Omar felt a strong urging to go and pray for them. He ignored it at first but when the feeling persisted, he decided he should go back. Since he knew they were dead, but yet wanting to be obedient to the leading of God's Spirit, he decided to go and pray for only one. As he and those with him prayed over this person; praying both with understandable words and also in the spirit as the Holy Spirit gave them utterance, the dead person stirred, opened his eyes and slowly stood up! That was of course quite a shock to spectators who were watching! But then, since Omar now knew it really was the Holy Spirit he had heard, he went from one person to the next— only one at a time, and prayed the same way. As he and his missionary team prayed, each of the remaining 17 came back to life the same way!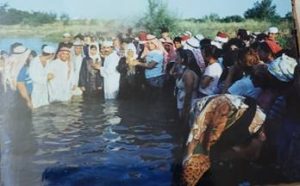 The folks that were raised from the dead were then given water and some nourishment. The HOB missionaries then spent time with each of them explaining what had happened and to share Jesus with each one. Each one was anointed with oil and prayed over for complete healing. They were then baptized in water.  It is now several days later, and all 18 are alive and well and praising God!
Jesus Christ is the same, yesterday, today, and forever! 
The rest of the missionary teams have been continuing the work of evangelism. Because they have had such good success, each missionary team has continued dividing up into groups of two or three and visiting one family tent after another. Each tent is told the Good News of the Gospel and prayed with. Any that are sick are prayed for and supplies of wheat, clean water, and Oregano tea mix are left with them.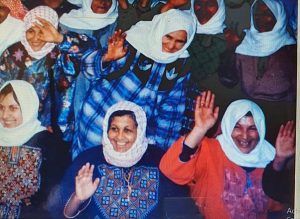 For the sake of brevity, I won't detail each team total but the reports relaying the information indicate nearly 4,000 family tents had been visited. Knowing that families in the Middle East are quite large, this represents a large number of people! The reception to the gospel, as usual, was extraordinary! Another multitude of lost souls was brought into the Kingdom of God! 
Pastor R has been very busy praying for groups of 8, 10, or more at a time who come to him for prayer. He continues to meet with the leadership of the House of Blessing as they share together what God has done and pray for wisdom to know how to proceed in the coming days. Much prayer and fasting goes into these meetings. 
And…God continues to answer!
Just before I conclude, I need to address a difficult issue. For 2,000 years the enemy of our souls has attacked believers and the work of God that they have been called to. It is no different today. It appears some you may have received confusing emails denigrating the ministry of the House of Blessing. I have seen some of these emails, supposedly from 2 or 3 individuals, but I believe they probably come from one source. To us as believers, people are never our enemies but the great Deceiver most certainly is. Jesus said the devil has been a liar from the very beginning. There is a reason why he is called the accuser of the brethren. The enemy is quite upset with stories like those you have just read. I have spoken with Pastor R about this and decided to include this uncomfortable paragraph at the end of today's update. The great harvest of souls is causing great anger within God's enemies but His work will be accomplished, regardless. Please keep all of the House of Blessing in your prayers. They are always under threat, particularly at this time. Pastor R is himself under special threat but God has promised to be a rear guard to those who trust in Him! This promise is found in Isaiah 58:8b.
Please continue to pray for all of the House of Blessing missionaries, their communities of believers, and all of the missionaries and leaders. They depend on your prayers every day!
Forever in His Service,
Jake