As most of you know, I pay close attention to world news. This is nothing new for me, as I have done so most of my adult life. I have however never been more convinced that our world is hurtling into a time like none before it. The confluence of events this year is impossible to miss for anyone watching. Sadly, most in our world have no clue what it all means. One reason for this is due to an aversion for accepting the Word of God for what it literally says. It is just too convenient to explain the difficult passages away as just being symbolic. By doing so, they have exposed those within their influence to an ignorance that will prove deadly, both in the physical world, and potentially also eternally. We are now entering a time in which the predictions found in the Scriptures will be happening in real time right before the eyes of the entire world.   
My intention in this Mideast Update is not to go into a teaching on Bible prophecy. I am however truly troubled by the widespread ignorance on the subject–particularly among so-called followers of Jesus Christ. As I have said so often lately, we are looking at the unfolding of the events of the end of the age as outlined within the book of Revelation. Pastors who are not preparing their congregations for this day and hour will be held accountable for the literal warnings provided in the Word of God by the Author of the Book, Himself. The Apostle James warned with these words:
"My brethren, let not many of you become teachers, knowing that we shall receive a stricter judgment." James 3:1

As I look at a globe above my desk, tracing my finger around its circumference, moving from continent to continent, I think of the reports coming in about war, rumors of war, disease, famine, pestilence, poverty and so much more. Our world is in great trouble, and it will not get better until the Prince of Peace comes to defeat the evil one and restore order. What is unfolding around the globe will not bypass the West. The United States has crossed a threshold that it has never crossed before. No matter what happens with this election, this will not be the same America next week that it is this week.
I believe that God's judgment is descending upon the whole world, and the United States will not escape. In fact, I'm afraid the judgment upon this land may be even more intense than in many other nations of this world. We have been free and have had spiritual light available like no other place on earth. What was once a nation that, in its basic beliefs used Biblical principles as its moral compass, has become a nation that is in wholesale fashion rejecting that compass. As a result, as Romans chapter one makes it so clear, God is giving the nation up to uncleanness because we have exchanged the truth of God for the lie. God has given those who reject His laws over to vile passions. Instead of retaining God in their knowledge, God has given the rejectors over to a debased mind. Right is called wrong and wrong is called right. The preferred has become the unacceptable, and the unacceptable has become the preferred. Deception that Jesus warned about repeatedly 2,000 is here today in full force.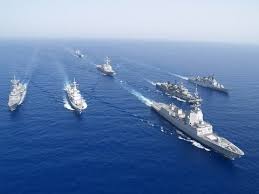 As the United States is having its national elections, the rest of the world is moving ever closer to major wars. The Federation of Russia has moved a contingent of its northern fleet to the Eastern Mediterranean Sea, off the coast of Syria. It is being said that Russia's Vladimir Putin has lost patience with the chaos being caused by the different military groups involved on the ground. He intends to end this conflict once and for all. As we know, Russia is allied with Syria's Bashar al-Assad, and intends to keep Syria from losing control of its own country.
This of course continues to make it very difficulty for the people that are trapped in the middle of the conflict. There is little concern for the lives of the civilians. As I have shared before, the House of Blessing missionaries have chosen time and again to stay in the middle of the danger, knowing there are thousands of souls at stake. As the Lord opens doors, sometimes through some of the most difficult circumstances, people are brought to a place of humbling themselves before the real Messiah, Yeshua. He is more than willing to forgive anyone who asks. This is why He gave His life on the cross at Calvary two millennia ago.
Mufiedah, along with the widows assisting her, continue to minister healing to the injured the Lord puts across their paths. And, one after the other, God heals them and forgives their sins as they pray the sinner's prayer.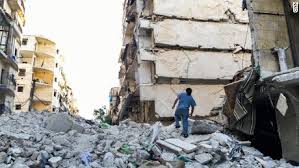 I have a special story to share from Mosul. Brother Akram, one of HOB's leaders there, happened upon a bombed out building in which he found 37 widows that have been in the captivity of ISIS for the past two years! As I understand the story, the ISIS captives that normally are in place to keep the women captive, were not on site due to heavy casualties to ISIS in the area that day. When he went into this building, he found many women that he recognized. Many of them had been part of the House of Blessing missionary staff two years ago. When they were captured, they went through the horror of seeing their husbands tortured and finally murdered, along with their children!
When Akram saw them and recognized who they were, he broke down in tears. He immediately ushered the women out of the building and took them to another location that he already had access to. His description of the the condition they were in was heart-wrenching. Besides all of the unimaginable abuse they had received as "jihad sex-slaves", they had lost so much weight they were barely alive. Thank God, however, that a way was made to get them out of there and back into loving and caring hands.
As these women described their circumstances, they mentioned that a number of them had become pregnant during these last two years. Each of the babies were taken from them after birth and they assumed the infants were killed by the terrorists. Even though the way these women became pregnant was wretched and depraved, it still broke their hearts to have carried innocent life within for nine months and then just have them torn away, never to be seen again. We can thank God today that they are in the presence of Jesus, as are the husbands and other children of these women.
I was told by Pastor R that the missionaries put together whatever bracelets, earrings, and other jewelry they could find to sell, and managed to get a little over $4,000 for them. This money is being put toward the lodging and professional treatment these women are going to need for their recuperation. This amount of course only covers a small part of the costs, as it will cost at least $250.00 per woman, per month. But God is able, just as He was for the 26 women in the Fallujah area not very long ago.
I was sent names of women that were sent to help in Mosul by Sister Fatima in Fallujah. The names were sent so that they could be included in this update and we could pray for them. They will need a special anointing from the Holy Spirit to help these women physically, mentally, emotionally, and of course, spiritually. The name of the leader of these women is Miriam. Her ten assistants are: Nufah, Ibtisam, Yousra, Rola, Diyala, Latifa, Mason, Enam, Randa, and Huda.  Please join us in praying for them and the 37 women they will be ministering to. Thank You.
I also was sent the names of four of the leaders in Mosul. I have sent these names out as part of another list in the past but will print them here again. They are: Hossam, Mustafa, Munther, and Akram. Again, thank you.
As I finish this update, I ask that we all continue praying for all of the House of Blessing missionaries. There are at least 500 of them. This is besides all the new believers that are being trained. I did want to mention that the 280 students in northern Syria have now graduated from HOB's School of Ministry. About 100 of them feel led to go into mosques around the area so that they can find men to share the love of Jesus with. They will need prayer! The other 180 are helping to get bodies buried and looking for other areas to begin ministering to the needs of the tens of thousands of refugees. The Lord will bring a great harvest through them. The devastation is beyond belief, as you can see in this photo below. It looks beyond hope, but the people are being given hope-hope that can only come through Jesus. And…they are responding!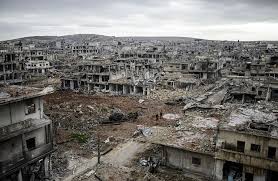 Both Hafezah, in northern Syria, and Fatima continue with their special communion services. God is using these in a mighty way. Because of the terrible conditions in Aleppo and its surrounding area, the communion services were more difficult to get to this past week. Fatima however had at least 1,100 again.
I would like to share a thought in closing that may be of interest, especially by American readers of this blog. I read the latest magazine article sent out by World Challenge this morning. I was struck by something Gary Wilkerson said. He shared how he, during the time he was growing up under the ministry of his father, David Wilkerson, he never really appreciated the mantel his father wore. David Wilkerson had an intensity about his ministry but not everyone really caught the gravity of it. Even though he always denied being a prophet, calling himself a watchman instead, his ministry was quite prophetic. God used him in more than just strong prophetic exhortation. He also used him to warn of things that were coming. God gave David details of things that would come that caused many to vehemently oppose him. He was ridiculed and told he was off-base. He was also told he was too intense and a doom and gloom preacher. His son, Gary, looking back, said that he himself was more worried about making the basketball team or seeing his girlfriend. His own Bible was filled with underlined passages about grace, peace and the unity of Christians, not judgment, wrath and societal chaos. Yet here we are, and he has learned to recognize the incredible burden God had put upon his father.
There are now many others who are recognizing the signs of the times. America is now on the very brink of judgment. We need to adjust our thinking and our priorities. The Spirit of God is urging the people of God to recognize where we are. We must prepare the way of the Lord, because He is moving upon the earth in a massive call to harvest. The times of the Gentiles are quickly coming to an end. As I write these words, I have a heavy burden of my own. I am seeing things coming to pass now that God warned me about decades ago. Too many are still locked into "fun" church. People don't want to hear anything but spiritual fluff. We love to hear about grace and God's love. And, yes, the Bible does teach us that God's grace is amazing and His love is beyond our imagination. But, He also tells us of judgment. The world is moving into a time of the worst cataclysms it has ever experienced in its history. Nations are about to be judged by a Holy God. America is going to be judged by the same Holy God. Time is running out and we must prepare ourselves to stand before our most righteous and Holy KING. Paul the Apostle urged Timothy to "be diligent to present yourself approved to God, a worker who does not need to be ashamed…" Although I am a strong believer in the grace of God, I take exhortations like this very seriously. I pray we all do! Until next time…
In His Service,
Jake Geier
House Of Blessing; 3206 SW 45th Street, Redmond, Oregon USA 97756