The first thing I thought of this morning–after I thanked God for allowing me to wake up to another day of life, is that today, December 21st is the shortest day of the year. Starting on 12/22/2021, the daylight hours become a slight bit longer every day. That means we are now three months from springtime!  This is also Christmas week and the year 2021 will soon be in the history books, never to return again. Now 2022 is only days away. It certainly does seem that time is flying by at an accelerated rate!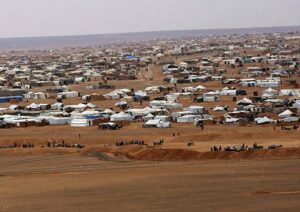 Before today's short update, Pastor R and the entire House of Blessing want to thank every single person who has prayed for HOB this past year. HOB is also grateful for all those who have given financial help this past year. I would love to share the names of folks who have helped finance the missionary work that HOB does, but I know many would rather not have their names mentioned. It will have to suffice for me to say the gifts have come from many nations around the world, including Australia, New Zealand, Germany, Finland, Italy, France, the United Kingdom, Canada, Greece, and of course, the United States. I am sure there are many that I, personally, am not aware of. God has His faithful people scattered all over the world. 
So, thank you, thank you, thank you from the entire House of Blessing Community of Believers in the Middle East!
It was due to the faithfulness of so many of you that Pastor R was able to give the report I received from him a couple days ago. It took a number of days to arrange it, but HOB was able to order delivery of some much needed supplies, and just before Christmas was perfect timing.
The list of what was ordered included:
1 truckload of wheat

½ load of rice

½ load of beans

½ load of tomato puree

½ load of blankets

½ load of mattresses

1 full truckload of firewood
The HOB leadership was able to get these supplies distributed to many HOB communities, even as far away as western Iran where Sahbanber and Mortadah are overseeing a very hard hit community of believers.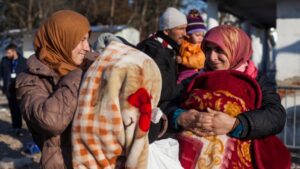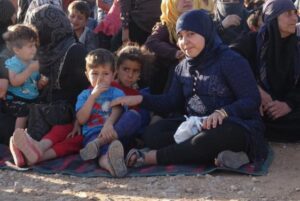 With these supplies, Omar, Sami, Mussa and their team of volunteers were able to bless at least 750 families with food and other supplies, as well as sharing the real Christmas story with them. Mufiedah, Fadwa, Sarah, and their volunteers were able to do the same with about 430 families. Adel, Mahmoud and those working with them were able to bless about 160 families. The same was done by Ibrahim, Akram, and their helpers. They were able to bless about 280 families. And, all the way in western Iran, Sahbanber and Mortadah were able to bless an additional 75 families.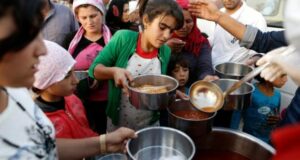 The list above is just a sampling of what really happened with the supplies and how the love of Jesus was shared with the masses of people this Christmas season.  Reports have come in from many locations telling how God multiplied the food and supplies beyond what could be expected. This is something the HOB community has seen many times. Jesus Christ truly is the same, yesterday, today, and forever! 
The Christmas season is a special time, even there in the Middle East, but very few know the real story of the birth of our Messiah. This year, 2021, as in every previous year, a large number of souls are being reached with the Good News of the Gospel. The photos below show large crowds of people gathering for the food distribution as the weather allowed. However, most of the sharing of the Gospel was done in small groups, many times just with individual families. The people not only received food, mattresses, blankets, clothing, and firewood, but they were introduced to the real Messiah, the soon coming King of Kings, and Lord of Lords!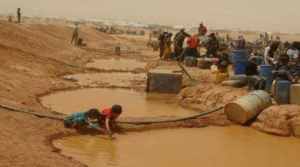 As usual this time of year, the weather brought down many hundreds of tents and they had to be rebuilt. Storms were a problem. This is something that the HOB missionaries and their volunteers have gotten quite proficient at. They made themselves available around the clock to anyone that needed their help. Preaching and teaching is only one way of sharing about the love of God. Practical demonstration goes a long way also, especially with people that live in such desperate circumstances. 
Another way of helping the refugees which I've mentioned many times, is that the HOB community is quick to volunteer to help the people bury their dead. Pastor R said that this is proving to be a hard year with sicknesses again. No one can really tell whether the people are dying of Covid, the harsh winter flu, exposure to the elements, or of any number of other problems. Many people are dealing with heart issues, lung issues, and general health failures. The Lord has healed a great many people, and continues to do so–especially within the community of believers, but there are many outside of the HOB community who do not survive. Because of this, there is always an urgency to reach as many with the Good News of the Gospel as they can. A person's eternal destiny can be changed right up to their very last breath! That is how great God's love is.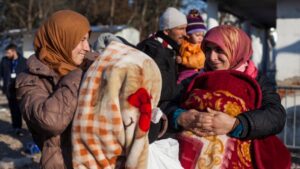 I received a second call from Pastor R, providing a few more details to his earlier story. The reader might remember an Imam by the name of Mahmoud who was reached with the Gospel recently. He then invited Omar and others to come and speak at his mosque. If you remember, of the sixty men present, ten decided they wanted nothing to do Mahmoud's testimony, nor did they want to hear the HOB missionaries speak. As it turned out, the fifty men that stayed gave their hearts to Jesus Christ on that Friday. Since that time, their families were also reached. But, nothing more had been heard about the ten men who left the mosque that day.
This past week, Omar, Sami, and others were rebuilding tents that had been blown down by the storms. Since they never ask who the people are that they are helping, they usually have no idea of their identities. As it turned out, eight of the ten men who had left the mosque had had their tents collapse in the middle of the night. As God arranged it, it was Omar and Sami who came to their aid, not knowing who it was they were helping. As they finished getting their tents repaired and reset, the men told Omar and Sami that they had been watching them help many people throughout the stormy weather. They then identified themselves as being eight of the ten men who left Imam Mahmoud's mosque when they were there to speak. To make a longer story short, all eight of these men gave their hearts and their eternities into the hands of Jesus Christ that night. Omar and Sami then provided some supplies that they very much needed, including some firewood. They were then taken to visit Mahmoud the next day. What a miracle! These eight men had no idea that the God of the universe had arranged a second divine appointment for them! 
Pastor R added a little more. He said that Mahmoud had approached Omar and Sami with a gift for the House of Blessing. He had the equivalent of about $4,500 which he wanted to give toward HOB's efforts to supply food and other supplies for the refugees. With the winter weather and storms, the gift was very timely!  
Unfortunately, Pastor R had to be taken back to the hospital. He is having serious challenges with his diabetes and other issues. But, he is now receiving the medicines he needs and is doing much better. Time is very, very short now and the Lord has not chosen to release him of his responsibilities, at least, not as of yet. He very much needs our prayers. He is blessed with his two new assistants and he says his favorite two nurses are taking very good care of him. Pastor R said that the two nurses (who he had originally introduced to Jesus) asked if they could bring their families in to meet him and be prayed for by him. Their families had already received Jesus as their Lord and Savior but they really wanted to be blessed by meeting him. Pastor R said there were about 25 of them and their time together was a great celebration. God is good!
I think all of us are wondering what 2022 will hold and really only God knows, but we do know our Messiah's coming for His faithful remnant is imminent. The closer it gets, the more the devil and his cohorts fight for control of the world. But he has been allotted only a short time for his evil plans. And he has already lost! Praise God! Let earth receive the King of Kings, and Lord of Lords!
Forever in His Service,
Jake