In one of the calls I received from Pastor R this past week, I had the amazing opportunity to speak with three of the new graduates from HOB's School of Ministry. These three men, whose names were Mahmud, Abdullah, and Gaze, knew very little English but were able to greet me on the phone. They felt it a blessing to be able to make this contact with the world of believers outside of the Middle East. But, as I have shared before, I felt I was the one that had been blessed the most! These are three men whose lives are on the line every single day for the sake of the Gospel. Before hanging up the phone, I had the privilege of praying with all three of these men, along with Pastor R.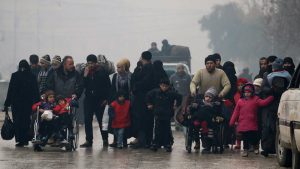 In the last few days there are many changes unfolding in northern Syria. There is a major move to evacuate Aleppo. The Russian military claims it wishes to avoid more civilian casualties while doing everything possible to root out the terrorist factions imbedded amongst the civilians. I have reports telling of tens of thousands of people trying to escape. Buses are reportedly being sent to transport as many as possible in the shortest amount of time as possible. If the reports I have are correct, a safe area has been prepared in Idlib to take in much of this large influx of fleeing civilians. There are at least 250,000 that government forces are trying to transport. Many however don't trust the corridors being provided for escape, citing examples where people have been killed while attempting to flee with their meager supplies dropped at their sides. News services are making many photos available of this process.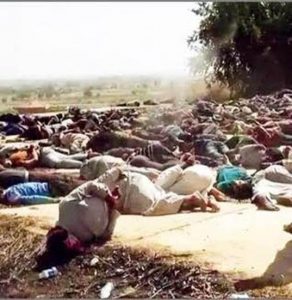 The House of Blessing missionaries are accommodating these changes as best they can. Wherever the refugees move to, the missionaries will follow them in order to do what they can to meet as many needs as possible, but especially to share the Good News of Jesus, the Messiah, with as many as they can.
One of the recurring problems is the number of dead left exposed in the open. Time after time, HOB has stepped in as they were able, renting a tractor in order to dig mass graves and get the corpses underground. It is a gruesome task but very necessary as animals begin to scavange the bodies and only make the spreading of disease worse. Cholera is always a great threat under such conditions. In the last few days, HOB was able to dig another 27 deep holes and bury at least 270 more bodies.
Pastor R is still located outside of Damascus. He still has hundreds of people lining up daily, asking him for prayer. He has prayed for somewhere between 3,000-3,500 people just within the last week! These people come with every sort of ailment one can imagine. Many of them have experienced one tragedy after another and have lost all hope.
Mufiedah has gained enough strength to return to her ministry. This last week she ministered healing to 18 of the war injured. Fatwa ministered to another 27. These were all brought to the feet of Messiah Yeshua as well! Sarah continues ministering to many that have experienced some of the worst tragedies. A great many of the 180 she shared her testimony with this last week have lost children and close loved ones in this ugly civil war. Her testimony continues giving them hope, and answers from the Word of God. Many of these also come to a personal relationship with Yeshua.
Communion services provided by Hafezah and those helping her served at least 800 believers this past week. It continues to amaze me how people can find a way to get aside enough to be able to experience such a special time with God. The Spirit of God continues to meet with them, anointing and empowering them for the days ahead. In northern Syria this past week, over 500 souls were reached and brought into the Kingdom of God!
The situation in Iraq has been difficult, as it has been in Syria. Another 35 believers lost their lives for the Gospel in the Fallujah area, but during the same time, somewhere between 200-210 were brought into God's Kingdom.
In Mosul, over 800 souls were reached! It continues to be such a great miracle. Yet, at the same time, at least 75 more missionaries and new believers were killed, either by the war, disease, or succumbing to starvation. The 56 widows who had escaped slavery to ISIS, continue being ministered to. House of Blessing continues trying to supply them two meals a day as well as physical, psychological, and spiritual help. They are being taught hours per day and are responding well. As you can imagine, it is an expense that is difficult to cover. Yet, we serve a big God!
As time passes, a great many Muslim people are growing a hatred for Islam and what it is doing to the people. This presents great opportunities to share the love of God with them. A message of the love of God is something most of them have never heard. It is the only message of hope that they will ever hear. This is bringing about a great harvest of souls. The completion of this harvest may just be what brings about the end of the Times of the Gentiles. This means that the literal Kingdom of God is now very, very near!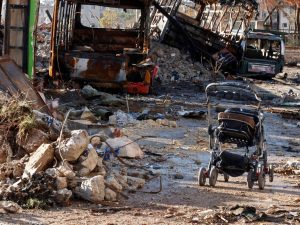 In closing, I would ask that we not forget the plight of these brethren of ours during this difficult time. For many of us, this is a joyous time of the year, and rightfully so. We remember the gift that God provided lost mankind by sending the perfect Lamb of God to pay a ransom no one else could pay. No matter when it was that Jesus was really born, we celebrate the birth itself and what it represents, not really the date.
While we are celebrating, however, the missionaries in the Middle East are experiencing the worst of conditions. Here in my hometown of Redmond, Oregon, we have just had a snow storm which has left well over a foot of snow in most places (well over 30 centimeters), and it is very cold. But, here, I am able to go into my house and stay warm. This is not the case for those in the Middle East. The weather continues to blow their tents down…if they have one, and heat is something that is very rare. Food is also almost non-existent for so many. I don't share these things to make us feel guilty because we are experiencing blessings that others are not, but we should not ignore those who are going through hard times–especially the HOB missionaries. If God lays it on our heart, we should support them, and, we should always support them with earnest prayer on their behalf. God answers prayer!  I do want to again thank those who have heard the urging of the Spirit of God and have responded financially. Only on the other side will we learn how many souls will have been touched for eternity! God is good!
In His Service,
Jake Geier
House of Blessing; 3206 SW 45th Street; Redmond, Oregon USA 97756