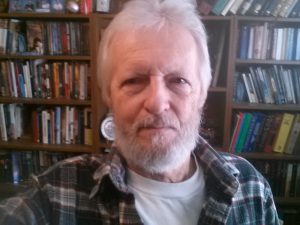 Something that I am hearing more and more from those with a great love for God is a longing to finally get to go HOME. There is also a fatigue I am hearing in many who have expended themselves nearly to the end of their human limitations. For those in the Church who are not experiencing the extremes of persecution and tribulation as so many of our brethren in the third world are, the longing, nonetheless, to finally be called home to our destiny in the Kingdom of our God is an ever present hope and prayer! There are many encouraging scriptures in the Bible. One of them is found in the Apostle John's description of the holy city in Revelation 21:3-7
3 I heard a loud voice from heaven saying, "Behold, the tabernacle of God is with men, and He will dwell with them, and they shall be His people. God Himself will be with them and be their God. 4 And God will wipe away every tear from their eyes, there shall be no more death, nor sorrow, nor crying. There shall be no more pain, for the former things have passed away." 5 Then He who sat on the throne said, "Behold, I make all things new." And He said to me, write, for these words are true and faithful. 6 And He said to me, "It is done! I am the Alpha and the Omega, the Beginning and the End. I will give of the fountain of the water of life freely to him who thirsts. 7 He who overcomes shall inherit all things and I will be his God and he shall be My son."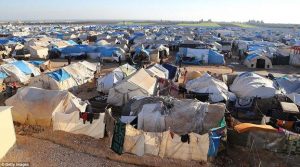 As I read this passage, I thought of the many House of Blessing missionaries who face the endless task of rebuilding tents every winter. Storm after storm comes, and no matter how much experience they have had dealing with this issue, and no matter how securely the tents are set, the weather eventually pulls them down! This winter has proven to be an exceptional challenge due to the extremes of the weather. Many hundreds of refugee tents again needed to be rebuilt and reset. But the HOB missionaries continue day after day to do whatever is necessary. Working on behalf of the kingdom of God often does not seem very spiritual, but God uses all things and all circumstances for His eternal purposes.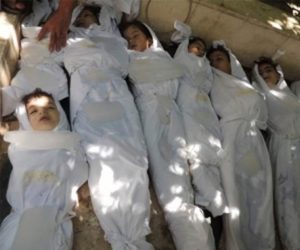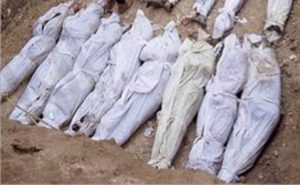 Another task is seeing to burial of those who have died. The causes of death include disease, starvation, exhaustion, or exposure to the elements. Then there are those who are casualties of war. Last but never least, are those who are martyred for their faith. If the dead are not properly buried, the problem with disease is multiplied. This past couple weeks, there were again men, women, and children who needed burial. The most vulnerable are always the elderly and the children. The loss of the children always brings a special kind of grief, and it is only the promises of our Creator and Savior that provide an eternal hope. The passage of scripture above promises us that there is a time coming, when there will be no more sickness, disease, pain, or even death! Even all tears will be removed! Our awesome God is going to make all things new! Praise God!
In Revelation 22, we find additional encouragements. Let's note once again what the Apostle John wrote:
1 And he showed me a pure river of water of life, clear as crystal, proceeding from the throne of God and of the Lamb. 2 In the middle of its street, and on either side of the river, was the tree of life, which bore twelve fruits, each tree bearing twelve fruits, each tree yielding its fruit every month. The leaves of the tree were for the healing of the nations. 3 And there shall be no more curse, but the throne of God and of the Lamb shall be in it, and His servants shall serve him.  4 They shall see His face, and His name shall be on their foreheads. 5 There shall be no night there: They need no lamp nor light of the sun, for the Lord God gives them light. And they shall reign forever and ever. Revelation 22:1-5 
Did you notice that there will be no more curse there? No more freezing cold, no more blazing, unbearable heat. All needs met and we will be able to see our God's face! All of the pain, sorrow, and tribulation of this world will seem as nothing!
But, until we arrive at that time, we still live under the curse of sin and its effects on this earth. Politicians will still promise the world but keep few of their promises. Governments will continue their unrighteous, ungodly rule over their populations. Armies will continue to go to war! Jesus said these things would all continue until He returns and interrupts the agenda of all the peoples of the entire world.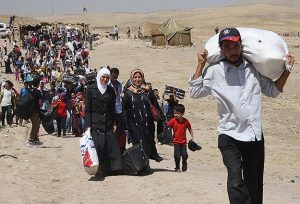 As I write this, plans are being made by one nation after the other of how to gain control over the planet's resources and exert their power over the masses. Manjib, Syria continues to be a location of contention. Who is ultimately going to control Manjib? The control of this city, 20 miles from the border of Turkey in northern Syria has changed hands many times. Manjib is near three blocks of influence that have been there since ISIS was driven out. Russia, Turkey, and the US; at least until American troops vacate the area. The civilians of Manjib of course bear the brunt of continual conflict. Reports have been received of civilians who have lost their lives within the last few days. In the midst of the people, there is an HOB underground community of believers. Their main goal is the salvation of souls and God is granting them the answer to their prayers!
Deir-ezzor is another area that continues to be a challenge. This is an area mentioned many times in these updates. The numbers of ISIS militants has dropped considerably but there are reportedly still about 30,000 scattered in different areas. Many of these are in eastern Syria where the Kurds continue to bring the fight to them. In the process however, many civilians continue being caught in the crossfire. Then there are the suicide bombers and other bombs which are placed and set off remotely. Often, a second bomb is exploded just as first-responders come to help the injured from the original blast. These events continue to show how much hatred the enemy of our souls has for the human race. In contrast, Jesus Christ came and died to save us…if we'll just accept His free gift of forgiveness and eternal salvation! That is the message the HOB missionaries continue to bring to the lost around them.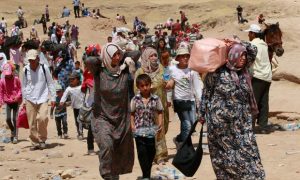 On another note, in Pastor R's phone call a few days ago, he let me know that Sisters Hafezeh, Ferial, Fatima, and Mariam have been able to hold special communion services again. They have been holding them most evenings of the week and God has blessed with many physical healings as well as pouring His power upon the people with the baptism of the Holy Spirit. Many hundreds gather for these services all over the Mideast. As they have been for several years now, these are very special times of spiritual blessing!
Pastor Farid continues his work of evangelism and prays for hundreds a day. Reports continue to come in of the great miracles God is performing through this ministry. He also meets with 150-200 daily of those in the original 500+ that found the Lord through his testimony recently. Care is being taken to help them get on their feet as followers of the Messiah, Jesus. These men have a great eagerness to learn and God is honoring their desire! Note: The photo below is of Pastor Farid meeting with a large group of the men.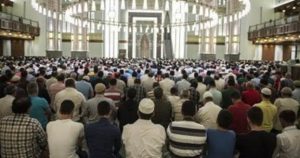 Even though there is a great deal of turmoil in most of the Middle East, the work of the Lord continues. As they are able, the HOB teachers continue teaching classes with the materials they have available. The hunger is great and the eagerness of the men who were formerly Muslim sheikhs and are now disciples of Jesus Christ, matches the hunger of their students! People in the Mideast have a special interest in Bible prophecy which is much different than Islamic prophecy, although there are some similarities. As major wars threaten each day, the followers of Jesus know that these are signs of the second coming of Jesus, the Messiah. The HOB missionaries have also learned by experience that war, even the threat of war, causes the harvest field to be just that much richer!
Pastor R asked for special prayer for brothers Shah Bandar and Mourtada in Iran. They are facing difficult times. Some of it has to do with the political turmoil but their difficulties also have to do with the failing Iranian economy. They have at least 120 families presently that are in very great need and they are doing everything they possibly can to help them. Spiritually, God is pouring His Spirit out in a great way in Iran but the hatred for Christians and their Messiah is great. The underground church is careful to follow the leading of the Holy Spirit in how they are to minister the gospel.
As has been mentioned often in these updates, some areas are facing chaotic situations. One of these situations is presently due to a huge influx of refugees fleeing Lebanon. These folks have had to endure a most difficult winter in the mountains of Lebanon and have had a very hard time surviving the cold and snow. The storms have been relentless at times. Reports say that over 1,000,000 people are running from Lebanon into Syria. An untold number of these people have succumbed to the elements as they attempt to make the trip. The burden of taking in that many refugees in Syria, which has been enduring a terrible civil war for the last eight years is impossible to describe. But, again, it is a harvest field that the HOB missionaries are very willing to work in. Sisters Mufiedah, Fadwa, Sarah, and the Widow Sisterhood work around the clock to treat all they can, but especially, to share the love of Jesus with them!
Pastor R continues to pray for people, sometimes hundreds a day. Those who come for prayer have a variety of sicknesses and diseases, and Pastor R touches every single one of them as he prays for them. He needs special prayer from us all to keep him from catching these illnesses, many of which are contagious. So far, other than a fever, he seems okay. He depends on the prayers of the support family. That is us!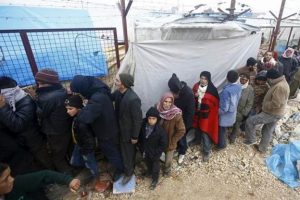 In conclusion, as always, I ask for your prayers and support. The needs are great but we serve a very great God! As a side note, I was told that Sami, Omar, and Radwn were especially discouraged lately because they feel they have not been able to do enough to meet the needs of the many people under their care. The needs are great and they do not have the means to help all in need. The House of Blessing is not part of a denomination, and so does not have a mother organization to call on when times are tough. HOB is an independent missionary organization and operates purely by faith. They depend wholly on the provision that comes in through the gifts from supporters. Let's continue trusting the Lord of the Harvest to bring in what it takes to reach the last of the Gentiles that are to be reached here at the end of the age. Gifts coming in help to feed, clothe, treat, and lead souls into the Kingdom of God. Bibles are also purchased to distribute among the new believers.
Sometimes it is not only missionaries on the field who get discouraged. All of us as believers can get discouraged, thinking we are ministering in vain. There is a passage of scripture where God spoke to Jeremiah at one of these times of discouragement with these words:
This is what the Lord says: "Restrain your voice from weeping and your eyes from tears, for your work will be rewarded." Jeremiah 31:16a
God sees all the things that are done in His name that others don't see. He doesn't miss anything!  Nothing that is done in His name and to His glory and by the leading of his Spirit will ever be done in vain. He has promised that…"all things work together for good to those who love God and who are called to His purposes." Romans 8:28
I would like to conclude with one last passage from Revelation 22:
12 "…Behold, I am coming quickly, and My reward is with Me, to give to every one according to his work. 13 I am the Alpha and the Omega, the Beginning and the End, the First and the Last. 14 Blessed are those who do His commandments, that they may have the right to the tree of life, and may enter through the gates into the city…17 And the Spirit and the bride say, "Come!" And let him who hears say, "Come!" And let him who thirsts come. Whoever desires, let him take the water of life freely…20 He who testifies to these things says, "Surely I am coming quickly." Amen, Even so, come Lord Jesus! Revelation 22:12-14, 17, 20
Yes…Even so come, Lord Jesus!!
Forever in His Service,
Jake Geier