As I peruse the news from around the world today and read about the misery, brutality, and death everywhere, I am reminded of words spoken by the Messiah 2,000 years ago and recorded for us in the Book of John…
"I am the door, if anyone enters by Me, he will be saved, and will go in and out and find pasture. The thief does not come except to steal, and to kill, and to destroy. I have come that they may have life, and that they may have it more abundantly. "I am the good shepherd, the good shepherd gives His life for the sheep." John 10:9-11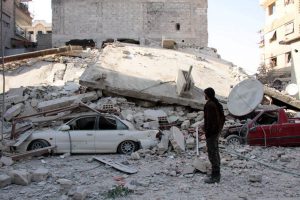 The increasing chaos seen around the globe is beyond the capabilities of peacekeeping forces to control, and the masses of refugees are exhausting the resources of the combined aid organizations available. Readers of this blog know that we often refer to the so-called "Arab Spring" and the devastating effects it has had on the Middle East. What began early in 2011 is still not under control in February 2018. Millions have been displaced and many hundreds of thousands have been slaughtered. The populations of cities like Damascus, Idlib, Aleppo, Homs, Mosul, and untold smaller towns and villages have been decimated and the infrastructure of these areas destroyed. The photo at left is of one of the latest bombings in Idlib City Thousands of photos on the internet show the absolute devastation and destruction. The human misery and death these photos represent are beyond the ability of most people to even imagine.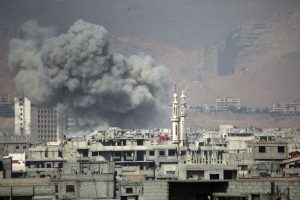 This is the mission field of the House of Blessing. The project that God entrusted to Pastor R almost 6 years ago, took him first into northern Jordan. With the very first delivery of Bibles printed in Arabic and given to new believers as they were reached with the Gospel of Jesus, a heavy price began to be paid. HOB missionaries began to lose their lives. But, as the Bible teaches us to do, all of the House of Blessing and those reading the written accounts, and those supporting them, began to pray earnestly. God promised that every single Bible would bear fruit…much fruit. We then began to ask the Lord for 100 souls for every missionary lost. God did so. We became even more bold and asked Him for 1,000 souls for each missionary lost. As I look over what God has done in the last 6 years, it is clear He has answered that prayer also.  
With some estimates revealing that over one million people have lost their lives in the last seven years in Syria alone, the work of the HOB missionaries truly is a race against time. The number of souls brought into the Kingdom of God is a great multitude indeed. And, it continues to this day.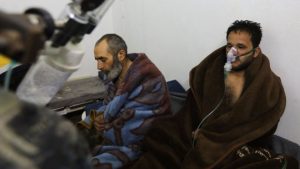 Current reports indicate that bombs with chlorine gas have been used in Syria.  The HOB missionaries are there to reach any they can, either to treat them, or lead them to the feet of Jesus the Messiah before they pass into eternity. 
As many readers are likely aware, a Russian jet fighter was just shot down. There are conflicting reports of whether the pilot, who had ejected safely, was murdered upon landing or killed himself to save himself from being tortured and then killed by the militants on the ground. The result of this plane being shot down has brought a furious response from both the Russian air force and the Syrian military with increased bombings. There are conflicting reports of how many have lost their lives, but of those killed in these attacks, 62 were from the House of Blessing Christian community in the area.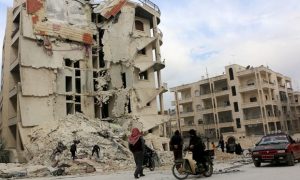 The work of the Widow Sisterhood among the war injured continues to be of great value as they minister to the victims of the latest bombing campaigns. Pastor R reported that 12 more hospitals or clinics were destroyed or badly damaged again. Mufiedah and the widows working with her have ministered to 42 injured this past week and Fatwa and those working with her gave medical care to another 31 people. All were reached with the Gospel and became followers of Jesus Christ.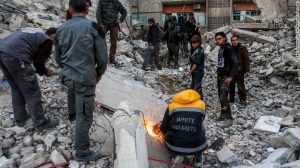 Another area hit where HOB has missionaries and a community of believers is the rebel-held eastern Ghouta district, just outside of Damascus. At least 23 were killed in this area. War planes also hit a number of smaller towns on the outskirts of Damascus. The Syrian army of President Bashar al-Assad, backed by Russian air power and Shi'ite Muslim militias, has had eastern Ghouta, the largest remaining rebel bastion near Damascus, under siege for a long time. One of the repercussions of these bombing campaigns is the shortage of food, water, and other crucial supplies. Starvation and the lack of available medicines is a huge problem.
The missionaries spend as much time evangelizing as they possibly can. Through the ministry of Omar and Same, another 280 souls have been brought into the Kingdom of God. Also during this last week, Sarah and 40 volunteers working with her were able to hold a large group gathering where they preached the Word of God.  Before it was over, they were able to pray the sinner's prayer with an additional 380 people. God is good!
Others of the HOB missionaries spent days helping refugees reset their tents or move them to drier locations as they have been doing since winter set in. There are also thousands of people running for their lives, trying to find a place where they can survive. Some of these had tried to cross over into Lebanon from Syria but unfortunately did not make it. They were found frozen to death. As said before…it is a race against time…
One major problem has been the lack of help coming from the United Nations. The people are so very desperate for food. Due to gifts coming in from supporters of HOB, it was possible to purchase two flatbed truck loads of wheat this past week. (NOTE: The two photos below, taken by HOB, are from my photo archives) By making the most of what they had, HOB was able to feed over 5,000 families for a few days. As the people were able to get a few bites of food it also became possible to share the love of God with them. God has used this as a means to reach many. The House of Blessing missionaries are very grateful for each and every gift that is sent. God is faithful and always multiplies everything that comes in!
Part of the ministry of HOB has included copying teaching materials and distributing them in the communities of HOB believers to supplement any lack of Bibles. Pastor R has reaffirmed many times that there are many hundreds of thousands of believers scattered all across the Mideast. Whether these gathered groups are small in number or large, such as the gatherings that Munser and Fatima hold, these copied studies have proven to be a very effective in keeping the believers focused on the God of their salvation and not on the persecution and difficulties they experience. For those of us in the West who have had the Word of God available to us all of our lives, we tend to take what we have for granted. But the people to whom HOB ministers, most of whom have never owned a Bible, are grateful for any opportunity they have to gather with other believers and study about their new faith in Jesus Christ. Teachings that we may consider "basic" Bible knowledge are thoroughly studied and the included Scriptures are memorized. God honors their commitment and as a result continues to bring in the harvest.
We know that time is very, very short. For those who follow Jesus' instruction to "watch", it is obvious that the world is headed into days like mankind has never seen. Jesus said this would happen, but He also said that "the gates of hell will never prevail." Evil will be allowed to run its course, but in the end it will be destroyed. As the people of God, we have been equipped to be overcomers.
Pastor R asked that I relay his great appreciation for the prayers of many for his feet. God is continuing to touch him with healing that the doctors cannot explain, and he continues in what God has called him to. We serve a great God!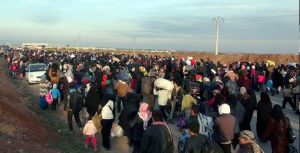 I also want to again thank each one that prays for the House of Blessing and I want to thank each one that gives to the ministry of HOB. Whether your gifts are large or small, God blesses each one. "Little is much when God is in it!" As we are looking at the very end of the age, it truly is a time to put God first in our priorities of life and allow Him to guide what we do with the blessings He has given to us on loan for this short earthly life. Everything we have is really HIS. As the people in the photo on the left are traveling to a new destination, we also are on our way to a new destination…and there's nothing we can take with us! There is no better time to do whatever God lays on our hearts than TODAY. The opportunity to be involved in what God is doing in this great harvest of souls today is almost over. The Age of Grace is about to close…and we are going HOME. That could even be today!!
NOTE: In the coming weeks, I will be reprinting some of the stories of the great things God has done through the House of Blessing in the last six years. Be watching!
Forever in His Service,
Jake Geier