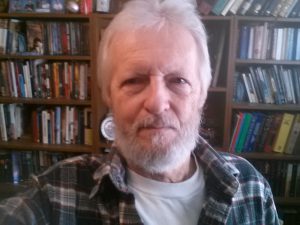 As I write this update, I find myself thanking God again and again for the forgiveness He has made available to us. I pray that you, the reader, will find yourself with similar emotions after reading the amazing account below. Thankfully, the Blood of our Messiah, Jesus Christ, is potent enough to forgive even the worst of sins!
The Old Testament is filled with true historical stories of people's lives. God in His sovereignty chose to tell it all; the good, the bad, and the ugly! The story of one of Israel's most evil kings, Manasseh, is one of these. This evil king was guilty of leading his nation into great sin in their worship of pagan gods. Not only did he live in defiance of the laws of God, he was also guilty of gruesome atrocities, including ordering the execution of the prophet Isaiah by having him sawn in two within a log. In my mind, I cannot imagine being able to forgive such a man. Yet, let's look at what the Bible says about Manasseh when in desperation he cried out to God.
And the LORD spoke to Manasseh and his people, but they would not listen. Therefore the LORD brought upon them the captains of the army of the king of Assyria, who took Manasseh with hooks, bound him with bronze fetters, and carried him off to Babylon. Now when he was in affliction, he implored the LORD his God, and humbled himself greatly before the God of his fathers, and prayed to Him; and He received his entreaty, heard his supplication, and brought him back to Jerusalem into his kingdom. Then Manasseh knew that the LORD was God. 2 Chronicles 33:10-13
Then there was the Apostle Paul. We know him as the man God inspired to write 14 of the 27 books of the New Testament. What many people don't know or have forgotten is that before he became a follower of Jesus, he was known by the name of Saul, a powerful leader of the Pharisees, whose main goal was to trouble the Christian community in any way he could. He persecuted the Christians; he had them beaten; they were thrown into prison, and in his religious zeal even had many Christians killed. In the 9th chapter of the Book of Acts we find the entire story. I will just reference a small portion of the passage where God's prophet Ananias was sent to pray for him and afterward baptize him. When God spoke to Ananias and told him what he wanted him to do with Saul, the prophet prayed these words:
"…Lord, I have heard from many about this man, how much harm he has done to Your saints in Jerusalem. And here he has authority from the chief priests to bind all who call on Your name." But the Lord said to him, "Go, for he is a chosen vessel of Mine to bear My name before Gentiles, kings, and the children of Israel…" Acts 9:13-15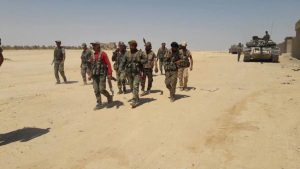 The reason I referenced King Manasseh and the Pharisee Saul, later renamed Paul the Apostle, is because of a very unusual event that happened in eastern Syria a few days ago. As most readers are probably aware, the Islamic State (ISIS, or Daesh) has nearly been destroyed after five long years of causing mass death and terrorizing untold millions of people across Syria and Iraq. There are today, however, still some pockets of militants living in the desert between Deir Ezzor and Homs, Syria. They are known, among other things, to carry out sudden hit-and-run attacks on the Deir Ezzor Highway, especially on Syrian soldiers as in the photo shown.
The House of Blessing has had a community of believers in the Deir Ezzor region for several years. A few days ago, a group of ISIS militants, as they were escaping from one area to another, came face to face with a few HOB missionaries. The militants immediately challenged the missionaries, who attempted to talk them down to no avail. The militants responded by firing at the missionaries, killing three of them. As the three men fell, brothers Nader and Abed began to pray very loudly, asking their Father in heaven to intervene and open the eyes of these deceived men.
The missionaries shouted to them, saying: "Let us help you! We can help you! There is another way, a much better way!"  They then began to share with them about God–the real God–the Creator of everything, who has provided a way of forgiveness that does not require anyone to earn their way to heaven. They told them that it was not God who was telling them to kill other humans but rather the father of lies that hates the whole human race and would like them all dead! The militants were suspicious but began to listen as the missionaries slowly moved closer to them and began to share the love of God in earnest. They shared with them how the Messiah, Jesus Christ, the one and only true Savior, died to pay for the sins of the entire world–the same world Satan wanted dead! His forgiveness was free for the asking and His forgiveness would cleanse their hands of the dirty business of killing innocent people.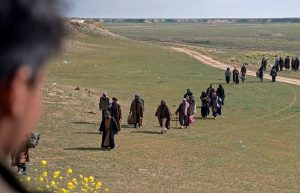 The conversation went on for some time between the missionaries and the militants. Finally, the missionaries asked the militants to follow them to a safer place where they could pray for them. (The photo at the right is not of the same militants as those in today's story.) Miraculously, they agreed and as they did, the missionaries were eventually able to lead them in the sinner's prayer. One of the first things they did was to throw all of their weapons away, promising to never go back to that kind of life again. As they asked Jesus to become the Lord of their lives, these men, who had been so notorious for killing in the name of Islam, were truly born again! Their sins were completely washed away, and as the Bible tells us, in God's eyes put as far away as the east is from the west. As far as God is concerned, our sins do not exist once they have been nailed to the Cross of Christ. What repercussions or consequences may come yet for these men and their families, only God knows. One thing is for sure, even if they lost their lives at this point, their names are in the Lamb's Book of Life. They belong to the family of the redeemed!  
It is difficult for most of us to "give a pass" on the murders and other atrocities that have gone on without some sort of legal judgment. That is something that will be left in the hands of God…and we can trust Him with it. War is ugly; it is gruesome, and as we've said, comes from the great hater of the human race, the fallen one himself. War in the name of religion is even worse. Killing as a supposed way of earning a path to eternal paradise is a twisted belief. There are few greater examples of the contrast between the deep love of God for lost humanity and the vile hatred of the devil for the human race than in the Middle East today. But, the love of God is prevailing. Light brought into the darkness drives the darkness away. There is no amount of darkness that can be brought into a lighted room that will extinguish genuine light!
As a result of God's love being demonstrated through these House of Blessing missionaries, 35 ISIS militants along with their families, prayed, asked the Lord for forgiveness and were baptized! Between the militants and their families, there were a total of 140 who joined the family of God that day! I am told that they now have a great hunger to learn from the real Word of God, as opposed to the satanic belief system that had previously chained them! This is a story that will never be told by the news media, but a story that is nonetheless true! Please pass this wonderful story on far and wide. Forward it, reprint it, or however else the story can be shared with others. It can bring great encouragement. God is worthy to receive all the glory for such an amazing display of His love, forgiveness, and restorative power!
In other news from the field, the House of Blessing was able to get some supplies together in order to offer communion services as they like to do. Sisters Hafezeh and Ferial gathered with approximately 350 or so, meeting several times over a period of days. It was the same with Sisters Mariam and Fatima served communion to just short of 300.
In his latest phone call to me, Pastor R reported that several of the men that had been sheikhs, now calling themselves disciples, are taking many of the latest House of Blessing School of Ministry graduates and providing them additional teaching and training. As regular readers will remember, there is a group of 69 former sheikhs (now disciples) that have recently graduated and are out fulfilling their part in the Great Commission. God will honor their commitment and love for their Master!
Pastor Farid has been very busy, meeting with 120-150 people at a time. People continue to report many healings. The people have come to have a deep love for this special brother. Pastor R also continues praying for 400-500 people a day. He said that due to the many sicknesses and diseases represented in these long prayer lines, he himself grows quite weak by the end of the day, but the Lord has been faithful to heal him at the end of each day so that he is able to do the same thing all over again! Only in eternity will we see all that God is doing through these many hours of selfless prayers.
Word coming from the HOB missionaries in Iran is that starvation is a serious issue. They are doing everything they can to keep 120 families alive. The situation is desperate.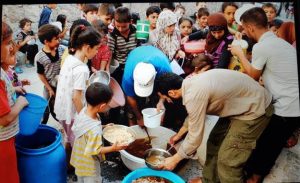 Abnormal weather events are continuing to be a problem. Winter weather is always a challenge for people living in refugee tent cities. Abnormally powerful rain and wind storms cause flash floods that do untold damage. The HOB missionaries, men like Abu, Nihad, and Bassem, once again rebuilt hundreds of tents that had come down. The act of love in helping strangers many times opens the door to share the love of God. Many have found Jesus in this way. It is the same when the missionaries are able to feed the starving. HOB missionaries were able to order one truck load of wheat sacks a few days ago, at least in one region. This, put together with a few meager ingredients over a fire always provides a few meals for many thousands. A number of these are always led to the throne of grace!
Pastor R also told me that some of the HOB missionaries have taken on jobs to pay back a debt that they had incurred. Not long ago, the starvation had become so intense that a few of the missionaries, Mufidah, Sarah, and a few others, found someone to lend a fair sized sum of money hoping to feed the people, promising to repay the debt. As the funds did not come in, and after a considerable amount of time seeking God about the problem, 50 of the missionaries decided to take what jobs they could find in order to get this debt taken care of. Some of them have found some restaurant work within cities nearby. Others have found jobs doing cleaning work, and quite a few found paying jobs within some of the mosques. They are all praying that God will use their new situation–not one that they had planned to be involved in–as a means to reach more people with the Good News. Let's pray for the blessing of the Lord for them in their situation…one they had not figured on but are trying to handle God's way.
In conclusion, The Muslim month of Ramadan begins May 5th and continues through June 4, 2019. The House of Blessing has always planned this as a special time of evangelism. God has always been faithful to bring many Muslim people to a recognition of who the real Messiah is. God can do this again in 2019 if He does not call His people home before this time. HOB hopes to purchase many more Bibles which they will distribute among the many locations where HOB missionaries will have themselves strategically placed. HOB missionaries like to show the contrast between the Koran and the Bible, especially concerning the real identity of Jesus Christ.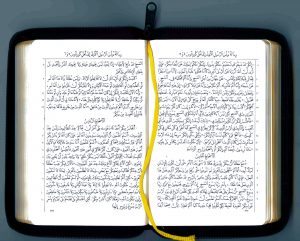 Although this is an Islamic month of special fasting, prayer and sacrifice, God has used this time to open the eyes of millions of Muslim people to the truth of who Jesus Christ is. Many have had open visions of Jesus during Ramadan and have, as a result, turned their lives over to the control of the real Messiah. Let's begin praying for this beginning even today. Let's also pray to the Lord of the Harvest that the necessary finances will be made available. Let's believe Him for provisions above and beyond what we would normally ask! Only God knows, but this might just usher in the last of the souls to be reached before the Rapture of the Saints! We serve a great God! I do want to add a great big thank you to all those who faithfully pray for the work of the House of Blessing missionaries, and also those who have been so generous with your gifts! May the Lord of the Harvest bless you all abundantly.
Forever in His Service,
Jake Geier
NOTE: For those who would like to contribute to the work of the HOB missionaries, please find the convenient PayPal button on the home page of this website. All gifts and donations go to the work of the House of Blessing. Thank you!