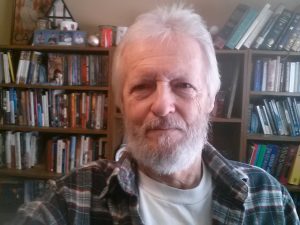 Today's account is the third in an unbelievable series of events. Some readers may even find the story hard to believe, but you can be assured, those who experienced the events will never forget them as long as they live.
If you are new to this website, you might find it valuable to read the two previous posts in the House of Blessing column. The first was titled: "How Great Grace! How Great Forgiveness!!" and the second: "God is Amazing!"
What began with a few House of Blessing missionaries accidentally coming face to face with some ISIS (Daesh) militants, with three of the missionaries being gunned down, led to the salvation of 35 militants and their families, 140 in all. In the second encounter, another 15 militants and their families were reached, 55 in all. Now, we come to the rest of the story…
As HOB's teachers Nader and Abed have been guiding the two groups of former ISIS militants and their families in getting situated with their new lives as followers of Jesus, the two men were again approached by some of then newly saved militants. They knew where there were more of their comrades who were running for their lives. These militants and their families were moving and hiding in one cave after another. Nader was asked if he would be willing to reach out to these men as he had with the others. Seeing how God had touched 40 ISIS militants and their families, now over 200 souls in number, he felt God had something additional in mind with this request. So he agreed; yes, he would go.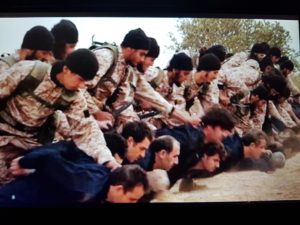 Nader and Abed then put together a team of about 20 HOB missionaries and brought several key former militants with them as guides. After they prayed, they went to locate the ISIS militants. As they located their encampment, eight of the HOB missionaries were immediately grabbed, tied up, and thrown to the ground. They were surrounded by militants who took position with their long knives in preparation to behead the eight missionaries! As this so quickly unfolded, Nader and Abed began praying very loudly in the spirit–they in fact prayed in tongues by the power of the Spirit. As they did, the hands of the would be executioners were frozen in place. The ISIS leader then shouted, "WHAT LANGUAGE IS THAT??" Nader answered and said, "It's not a language from this earth, it is a heavenly language! It is to the Spirit of God we are praying! God will not allow you to kill these men! We have come to tell you about Jesus and to help you be set free. Your time of blindness is over!!  You need to hear us out. The LORD Almighty has sent us!
(NOTE: The photo taken of the would-be beheading is a true photo and was taken on a militant member's phone. These are typically used to instill fear in people when they are released. In this case, God saw otherwise. What the enemy intends for evil, God can turn for good! All photos in this update are genuine and current and I was given permission to use all photos for use in this update.)  
The militant leader shouted in response by asking, "WHO IS THE LORD? WHO IS JESUS?" It was at this point that Nader and Abed were able to begin sharing their testimony. They told how they became believers in Jesus and how, after they found there is no other way sins could be forgiven, they repented of their sins and began a whole new life; one with a genuine, real relationship with God, their heavenly Father, the Creator of everything. They also told them about the eternal inheritance promised to all who accept Jesus, the Messiah.
After listening to Nader and Abed for a time, the militant leader, Mahmoud, asked how one goes about repenting. He said they had grown very tired of killing! Will God forgive, even us? If God will even save us, we want to be saved! The missionaries did not need to be asked twice! The HOB team then divided themselves up so that they could pray with every single man there. As they finished praying with the men, then the families came and the missionaries prayed them through into the Kingdom of God. On that day, another 150 former ISIS militants and their families became part of the family of God! Can you imagine such a thing?
These men and their families were very anxious to be baptized. At the first session, over 200 of them were baptized and there was great, great celebration at the mercy, great grace, and limitless forgiveness for the repentant sinner! How great a God we serve!
Since these three events have transpired in such a short period of time, the HOB missionaries have been doing everything possible in light of a very timely Resurrection Sunday, to teach all the newly saved folks about what Resurrection Sunday is really all about. They have also been putting together a children's version so that the young ones can very quickly come on board, understanding what this drastic change of living circumstances is all about, and who the Messiah, Jesus Christ really is!
Adults and children are very hungry to learn the truth of what the Bible is all about. They also have a great appetite to learn about the unique slot in history that we all find ourselves in. What a privilege it is to share with people that are so anxious to learn! And, you can be sure, HOB's teachers are doing their very best!
As Pastor R was telling me this story, he could hardly contain himself. He said that brother Nader is one of his own disciples that he had mentored and trained. What a blessing it was to see him be used in such a unique way. Not everyone would be able to do what he had done in the past few days. But, it was not Nader. It was a very special and powerful anointing of the Lord that brought these events about. Pastor R asked for much prayer for the HOB leaders involved and also special prayer for these that have just been rescued from the fire! All are in very great danger and the enemies of God would like to silence them by killing them. Please pray for all these folks!
As flawed human beings, most all of us have "limits" as to what we imagine ourselves being able to forgive someone who has done us great wrong. This includes even those of us who are believers in Jesus and have ourselves been forgiven of much.
We have all imagined the horror of one of of our loved ones being murdered, maybe even an innocent child. Would you be able to forgive? Saying yes, is easier said than done–if we're honest. Over the past seven years I've written the real life stories of many within the House of Blessing Christian community who have had to witness debased and brutish things done to their husbands, wives, children, friends and relatives–most of them because they had chosen to love and serve Jesus Christ, the Messiah–turning from the false god, Allah, and the demonically inspired teachings of his prophet, Muhammad. Some of those today serving as HOB missionaries have spent months, even years, captive in ISIS camps as sex slaves or whatever else their captors demanded of them.
Many of these folks were then confronted with needing to forgive those who had been guilty of the most barbaric atrocities. Some of those who are the forgiven ones today minister as servants of Jesus Christ alongside those they had previously tortured; believers whose loved ones they had murdered.
Could you forgive under such circumstances? Hopefully, you and I will not be put to the same test. I however cannot help but to think of what Jesus said while on the cross after He had endured some of the worst brutal punishment the brutal Romans soldiers had to offer. He said, "Father, forgive them; they don't know what they are doing!"
In northern Syria, HOB's missionaries were able to purchase another ½ truckload of wheat with which to feed the starving. We pray that many souls will be reached through this effort. It happens this way every time. With this ½ load of wheat, HOB was able to help about 350 families with enough to keep them alive. Keep in mind that many of these families have a lot more children than we here in the west are used to supporting. These are all souls needing to be brought into the Kingdom of God before the door of the ark closes.
All across the Mideast, HOB communities of believers continue having communion services as they are able to gather the supplies. Little groups and big groups, hundreds, thousands all across the Middle East, all celebrating what the Body and Blood of the Messiah paid for when He allowed Himself to be crucified on the cross. Because He didn't stay dead, rising from the dead on Resurrection Sunday, all believers have forgiveness and freedom for eternity! Soon, that same Messiah will return, but this time, not as the suffering Messiah that died on the cross, but as KING of Kings and LORD of Lords! What a day that will be…and it is now very, very SOON Are you ready? Are you prepared to meet our KING? If not, seek Him out today. TODAY is the day of salvation!
In conclusion, please remember that the House of Blessing is doing everything possible to reach as many souls during the Muslim month of Ramadan as they can. As we have shared the past seven years, God has always opened the door wide during this month that so many Muslims fast and pray. Instead of the false god Allah answering, the real Messiah–the real GOD answers and makes Himself known to them! It will happen again this year!
We find this promise in the Old Testament Book of Jeremiah:
"…I will not cause My anger to fall on you. For I am merciful," says the LORD; " I will not remain angry forever. Only acknowledge your iniquity, that you have transgressed against the LORD your God…" Jeremiah 3:12b-13a
HOB has a need for 2,000 Bibles again this year. Let's help them get them in time. Ramadan begins May 5th and continues for a full month. Thank You! Please find the convenient PayPal button on this website if you would like to help. May God bless you abundantly as you invest in God's Kingdom as the harvest is quickly being gathered!
________________________________
While the story above was unfolding, Sisters Mufiedah, Sarah, and brother Omar have not been heard from since being arrested by Syrian forces for sharing the Good News about Jesus. Please continue holding them up in prayer as well. Pastor R is asking that the Lord will cause their testimony to be very powerful, even while jailed. The Lord did this with Paul and Silas in the Philippian jail. He will do it today!
Lord God, Father, send your Comforter to those who most need the strength of Your Holy Presence. With your divine comfort, give them courage and even joy in the trial. May their enemies see your love in their eyes, not fear or panic or pain, but a light that dispels darkness enough for some among them to know and recognize that the God these Christians live for is their only one true God. May each of these missionaries speak the name of Jesus with such faith and assurance that others will see their joy made complete in that name! In HIS Name we pray!
Forever in His Service,
Jake Geier