One of my favorite scriptures is found in Psalm 139. Here is just a sampling of the verses:
1 O LORD, you have examined my heart and know everything about me. 2 You know when I sit or stand. When far away you know my every thought. 3 You chart the path ahead of me, and tell me where to stop and rest. Every moment, you know where I am. 4 You know what I am going to say before I ever say it. You both precede and follow me, and place your hand of blessing on my head. Verses 1-4 (Living Bible)
Sometimes we forget how intimate God's knowledge of our daily lives is. We consider the fact that there are billions of human beings on the earth, and who knows how many angels and other supernatural beings in God's unfathomable vast universe. How could He really be aware of the things mentioned in those four verses? Yet…this is what the Holy Spirit spoke through the writer of the Psalm and we know God's Word is true. A little further down in the Psalm we find these words:
13 You made all the delicate, inner parts of my body, and knit them together in my mother's womb. 14 Thank you for making me so wonderfully complex! It is amazing to think about. Your workmanship is marvelous — and how well I know it. 15 You were there while I was being formed in utter seclusion! 16 You saw me before I was born and scheduled each day of my life before I began to breathe. Every day was recorded in your Book! Verses 13-16
During my morning devotions a few days ago, I read in Jonathan Cahn's Book of Mysteries how the days of our lives roll out like a scroll. God's Book of Days is actually the Scroll of Days. The Scroll of Days holds the Word of God, the Will of God, and the Plans of God. How are these revealed? Jonathan put it this way:
You can only see what's inside the scroll as it unrolls. You can only see the fullness of God's plans for your life as they unfold…as the scroll unrolls. And unlike the books you've been used to reading, with a scroll, you can't skip ahead to a future section. Everything has to unroll in its order. So with your life, you can never be shown all that lies ahead of you. You wouldn't understand it, and you wouldn't be able to deal with it. Everything must unfold in its order, in its place and time. 
Yet, what lies ahead in the scroll is already written, finished. So too, God's plans for your life are already written and finished. And so it is written that He has prepared for us good works beforehand that we should walk in them. It's already there beforehand, but only unfolds in its time. Notice that  everything in the scroll is connected. You don't see the words that haven't yet been unrolled, but the words you do see lead directly to them and foreshadow them. So it is with God's plan for your life; you don't see all that lies ahead, what hasn't yet been revealed, but the part you do see in the present foreshadows what lies ahead and leads directly to what is yet to be revealed. The key, therefore, is to live in the present. To live the present day and every present moment of your life in the fullness of God's will. The words you see, living in the course of His Word, will lead you to the perfect will and the appointed destiny waiting in your unrolled Scroll of Days." 
With those thoughts in mind, note what the Holy Spirit had the prophet Jeremiah write in Jeremiah 29:
11 "For I know the thoughts that I think toward you, says the LORD. Thoughts of peace and not of evil, to give you a future and a hope. 12 Then you will call upon Me and go and pray to Me, and I will listen to you. 13 And you will seek Me and find Me, when you search for Me with all your heart. 14 I will be found by you," says the LORD…
We serve a good GOD! 
Now to the House of Blessing update…
I had a short call from Pastor R and he added a little to the storyline that has been developing over the past few weeks. You will remember the story of Ayaet Rahmani, a former assassin and the men who worked for him and how they were reached with the Good News of the Gospel. The news of Ayaet finding Jesus, as well as his men, has continued to spread around their locale. 
The latest addition to the story has to do with an imam by the name of Mahmmod, who sent a message to Omar that he would like to speak with him. After praying and asking God's guidance, as he always does, Omar made his plans and went to see him. In this case, Omar spent a full four or five days with the man, sharing the Gospel with him and answering his questions as best he could.  Mahmmod admitted to Omar that he had not felt good teaching what he had been expected to teach as a Muslim Imam, but it had been the way he had made his living for many years. At the end of this extended visit, Omar was asked to pray with Mahmmod as he committed his life to Jesus Christ as his Messiah and Lord! What a wonderful blessing!
Mahmmod then asked Omar to go with him to his mosque so they could share the Good News about Jesus with the men gathered at his mosque. There were 150 men gathered for prayers when Mahmmod and Omar directed these men to the Bible and what it had to say about Jesus, the soon coming Messiah. After they had shared their own personal testimonies and then from the Word of God, 30 men decided to follow in the footsteps of Mahmmod and accepted Jesus as their Lord also. The other 120 however then began to throw their shoes and stones at the men and beat them all mercilessly as they ran them out of the mosque. They all were injured, some severely, but by God's grace they have all survived. Pastor R has asked that we all take the 120 who rejected the message before the Lord in prayer that they will receive a revelation of Jesus and bow their knees before Him as well.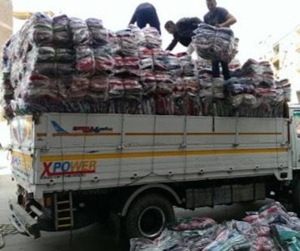 In other news, cholera continues to raise its ugly head and the unofficial count of those who have contracted the disease now stands at 64,000. The HOB missionaries continue to minister to them as best they can. As they have Bibles to share, they do so. If not, they share the Word of God from one family tent to another verbally. They also share what supplies they have, including the Oregano tea mixture that has proven to bring considerable relief from the effects of winter diseases that are still plaguing the refugees. As they are able, HOB missionaries provide one meal of wheat along with the Oregano tea to as many families as they can, and as God does so often, the supplies get multiplied. God is good!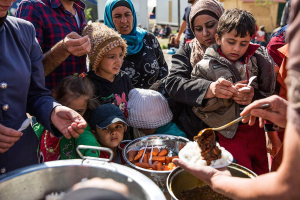 HOB was again able to visit many hundreds of family tents, sharing a little wheat and Oregano tea, but best of all, the Good News of the Gospel. They have opportunities to pray with most of those they visit. Many accept the Lord as their Savior for the first time, and many others are prayed for and encouraged by the missionaries. 
Pastor R continues to meet with his leadership and also pray for many groups of people that seek him out every day. He requests our prayers for his physical issues. God continues to sustain him but his road is not an easy one to travel. His Scroll of Life only unrolls a little at a time too, just as with everyone else. But, God is always in control, whether we see it or not! Praise God!
Thank you all for your prayers and support for the House of Blessing. Soon, the harvest will be complete and the Lord will come to call His people HOME!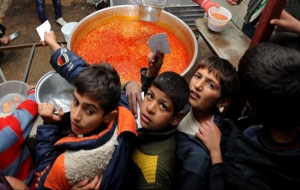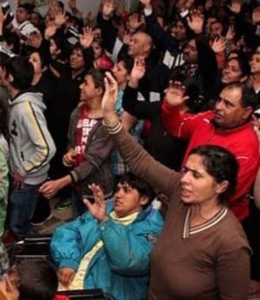 Listen to the promise found in Isaiah 46. It is a promise that not only applies to the Jewish people, but to all those who are followers of Jesus Christ as well.
3 "Listen to Me, O house of Jacob, and all the remnant of the house of Israel, who have been upheld by Me from birth, who have been carried from the womb, 4 even to your old age. I am He and even to gray hairs I will carry you! I have made and I will bear; Even I will carry, and will deliver you." Isaiah 46:3-4
Forever in His Service,
Jake