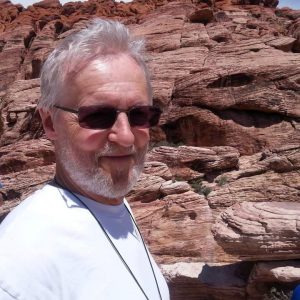 Personally, having always been an avid reader and, having studied Bible prophecy as many years as I have, I am still amazed at the increased speed at which our world is hurtling toward the end of the age. Even though the non-Christian world doesn't recognize the "End of the Age" in the same way we Christians do, it does recognize the signs of an unprecedented apocalypse just ahead. As Christians who should read and study our Bibles on a daily basis, and because Jesus commanded us to, we especially should recognize the signs of the times we are living in.
Jesus warned two millennia ago that there was a time coming when there would be wars, and rumors and threats of wars, an increase of earthquake activity, drought, famines, pestilence, and death in great numbers. Historical statistics show that after the inception of the Church of Jesus Christ on Pentecost, each subsequent period of 500 years saw in increase from the previous 500 years in each area warned about. The 20th century, however, showed a greater increase than ever before. The death and destruction brought about as a result of two world wars, devastating plagues, widespread famines with resultant starvation were beyond anything the human race had ever experienced before. This does not even touch on the extermination of masses of the unborn due to abortion practices around the globe. Conservative figures tell us that nearly 2 billion babies have been aborted worldwide since 1973!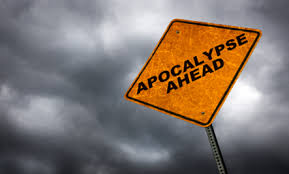 We now find ourselves in the 21st century and the extinction-level threats are more obvious than ever. Our world is facing dire threats from many directions. For many people it is too depressing to think about an imminent world war, yet it seems the fuse has already been lit. Earthquakes and volcano activity are escalating exponentially. Weather around the world is becoming chaotic. Then there are the cosmic threats that will soon be impossible to keep concealed from view.  
I say all these things because most people don't recognize the crucial times we are living in. In my personal writings, I mention quite often that we are at the end of the age but I wonder how often these warnings are discounted as a mere "figure of speech" or even an attempt to sensationalize. But the fact is: We are at the end of the age!
For the House of Blessing missionaries, the situation on the ground each day is enough reminder of the crucial time our world is in. We truly are in a race against time! While nearly one million people have been slaughtered in the last seven years and most of the infrastructure of Syria and much of Iraq has been destroyed, the faithfulness of these brave HOB volunteer missionaries has led to great multitudes of souls being reached—many of them literally praying the sinner's prayer with their last breath as they entered eternity. I believe we will find multitude of believers in Heaven that found Jesus as their Messiah in the same fashion as the believing thief on the cross. Eternity decided in just a moment of time!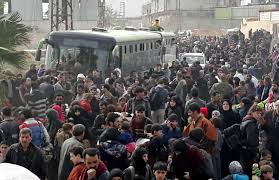 In my phone conversation with Pastor R this week, he confirmed news stories telling how international arrangements have been made where thousands of people have been able to get out of the Eastern Ghouta area in several evacuations and have been transported by large convoys of as many as 100 busses at a time, north to the Idlib province area. An exact number of evacuees is not available but news reports of just two groups leaving totaled approximately 15,000 people. House of Blessing brothers Same and Omar, along with scores of helpers were able to reach 4,200 of these people with the Gospel during the process of their being evacuated. Those that heard the Good News and believed, accepted Jesus Christ as their Messiah and were prayed with before they were transported north. There will, of course, be follow up with these folks through the many House of Blessing missionaries located in Idlib province—including many that belong to HOB's Widow Sisterhood.
As we have seen, not all of the work of the missionaries is evangelistic in nature. Some of it is just plain hard work and sometimes gruesome in nature. Pastor R's personally trained twelve men dug graves nearly all hours of the day for many days. Not having means to rent a tractor, they dug enough graves to bury at least 180 of the dead. These 180 dead included 25 children.
Sister Fatwa and the widows working with her ministered to 45 of the more seriously injured. Sister Mufiedah and members of the Widow Sisterhood helping her ministered to an additional 55. All 100 of these people not only had their wounds treated and their healing process started, but every single one of them also became a personal follower of Jesus.
Previously I wrote about God working among the people in a most unusual way, leading Sister Mufiedah to speak life directly into twenty of the dead, one at a time. The result of these twenty being brought back to life, as you can probably imagine, has been quite a reaction from the crowds of people who were there! One after another has been coming to the missionaries and asking them to tell them about the God the missionaries serve. They say, "Please tell us, teach us, lead us to a knowledge of this Messiah! We have never seen anything like this before! Please!" As a result, at least 2,100 people were reached with the Good News of God's love for them. This was just within the last ten days or so! There will be many more!
Sister Sarah, along with 70 women helping her, gathered 1,200 women together and ministered to them in her unique way. God has given her a great gift of communicating to those who have suffered some of the greatest losses. As they hear the comforting words of the Holy Spirit from Sarah's mouth, they soon want a relationship with the Messiah as she has. It is truly amazing what God has been doing through Sarah! Someday soon, we will all get to meet her!
On Friday, just before Passover, Omar and Same gathered approximately 1,800 people. They taught them directly from the Book of Exodus. They told the original story of the Passover where the Death Angel passed over every home that had the blood of a sacrificed lamb displayed on the outside of the door. They also explained the significance of this in the ultimate sacrifice that the perfect Lamb of God, Jesus Christ made. For the first time in their lives, these people are given the understanding of what the sacrifice was all about in the Old Testament, and how the Son of God fulfilled it once and for all time. With this understanding, the eternal destinies of multitudes are being changed!
All through the Mideast where the House of Blessing meet, they are eagerly learning from the available teaching materials. The hunger displayed by these precious people is inspiring. I often find myself ashamed when I allow worthless distractions to keep me from God's best. These people are willing to spend every waking moment it seems in their pursuit of their intimate relationship with their Master. Those that have Bibles share them with many. Those that don't have Bibles study the many materials that God has provided for them. Scriptures are learned and memorized. Thousands scattered all over the Middle East are still finishing up their latest study on the Beatitudes. Soon, they will be receiving studies on John 8,9, and 10. It is a great subject to share with the multitudes that will be gathering for the Muslim Ramadan 2018. It will be an opportunity to introduce the REAL Messiah, Jesus Christ!
Please keep the entire House of Blessing in your prayers. And, if the Lord lays the need upon your heart, please use the PayPal button provided to help them reach the Mideast for Christ. It is a great eternal investment! Our Lord is coming SOON. Let's finish well!
Forever in His Service,
Jake Geier