Many people in today's world, even those that may not claim to be religious, are beginning to recognize that we are living in a time like none before.  I have often referred to the warnings Jesus gave to the disciples in Matthew 24 and Luke 21. These passages go into considerable detail about what to expect in the days in which we are living.
There are, however, many more Scriptures which describe the condition of the world during the days just prior to the return of the Messiah who will take control of this fallen planet. One that is quite familiar is found in 2 Timothy 3. It reads this way:
But know this, that in the last days perilous times will come: For men will be lovers of themselves, lovers of money, boasters, proud, blasphemers, disobedient to parents, unthankful, unholy, unloving, unforgiving, slanderers, without self-control, brutal, despisers of good, traitors, headstrong, haughty, lovers of pleasure rather than lovers of God, having a form of godliness but denying its power. And from such people turn away! 2 Timothy 3:1-5
Earlier in the Apostle Paul's epistles to his spiritual son, Timothy, he said this:
Now the Spirit expressly says that in latter times some will depart from the faith, giving heed to deceiving spirits and doctrines of demons, speaking lies in hypocrisy, having their own conscience seared with a hot iron, forbidding to marry, and commanding to abstain from foods which God created to be received with thanksgiving by those who believe and know the truth…1 Timothy 4:1-3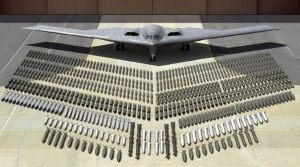 In this age in which communications crisscross the world in micro-seconds by use of television, laptops, or our smartphones, in real time we witness things that are happening half a world away. We are flooded with information, both good and bad. We hear of war, droughts, famines, pestilences, and increasing wickedness and violence all around the globe. The harder mankind tries to solve his own problems without the help of his Creator, the worse the world situation gets. None of these problems are new, but never in man's history has the very survival of the human race been in such jeopardy.
Again, Jesus warned that this would be the condition of the world at the end of the age. Yet, He said that the gates of hell would not prevail against those who would be covered by the matchless Blood of Jesus and empowered by the Holy Spirit. The commission given to the Church just before Jesus ascended to the Father after His death and resurrection is still in effect today. This "Great Commission" was given in Mark 16 and reads this way:
"…Go into all the world and preach the gospel to every creature. He who believes and is baptized will be saved; but he who does not believe will be condemned. And these signs will follow those who believe. In My name they will cast out demons; they will speak with new tongues, they will take up serpents; and if they drink anything deadly, it will by no means hurt them; they will lay hands on the sick, and they will recover." Mark 16:15-18
True believers and followers of Jesus Christ have been following through with this commission all around the world for the last 2,000 years. Today, at the very end of the age, there are more souls being snatched from the jaws of hell than ever before in history. Part of this end-of-the-age army includes the House of Blessing missionaries.
There are new readers of this blog every day, so I repeat comments like those above. But regular followers of the ongoing story of the House of Blessing know that the HOB missionaries have been giving their all on the Middle East mission field nearly since the beginning of the so-called Arab Spring.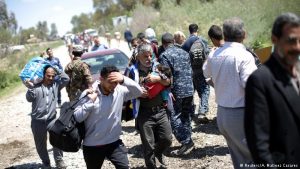 The chaos in the Middle East continues, and it seems there is no solution that the UN or any other world organization can offer to stop or even slow the mass maiming and killing of the innocents. There is, however, one hope that is being offered to anyone who will choose to listen. That hope is centered in the only real Messiah, Jesus Christ. In a part of the world where Christians are the favorite enemy to torture and kill, it is not a light commitment made by the HOB missionaries as they go about fulfilling their part of Jesus' commission. Many hundreds of HOB missionaries and new believers continue to lose their lives while sharing the good news of the one and only Sacrifice necessary for the forgiveness of sin…the life offered by the Messiah Himself, 2,000 years ago.
The four main population centers that House Of Blessing missionaries concentrate on are northern Syria; in and around Aleppo and the surrounding towns and villages; Damascus and its metropolitan area; Fallujah and Mosul Iraq and the surrounding towns and villages. There are also HOB missionaries that move in and around other cities, towns, villages, and especially the concentrations of refugees in all areas.
In the Damascus area, Omar and Same (pronounced Sammy) now spend two full days of the week teaching the original 2,000+ new believers  who were initially reached when an amazing outpouring of God's spirit began through Omar and Same. Each of them is being taught the basics of what Scriptures are all about. Since there are not near enough Bibles to go around, they lean heavily on teaching materials that have been provided and mass copied. It is proving to be very effective. As these new believers learn, they are able to reach out to their close relatives and friends with the good news.
Also, along with the work of other HOB missionaries in the Damascus metropolitan area, Sister Sarah continues having doors opening for her to share the amazing testimony God has given her. She ministered to 115 in the last few days. Many are reached with the testimony of Jesus in her life and many are also comforted. To Muslim people, a message of comfort and forgiveness is something never heard before. It brings great peace and joy to those that respond to God's goodness, praying the sinner's prayer and committing themselves to the Lordship of Jesus Christ.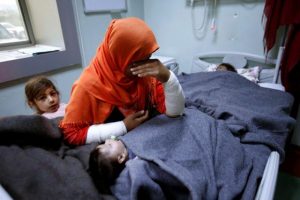 Both Mufidah and Fatwa have continued to minister in the way that God has blessed them. Between them, they ministered healing to 31 badly injured people. Best of all, each of these also committed themselves to Jesus, the Messiah. As for the rest of the Widow Sisterhood women missionaries, their work continues nearly 24 hours a day, seven days a week. Most of the work of these missionaries is not detailed in these updates. I am only able to provide the highlights.
One of these continuing highlights is the amazing communion services that are held day after day in different locations. I have learned that the two main groups of people who meet in several locations throughout the week in northern Syria and central Iraq are not the only communion services. These same special services are held all over, whether in tents, homes, bombed out buildings, or in other small gatherings wherever it is possible to do so.  It is one of the most important events of everyone's week. Amazing! Hafezah and Fatima have led the two largest groups meeting for communion. A group of 925 met with Hafezah in northern Syria this last week and another 820 met with Fatima in central Iraq. What an experience it would be to share in any one of these special times with these very special people!
As the HOB missionaries ministered in Syria this past week, there were at least another 150 who became new believers. Sadly, six more HOB missionaries lost their lives.
In Iraq, Adel and Haleb, along with the missionaries working with them, were able to reach 120 who gave their lives into the lordship of Jesus Christ. But, eight of the HOB missionaries were lost in the Fallujah area where these men have been ministering.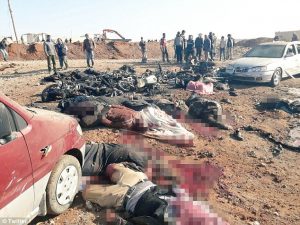 In Mosul, where some of the most brutal conditions have been endured by the hundreds of thousands there for so long, the conditions continue to be really tough. Akram and Mustafa and the many HOB missionaries working with them were able to reach another 220 who wanted to commit their lives and eternities into the hands of Jesus. However, here also missionaries were lost. This week, it cost the lives of 24 missionaries and new believers.
One thing that is said about the believers wherever they are located is that they are full of joy. It doesn't matter what their circumstances are, they experience the joy of the Lord! This is something I have heard personally when I have an opportunity to speak with one of the believers over the phone. Even with those who cannot speak any English, it is obvious. Quite often when I am speaking with Pastor R on the phone, there is a man with him named Mahmoud. He doesn't speak English but always wants to get on the phone just to hear me speak with him and pray for him. Pastor R always translates for him, but the presence of the Spirit of the Lord in his life could not be more obvious! It is always an honor to be on my end of the phone line with any of these brethren. God is good!
Pastor R is out in the field getting things ready for the big evangelistic push during Ramadan. Arrangements are already being made and supplies being gathered to distribute to the different areas where the HOB missionaries will be ministering. Pastor R is also doing some teaching, although trying not to overdo it. He did not get the heart surgery that he needed, but has decided to trust God with his physical condition. After all, that is what has kept him alive to this point. Whether we think he should have had the surgery or not, let's honor his wish for our prayers on his behalf. He feels that time is now so short and the situation is so crucial that he doesn't want to be laid up with surgery and recovery. Let's cover him with sincere, earnest prayer! God is able!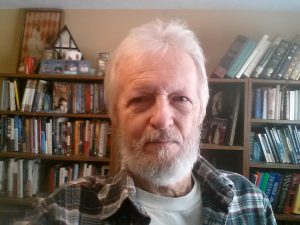 Ramadan begins May 26th and runs through June 25th in 2017. Much prayer is needed and the need for finances is also very real and great. Let's believe God for a great burden of prayer put on Christians all around the world that are aware of this ministry. And, we will also believe the Lord to provide every dollar they have need of. It is not about building a ministry, it is about souls. The fields are white and need to be harvested…NOW.
For those that would like to help HOB financially, I have a PayPal account connected to my e-mail address which is designated strictly for HOB. 100% of all funds go to the work of the House of Blessing.
Forever in His Service,
Jake Geier