As the 2019 Muslim month of Ramadan is well underway, the Middle East appears primed for a major war. I understand that many people would rather not hear anything of negative subjects like war, terror, the end of the age, and so on. I understand the sentiments, but the reality of the very unique time in which we live today should not be ignored. Jesus Himself made that quite clear.
Many people have lost their lives in the Mideast since the so-called Arab Spring began nearly years ago, and people are still dying while tens of thousands continue being displaced due to one conflict or another.
The Syrian military, as of late, has been fiercely attacking dens of Jabhat al-Nusra terrorists (formerly affiliated with al-Qaeda). This escalation has caused the added displacement of more than 180,000 civilians in the area and has killed more than 120 people, according to the UN Office for the Coordination of Humanitarian Affairs (OCHA).
According to news sources three hospitals were bombed just this last weekend in the Idlib and Hama regions. This brings the total to 16 in the last two weeks. There has been a heavy escalation of shelling and barrel bombs targeting both Hama and Idlib in the last few days. This bombing by both Syrian and Russian bombers is continuing even as this update is being written. There does not seem to be any concern for the civilian population by those ordering the bombing runs. This is evidenced by the population centers and civilian infrastructure being hit, including hospitals and schools.
In my most recent contact with Pastor R, he reported that the HOB missionaries have been doing what they can to help over 23,000 of those who are fleeing for their lives in the area. As regular readers will know, the House of Blessing has quite a substantial community of believers in the northern region of Idlib, Aleppo, and surrounding area. Although this is not exactly how the HOB missionaries had planned on evangelizing during Ramadan this year, they are doing what they can to alleviate what pain and suffering they can.
Of course, most people fleeing have nothing more than what they can carry on their backs. HOB in the region managed to put enough funds together to bring in one truckload of wheat and water. This provides some meals for tens of thousands of very desperate people.
Of those that were killed by the intense bombing, HOB also lost eight men and three women. As it is already getting hot during the daytime in the Middle East, the bodies were buried as quickly as possible. As always, the HOB missionaries continue helping to get as many of those from the civilian population who have lost their lives buried as they can.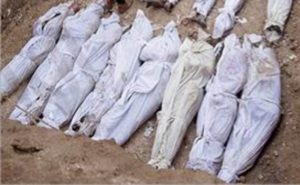 Many have asked if anything has been heard yet about Omar, Mufiedah, and Sarah. At the time of this writing, there has not yet been any word. Please keep praying for these missionaries. We know that the Lord can cause a harvest of souls to be brought in even while they are in confinement.
Pastor R also said that HOB missionaries in one of the other regions was able to make available half  a truckload of wheat. This will go a long way in keeping one of the HOB communities alive, with enough to share with those around them. God is more than able to multiply the supply as is needed. He has done it many times!
In the Deir Ezzor territory of eastern Syria, HOB teachers are daily teaching the former ISIS militants who have made Messiah Jesus the Lord of their lives these last few weeks. These folks are receiving hours of teaching each day. They are learning all about the importance of the Blood of Jesus, His Divinity, and how to begin the walk of faith. They are also learning the importance of living in intimacy with Jesus through their new life of prayer, praise, and worship.
In other areas, classes continue being taught as possible. The special group of 69 former Muslim sheikhs–now disciples of Jesus,  are continuing their training under the able discipleship of former head-sheikhs, Mefliah, Radi, Taher, and Shaher. One of the interesting things about these former Muslim religious leaders is their appetite for Biblical prophecy. Most Muslim clerics have a working knowledge of Islamic prophecy, and now that they have become believers and followers of Jesus, they express a greater appetite for learning what the Bible has to say about the end of the age than many Christians in the West. These materials are also being provided as they can be made available.
As it is possible and the supplies are available, Hafezah, Ferial, Fatima, Marian, and others continue making special evenings available for communion services. From past reports, I know that communion services like this are being made available by HOB sisters all across the Mideast. These are some of the most spiritually uplifting times for these underground Christians. As the people praise and worship, God touches them physically, and energizes them spiritually.
With the threat of a major war between the US and Iran increasing, the situation for the HOB missionaries and community of believers is getting worse by the day. The community of believers has grown but their situation is pretty dire. Please pray for these brave and committed House of Blessing missionaries and all of those they are shepherding. Many of the believers in Iran have a great fear of the war coming up.  But they, as well as Christians all around the world, continue leaning on what the Apostle Paul had to say to his young understudy, Timothy:
Therefore I remind you to stir up the gift of God which is in you through the laying on of my hands, for God has not given us a spirit of fear, but of power and of love and of a sound mind. Therefore do not be ashamed of the testimony of our Lord, nor of me His prisoner, but share with me in the sufferings for the gospel according to the power of God, who has saved us and called us with a holy calling, not according to our works, but according to His own purpose and grace which was given to us in Christ Jesus before time began, but has now been revealed by the appearing of our Savior Jesus Christ, who has abolished death and brought life and immortality to light through the gospel… 2 Timothy 1:6-10
Paul was not just telling Timothy that he should not fear, but he was also telling him what it is that gives him the ability not to fear…..through stirring up the power of the Holy Spirit within. We have been called to a holy calling and God will provide everything necessary for us to finish well in the course laid out for us by the Savior of our souls. We have been called to a life of light and life. Our own immortality is right around the corner. Praise God!
In conclusion, please continue holding all of the HOB missionaries up in prayer. Pastor R continues praying for hundreds every single day; as do Pastor Farid and others. The House of Blessing has thousands of missionaries across the entire Middle East depending on our prayer and support. Thank you all.
Forever In His Service,
Jake Geier