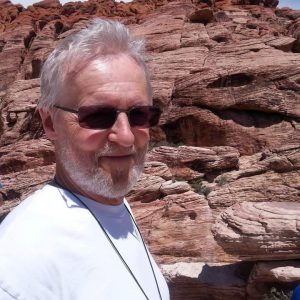 It has been nearly two weeks since the last Mideast Update was written. As we have seen over the many updates, the conditions on the ground change from one day to the next. Recently, along with the normal update information, I provided some of the details of the military siege on Eastern Ghouta and the catastrophic consequences for the large population of the area. Now, with the call from Pastor R, I have received confirmation of news stories in the last few days about the comprehensive assault on Daraa, Syria.
I won't try to cover the complexities of the military goals of the different entities involved, other than to say that the source of this assault is Syria's Assad regime. Other entities include the so-called rebels, Lebanon's Hezbollah, Iran's Revolutionary Guard along with mercenaries hired by Iran, and Russia's military. There are also numerous militant factions represented. The United States has opted to stay out of this conflict and so it appears there is little question about what the outcome is going to be. Syria's civil war unofficially began in the Daraa area and now, over seven years later, Syrian forces intend to regain control over the area once more. Leaflets had been dropped over the area warning of the assault, telling the rebel forces to surrender or suffer the consequences of the heavy bombardments. These bombardments came as promised including carpet bombing.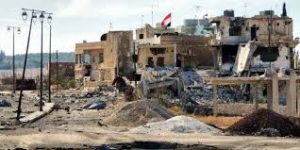 Jordan, neighbor to Syria, already with a population of over 9 million, has 660,000 registered Syrian refugees.  That does not include a great many more unregistered refugees that are now in the kingdom. International aid organizations have sounded the alarm for the tens of thousands of desperate Syrians fleeing the onslaught of President Bashar Assad's forces in the Daraa area and have urged neighboring nations to take them in. Jordan is refusing to take any more refugees across their border in spite of the fact that there are upwards of 50,000-70,000 people that have already been displaced by the fighting, including at least 20,000 children and their families in just three days. The Norwegian Refugee Council specifically urged Jordan to take in thousands more of the fleeing Syrians, saying they have "nowhere else to turn", as they flee Assad's forces, which began their offensive in southern Daraa province on June 19. In all fairness to Jordan, the nation has done much more than their share in trying to help with the plight of refugees in the last few years.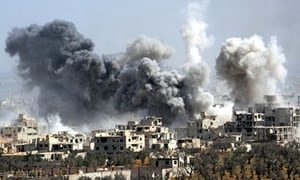 Long time readers of this blog may remember that the Daraa province was where Pastor R first crossed into Syria from northern Jordan several years ago. It was also after Pastor R went into Syria that he and two other younger Christian brethren were brutally attacked by ten Hezbollah militants, leaving all three paralyzed from the waist down and needing wheelchairs. So very much has transpired in the years since!
Pastor R now has told me that a large number of HOB's missionaries have moved into the Daraa area and wherever they find the fleeing refugees to do what they can to help the injured, bury the many dead, and most importantly, reach as many with the Good News of the Gospel story of Jesus the coming Messiah.
Reports have come in that brothers Omar, Same, and Radwn have teamed up with a large number of the missionaries they have trained, first of all to get as many of the 160 dead buried, some of whom belonged to the HOB Christian community, and then reach as many of the refugees as possible. The work of these faithful missionaries is already bearing much fruit, with many asking Jesus to become their Lord and Master.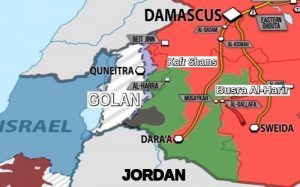 Mufiedah, Fatwa and a large number of women who are part of the Widow Sisterhood have also joined in the effort. Already, they have treated 155 of the injured, some of course with relatively minor injuries, others though with gruesome injuries. Each of these people are loved and treated just as the Master Himself would treat them, and as is nearly always the case, after being nursed and ministered to, they become believers and followers of Jesus as well.
Pastor R told me that Sister Sarah and her ministry team, which has grown to 85, has also gone down to the Daraa area. I don't know the total number of HOB's 2,200 missionaries who have gone to the war zone, but it is a sizable force of very dedicated missionaries. All of these missionaries is aware of the extreme dangers of moving right to the front lines of the war zone. Every one of them is aware that they could lose their life at any time, but they have felt that God has sent them to fulfill their part of the Great Commission in this way. I am reminded of what God told Joshua when he was to take Moses' place as the leader of the Israelites:
"Have I not commanded you? Be strong and of good courage; do not be afraid, nor be dismayed, for the LORD your God is with you wherever you go." Joshua 1:9
A favorite Scripture of mine is found in Isaiah 26:3-4, and its encouraging words read:
You will keep him in perfect peace, whose mind is stayed on You, Because he trusts in You. Trust in the LORD forever, for in YAH, the LORD, is everlasting strength.
What these House of Blessing missionaries are doing now reminds me of movies I've seen where you will see soldiers, armed with swords and shields, running full speed ahead, directly into the opposing army…staring death right in the eye! I don't know any other way to explain how people would move from one dangerous location to one is more dangerous yet. For those of us who still live in relative safety, it is hard to imagine what is happening in Daraa right now. "Carpet bombing" means that planes make pass after pass over infrastructure where people have their homes. For those who do not flee, there is a high probability they won't survive the onslaught. The missionaries will be in these locations, combing through the debris looking for any sign of life. Many times they will find someone that is only minutes from death and they will do everything possible to change their eternal destiny before they expire. Others of the missionaries will be found among the thousands that are on the road, fleeing from the front lines of the battle. Still more of the HOB missionaries will be found in whatever locations the fleeing people have found to rest before moving on. All have one purpose…reach one more soul before it's too late!
What arrangements do they have for sustaining themselves? None. They have little choice but to live totally by faith. It is either that or they do not go to where they are needed. That is not an acceptable choice for these missionaries!
The House of Blessing, although stationing a large number of missionaries in the Daraa region, still has hundreds of missionaries scattered across the Middle East. In northern Syria, Sisters Hafezah and Ferial provided celebrations of communion this past week for over 1,300 believers. As has been shared many times, these communion services, whether they are in large gatherings or in small groups wherever they are able to meet, are special times of refreshing for the believers as they praise God, worship Him, pray for each other for healing, and of course celebrate what communion is all about. As He has promised, the Lord meets with them every single time they gather.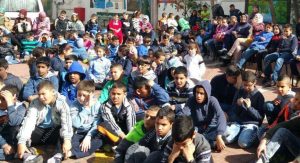 Brother Munser has continued to minister to the 12 surviving HOB missionaries from the brutal attack some weeks ago. He has reported that they are now 99% healed and are back ministering to the needs of others.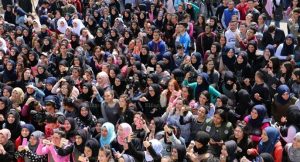 The 44 widows and their 88 children are still being cared for. The training sessions had to be postponed for a bit until more funds can be raised for the meals and teaching materials, etc. As soon as these widows have completed their training, they intend to go out and take the place of their fallen husbands in the work of evangelizing the lost. (NOTE: These last four photos are of the widows and their children).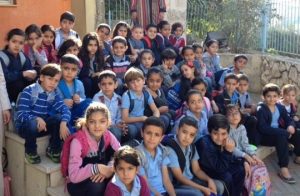 The House of Blessing teachers, Yosef, Zakaria, Abed, and Faisal continue to gather with the former head sheikhs, Mefliah, Radi, Taher, Shaher, Ziad, Gigess, Alaa, and Fathi in the Fallujah area. Their gatherings include their former congregations of several thousand men and family members. All of these people are hungry for the Word of God and will gather for many hours at a time to study, memorize, and continue their training to completion so that they can also join the ranks of the House of Blessing missionaries.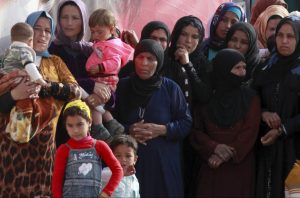 In this report, I was not able to provide details from the Kurdistan area, Iran, nor many of the locations where the House of Blessing has communities of believers, but they continue serving the Master. Pastor R continues praying for 500-600 people every single day. He has about 20 of the missionaries helping him with this heavy task. These people come with every imaginable need. Many of them are very ill. Pastor R has been protected from illnesses that are contagious but he does struggle with weakness at times. He also has other physical issues but the Lord continues to keep him going. Soon his task will be completed, as it will be with all of us that are serving our Lord. We all know that the end of the age is at the door. Soon the Age of Grace will be past. But until that time every missionary has learned to live by 2 Corinthians 4:7-10:
But we have this treasure in earthen vessels, that the excellence of the power may be of God and not of us. We are hard-pressed on every side, yet not crushed; we are perplexed, but not in despair; persecuted, but not forsaken; struck down, but not destroyed–always carrying about in the body the dying of the Lord Jesus, that the life of Jesus also may be manifested in our body. For we who live are always delivered to death for Jesus' sake, that the life of Jesus also may be manifested in our mortal flesh.
I want to thank everyone who prays for the House of Blessing, and I also want to thank each person who has sent financial gifts, either through the mail or by PayPal, to help HOB with the heavy burden they carry. Most of us would be shocked if we knew what it really takes to maintain this size of a ministry in a location where people are dying daily, either because of the conflicts, the persecution, or even just from exposure or starvation. HOB missionaries will share their last crust of bread with anyone and then ask the Lord to multiply it. And, God does. But, this does not take away the awesome responsibility that those of us have who live so comfortably to help those who are living totally by faith. These folks do not have the option of providing for themselves. Most who read this blog are aware of how fortunate we in the West are and are in tune to the Holy Spirit's guidance. I read in one of my devotionals today that martyrdom is not something that confronts most of us. few of us are persecuted. Yet all of us can say with assurance that following our Savior is difficult. He asks us to make sacrifices. He asks us to be obedient, even when obedience is painful. And though He doesn't ask all of us to die for Him, He does ask all of us to live for Him. When we were bought by His blood, we became His possession. Gloriously, joyfully His possession, but His nonetheless. Thank you all for your faithfulness to the Master and for your care and love for the House of Blessing. 
God Bless You All Abundantly,
Forever in His Service,
Jake Geier