For those who might read this blog regularly, it might seem that there is no end to the stories from the Middle East of war, killing, never-ending carnage, and seemingly a never-ending list of missionaries who have been martyred for their faith in Jesus Christ. I would have to agree to a point. I have enough real life stories within the last four years to fill a couple books! But, the stories are not just of the number of tragic deaths of God's servants. The numbers of people who have found Jesus as Lord of their lives is far greater, beyond the imagination! And…it continues still.
As most might know, there are tens of thousands of innocent people trapped in the Fallujah area. I happened on a news article by Fox News that quoted a United Nations report saying that there are 20,000 children, besides all the adults, who are trapped in Fallujah between ISIS forces who have been in control of the Fallujah area for about the last two years and the Iraqi army which is pushing into the city under cover of American warplanes. True to the nature of most jihadist groups, they have no problem putting innocent men, women, and even their children between themselves and the incoming military forces. They don't care how many of these people die in the process. And, dying they are… by the hundreds!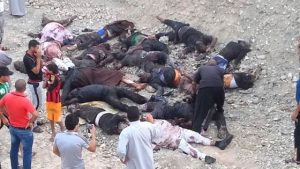 I have received several phone calls from HOB in the last few days, reporting that another 40 of the new converts to Christianity have been killed. They are trapped and have no way of escape. ISIS is not allowing anyone to escape and these people are starving to death. At the beginning of the attack by the Iraqi army, the people were urged by the Iraqi government to evacuate Fallujah, and hundreds did manage to leave even though ISIS was heavily bombing, trying to kill as many as possible on the way out. Those that survived the attacks had absolutely no place to go. It seems that a quick temporary refugee camp could have been set up for them; in fact, should have been.
A few days ago, I asked for emergency prayer for three of the Christian leaders who had been badly injured in one of the ISIS bomb attacks that killed scores of people. These men, Mustafa, AK ram, and Muhnad had lost a lot of blood and without a quick intervention from the God of Heaven, they would not survive 48 hours. After the call for prayer went out, I received news again of how they were treated in the very same way Sister Mufiedah has been treating badly injured and dying victims for over two years. As soon as they did this, they began the healing process. They, however, had another problem; they needed blood badly. How was this going to happen out in the middle of nowhere? Here is where another miracle unfolded. Six of the brethren offered units of their own blood so that each of the men could have two units; that is approximately two pints each. For anyone that has medical experience or knowledge, you will know that blood must always be tested for blood type before it is transfused into someone. There is only one type of blood that serves as a universal donor, and that is "O" blood type. There is only one universal blood receiver, and that is AB blood type. These six units of blood were collected and then transfused under a tree out where there was no way of sterilizing the process, neither was there any way of running tests to see what types of blood were collected. Neither did anyone know what types of blood the three men had. What are the mathematical chances that all six donors and three blood receivers would be medically compatible? The odds are very poor; in fact, nearly impossible–especially under the circumstances. But, then there is GOD! Symptoms of a transfusion reaction would include shock, kidney failure and pulmonary edema. As of yesterday morning all three men were recuperating quickly without any evidence of reaction and were about ready to get back to ministering to others!
In the city of Mosul, I have been told that twenty House of Blessing missionaries and another thirty new believers were killed. Mosul has been under ISIS control as well but there are no immediate plans to take the city back. The situation there is very difficult, especially for Christians.
There has been no word from the HOB missionaries in the Kurdistan area as of late. The relationship between Kurdistan and Turkey has been very poor and is getting worse. We might remember that a few months ago, it was one of the safer places in the Mideast. Not today.
The work in Syria continues to be very difficult, but the presence and power of the Spirit of God working within the missionaries overcomes the resistance of the enemy. The civil war continues, even though one still hears of attempts at resolving the issues and hopeful dates being set, thousands are still being slaughtered. In spite of all this, Mufiedah was able to minister healing to both the bodies and souls of another 50 badly injured people. The situation continues to be absolutely miserable, but in the middle of all the misery, people are wide open to the gospel about Jesus, the coming Messiah. Tragically, while they were evangelizing, twelve newer believers, nine HOB missionaries, and eight children were killed when bombs and missiles hit. It is very hard for me to imagine, as I live in a safe place like Redmond, Oregon in the United States, being able to continue ministering and encouraging the masses when so many of the missionaries and new believers around me are being killed daily! But, God's grace is always sufficient for the circumstance.
The wheat that has come in has helped a great deal. Many of the folks that were able to get at least something to eat for a few days were greatly encouraged and strengthened as well. The needs, however, continue in both Syria and Iraq. Millions are trying to survive under the most dire circumstances. I did come upon another news article saying that for the first time since 2012, a UN / Syrian Red Crescent humanitarian aid convoy has been able to enter the Daraya area near Damascus. The UN spokeswoman said that the priority is to get aid to the 592,700 people in the besieged areas and millions others in hard to reach areas. The convoy is reported to be bringing in food, medicine, vaccine, nutritional items, baby's milk, etc.  Let's pray that it gets to where it is intended to go.
I find myself saying quite often these days, "Even so come, Lord Jesus!" Soon, our Lord and Master will call us home! What a day that will be!
"And behold, I am coming quickly, and My reward is with Me, to give to every one according to his work. I am the Alpha and Omega, the Beginning and the End, the First and the Last." Blessed are those who do His commandments, that they may have the right to the tree of life, and may enter through the gates into the city…He who testifies to these things says, "Surely I am coming quickly." Amen. Even so, come, Lord Jesus! (Revelation 22:12, 13, 20)
Please keep House of Blessing missionaries and all of the new believers in prayer. Let's also keep Pastor R in prayer. The demands upon him are beyond the ability of any man to carry. It takes lots of prayer. Of course, the financial needs are always enormous for Bibles and wheat. The month of Ramadan is almost upon the missionaries and they are believing the Lord for the largest harvest of souls ever this year. Let's agree with them in prayer!
May you all be richly blessed with His presence.
Jake Geier