As I began to write this Mideast Update, the Iraqi military was involved in an all-out effort to free the city of Fallujah from ISIS. As I look at the news reports I have on my desk, officials estimate that approximately 84,000 people had been forced to flee their homes since the start of the government offensive in May against the ISIS bastion. This number does not count the estimated 50,000 or more who have been trapped.
Of those who had managed to escape, some managed to get to refugee camps. These camps are, however, not equipped to handle the enormity of the need. People coming into the camps have absolutely nothing and keeping up with the need for food and water has proven to be overwhelming. The need has been so great that many have starved to death.
One report from a camp recently opened in Amriyat al-Fallujah, south of Fallujah, which has 1,800 refugees, reportedly had only one latrine for women. Thousands of people who managed to get out of the immediate danger area found themselves without shelter in the open at a time when the temperatures are well over 100 F.
Since ISIS swept across northern and western Iraq in the summer of 2014, estimates are that more than 3.3 million Iraqis have fled their homes! According to United Nations figures, more than 40 percent of the displaced are from Anbar province, where Fallujah is located.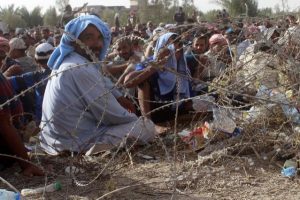 According to a senior Iraqi commander quoted in a Fox News article released this morning, June 26, 2016, Fallujah has just now been "fully liberated" from ISIS. This of course does not mean that all dangers have past. That will not happen until Jesus Christ comes to rule this fallen planet as GOD KING.
The reason I mention these facts is because much of the ongoing House of Blessing missionary effort has centered right there in Anbar province. Many thousands of Muslim people have been reached with the gospel of Jesus Christ, and have committed themselves to the Lordship of Messiah Yeshua. This includes a great number of sheikhs, many of them head-sheikhs with great influence among their larger following. Many of these have also been listed with the number that have been kidnapped by ISIS and have not been heard from since.
The stories of what God has done through His faithful ones in this area have been stunning, to say the least! Many of these have been shared in previous Mideast Updates, including the most recent blog entry, "Harvest Stories: Overcomers." The ministry of Sister Fatimah, the widow of former head-sheikh Salem, continues to be crucial for many hundreds of believers, many of them new in their decision to ask Yeshua for His Lordship in their lives.
Fatimah's special communion services, which in the past served between 1,000 and 2,000 people, now have a little over 300 or so regularly attending. The intense dangers and lack of life-preserving supplies has caused many to flee the area. These 300+ have however been quite instrumental as God has ministered to women having experienced some of the very worst abuse imaginable, both by ISIS and Iraqi military members. This is a part of the war story that one hears nothing about, except from the people who have experienced it. Many of those who managed to escape ISIS controlled areas due to the Iraqi army advance, found themselves treated just as badly by some of the Iraqi soldiers as they were by ISIS.
In spite of everything, brother Adel and his companion missionaries, have reached great numbers of people for the Kingdom of God. Pastor R relayed to me that the missionaries are not getting much sleep but there is no lack of evangelization opportunities–especially during this month of Ramadan. God has opened many hearts to the message of God's love and forgiveness; a message that is never heard in the Islamic world, except through brave followers of Jesus Christ. When I describe them as "brave," this is not an exaggeration. Every single HOB missionary knows that each day could be their last. Sadly, this was the case for at least another five of those working in the Fallujah area as of about ten days ago.
Adel reported that more than 15,000 had escaped the Fallujah area but unfortunately many died along the way. Those fleeing for their lives ran into both Iraqi and Iranian soldiers who abused them badly. This is where the small groups of believers have become very effective. There is great fear and confusion among the people. As they run across these small groups of believers, they are given the good news of God's love through Jesus, and are easily reached. Good news is not ever heard except from the mouths of the missionaries. This will become increasingly so all around the world as this age closes–including in the United States. We are nearly there.
The large city of Mosul, which is the next major target for the Iraqi military to drive out ISIS, continues to be a challenge. The number of new believers continues to grow exponentially. The cost in missionary lives, however, has been heavy. On a call I received on June 16th, another 12 missionaries had lost their lives in the Mosul area. These died mostly due to the heavy bombing runs. A few days later, I received news that another 28 had lost their lives. These 20 included 16 newer believers and four missionary widows, and 8 male missionaries. All were quickly buried, due to the hot weather, to avoid disease. The people in Mosul are very confused with everything that is happening but the missionaries are doing their best to answer their questions with the Scriptures.
In Syria, the House of Blessing missionaries are also experiencing enormous outpourings of God's Spirit on the people, but also high losses in the lives of missionaries and new believers alike. All of the political talk of cease-fires sounds good, but never really comes about. If anything, the signs on the ground say that a much greater war is brewing.
Sister Mufiedah and her "Widow Sisterhood" has ministered to another several dozen badly injured people. All have been healed and all of them have became followers of Yeshua. At the same time, reports from Mufiedah's location tell of at least 20 new believers and missionaries that were killed. These were mainly from the Aleppo and Idlib areas. As of a news report, just hours ago, Russian jets have rained phosphorus bombs on Aleppo. Immediate reports say near 100 were killed. That number is sure to go up.  There is great carnage and much chaos in this whole area. Numbers have not even come in yet as to how many of HOB's missionaries may have been injured or killed in this latest attack.
Some of the good news coming from northern Syria is that Sister Hafezah and those helping her have been able to continue the special communion services. Pastor R told me that she has often been serving up to 1,300 people! No one but believers partake in these special services, but what experiences they are having! As has been the case since the beginning of these gatherings to celebrate communion, many people are healed as they worship God. Also, as has been the case since the beginning, these communion services, both in Iraq and Syria, have been known as places of great peace, refreshing, and anointing. There is nothing in the entire Middle East like these special times of communion, in remembrance of Jesus, His perfect blood-bought sacrifice through His own death on the cross at Calvary, and His resurrection! I am reminded of a passage of Scripture in Acts 4 which reads like this:
…they raised their voices to God with one accord and said: "Lord, You are God, who made heaven and earth and the sea, and all that is in them…Now, Lord, look on their threats, and grand to Your servants that with all boldness they may speak Your word, by stretching out your hand to heal, and that signs and wonders may be done through the name of your holy Servant Jesus." And when they had prayed, the place where they were assembled together was shaken; and they were all filled with the Holy Spirit, and they spoke the word of God with boldness. Acts 4:24,29-31
Even though there is great misery and suffering in the Mideast, there is a great harvest being brought in. Stories about people like Sarah, Bassanah, Raghda, and now the 26 widows being spiritually restored to physical, emotional, and spiritual health, are spreading like wildfire. Through the past 51 months, since this project began, God has brought about great divine appointments with special people. Because of God's miraculous interventions in the lives of these people, multitudes have been reached for the Kingdom of God! I think back to just a few of the ones I've had the privilege of speaking to on the phone, people like: Omar, Nabil, Rami, Jimi, Sister Hafezah, and others. The latest I had the privilege of speaking to, Yasser, is a former Muslim sheikh. Yasser is now working through HOB and when I spoke to him on the phone, he was helping Pastor R who had been temporarily blinded by mustard gas exposure.  I can't describe the joy I experience every time I have the honor of hearing the voice of one of these brethren from the front lines!
Pastor R is doing much, much better. The Lord intervened and touched his eyes. He can see once again! He had still been dealing with serious headaches due to the mustard gas, but he refused to complain…as is always the case. I have never heard him complain about anything! I'm afraid I cannot make the same claim. As of a phone call from him during a fellowship at my home last evening, Pastor R, due to continued prayer by people all over the world, has also been totally healed of the headaches he had been having. Not only that, his eyesight seems to be better now than it even was before being blinded! Only God can do such things! Our good friend and brother R continues guiding the HOB ship under the command of the Captain of the fleet, KING Jesus. Thank you Father for sparing and healing him, again!
In conclusion, as I have been requesting for over four years now, please pray for these brethren. They do not have denominational help, nor do they desire to be part of an organization. They only want to continue reaching souls for the Kingdom of God. Their support is purely by faith, and financially, is by a relative few. God however is the Lord of the harvest, and we trust Him completely. Ramadan is nearly 75% past for 2016. Great things have come about, but the need for Bibles is very great. Many are printed in advance; they just need to be paid for and picked up for distribution. Join us in prayer for the resources needed and also for the continued empowering and protection of these brave souls. It is the greatest and most appreciated help we who are living in relative comfort can give!
But this I say; He who sows sparingly will also reap sparingly, and he who sows bountifully will also reap bountifully. So let each one give as he purposes in his heart, not grudgingly or of necessity; for God loves a cheerful giver. And God is able to make all grace abound toward you, that you, always having all sufficiency in all things, may have an abundance for every good work, As it is written: "He has dispersed abroad, He has given to the poor; His righteousness endures forever." Now may He who supplies seed to the sower, and bread for food, supply and multiply the seed you have sown and increase the fruits of your righteousness, while you are enriched in everything for all liberality,m which causes thanksgiving through us in God. 2 Corinthians 9:6-11
Thank You in the mighty Name of Yeshua,
Jake Geier
House of Blessing; 3206 SW 45th Street; Redmond, Oregon USA 97756