Not long after I spoke with House of Blessing's Pastor R, in my personal devotional time with the Lord today I came across a verse of scripture that accurately describes how many believers in the West feel who have been following, financially supporting, and holding up in prayer the House of Blessing and its missionaries. It is found in 1 Thessalonians 2:13: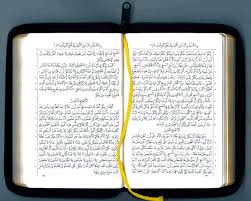 …we also thank God without ceasing, because when you received the word of God which you heard from us, you welcomed it not as the word of men, but as it is in truth, the word of God, which also effectively works in you who believe.
This epistle was written by the Apostle Paul to the Church in Thessalonica, a church that was most eager to hear what Paul had to say and gladly opened their hearts to the truths He had to share which he was hearing from the Holy Spirit. What this verse says fits the multiplied thousands of new believers that were added to the already substantial body of believers and followers of Jesus Christ in the Middle East reached by the House of Blessing.
The work of evangelizing during the Muslim month of Ramadan has passed now by two weeks and arrangements are being made to draw as many of these new converts as possible into Bible study classes so that they can be grounded in their new-found faith. Especially where Omar, Same, and their helpers have been ministering, their hope is to provide eight weeks or more of intensive discipling. Reportedly, there are over 2,000 that are hoping to be able to attend.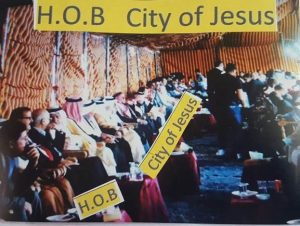 Over the past five years, the Lord has blessed House of Blessing with several opportunities to gather large numbers of believers for special teaching sessions. Training the new believers, though, has been more effective for smaller groups of people to gather under the leadership of two or three teachers. The days are often long and the teaching sessions intensive, but the results are amazing. Omar and Same are themselves part of a group of men who took intensive training through the HOB School of Ministry. Through these two men and many others that were trained alongside them, tens of thousands of souls have already been reached in this last year.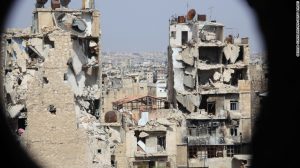 As conditions in the Middle East change, Pastor R and the HOB missionaries he oversees try to adjust so that the work of evangelism can continue. The harvest must come in because time is now so very short. One of the prophetic events that is imminent is the total destruction of Damascus and all the surrounding area. Some are of the opinion that this event has already happened, but history proves otherwise. Damascus has been attacked and under siege many times throughout history but never utterly destroyed. Even today, with the enormous amount of destruction the city has endured, it has yet to be obliterated as the Scriptures foretell. Since this event is now so near, it is timely to include a small portion of the Scriptures describing this destruction. God did not warn of this event for us to ignore. The entire 17th chapter of Isaiah describes the future for Damascus but I will only include the first and 14th verse.
The burden against Damascus. "Behold, Damascus will cease from being a city, and it will be a ruinous heap…behold, at eventide, trouble! And before the morning, he is no more." Isaiah 17:1, 14
The prophet Jeremiah also spoke of the coming destruction of this great city:
Against Damascus. "Hamath and Arpad are shamed, for they have heard bad news. They are fainthearted; there is trouble on the sea: it cannot be quite. Damascus has grown feeble; she turns to flee, and fear has seized her. Anguish and sorrows have taken her like a woman in labor…all the men of war shall be cut off in that day," says the LORD of hosts. "I will kindle a fire in the wall of Damascus, and it shall consume the palaces of Ben-Hadad." Jeremiah 49:23-24, 26-27
The prophets Isaiah and Jeremiah describe the utter destruction of the city of Damascus. At least part of the attack apparently comes from the sea and all of its men of war will be destroyed in that day. Isaiah describes this destruction as happening in one day, between nightfall and morning. Scriptures also seem to indicate that Israel is involved in this destruction. Israel today is being pulled further and further into the conflicts in Syria. Could this be a warning? I suspect so. There is of course much more to the prophetic picture than this, but I will not take the time for more explanation in this short update.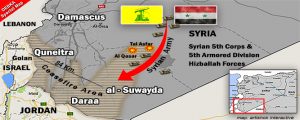 As it seems that Russia, the United States, and other nations have again agreed to a ceasefire in Syria, there is some hope that people will have the opportunity to figure out what they will do next. Hundreds of thousands have been killed in Syria since 2011 and millions have been displaced. There are some reports saying that the emphasis now is on eradicating ISIS completely.  But dismantling ISIS is, of course, not going to stop all of the terror. There are dozens of jihadist groups, including groups like Hezbollah and even Iran and their military forces, and they are not going to obey the dictates of any international leader, no matter who that may be.
In northern Syria, Mufiedah, Fatwa, and other Widow Sisterhood HOB missionaries continue their work, not only evangelizing, but also treating the injured. At least 40 badly injured were ministered to by the women. Each is going through a healing process now and every single one has become a new believer and follower of Jesus Christ. Sadly, in the area where they are located 28 civilian new believers were killed in the last few days.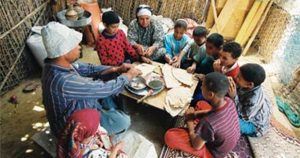 The twelve men that were trained by Pastor R were able to lead 210 in the sinner's prayer this last week. These, like others, were baptized in water. The missionaries' habit is to go out in threes to minister to the crowds. During the same period of time, Sarah and those accompanying her ministered to 180. I don't have a number for those that bowed their knee to Messiah Jesus.
In Fallujah, Adel and Khaled and those assisting them were able to reach another 80 that asked Jesus Christ to become their Lord and Master. When they can feed them they do. One way or another, they show the love of Jesus to all that will respond, adults, or children. Four more of the HOB missionaries working with them were killed. There are still some ISIS militants in the Fallujah area, along with quite a number of other Islamist jihadists.
In Mosul, there is current news reaching the wires that the city has now been taken from ISIS control in its entirety. In my last Mideast Update, there were still approximately 100,000 civilians being used as human shields by ISIS militants. There were also 85 of HOB's missionaries caught with those that were trapped. As of this update, there are yet no reports of how many survived and what their situation has been in the last month or so. Hopefully we will hear soon. We know that a great amount of innocents were killed in the process of recapturing the city. The militants did not give much choice in the matter.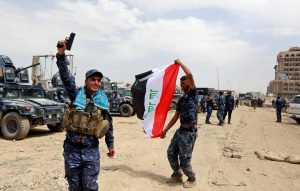 There are also a large number of HOB missionaries that have been ministering in the Mosul and surrounding area besides the trapped 85. According to Akram and Mustafa, they had another 400 added to the large Christian community there. Tragically though, 160 more of the new believers lost their lives this last week.
Word from Kurdistan is that the HOB missionaries there were able to lead another 60 to the feet of Jesus and in Iran, another 40. The evangelism has slowed some in these two areas but there is a lot of teaching being done right now.
Both Hafezah and her right hand help, Ferial, and Fatima and her helpers were able to share communion with well over 1,000 of the believers in both Iraq and Syria. Of course, as always, there were many other uncounted groups of people celebrating communion together. God always provides great refreshing, healing, and empowering by the Holy Spirit. God is good!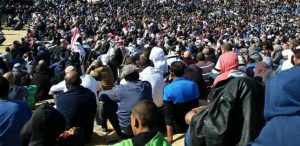 In conclusion, I pray that the Lord Himself will provide you a glimpse of the reality of what has been happening through the ministry of the House of Blessing in the Middle East. We read the statistics of 60 here, 80 here, 400 in another location, and several thousand in another. Please don't see these as statistics. They are individual SOULS that the Lord has touched. Their eternal destiny has been turned 180 degrees! Please pray for these folks, both the missionaries and the new believers alike. And, if the Lord lays it on your heart to help them, please don't ignore His prompting. I am not a fundraiser, but I know how great the need is and I am able to get 100% of the funds to them. Please use the PayPal button provided for this purpose. HOB is dealing with hundreds of thousands of believers that have been reached in the last five years. The task is enormous and the need for financial help is ongoing.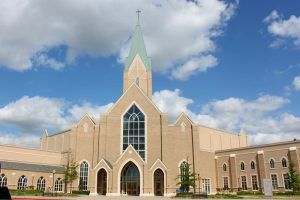 I know as pastors we often are so caught up with our denominational projects, not to mention the needs of our own individual churches that we don't find it very convenient to reach out further. We cannot forget however that the Lord has specifically blessed the American churches with an abundance that no one else in the world has been blessed with. Why do we think that is? Not for us to consume upon ourselves on our our own projects only. It is God who blesses, and it is God who lays the burden on us to lift up and help other members of the Church family in difficult times.
As I close this update, I do want to thank all who pray and support HOB while the door of opportunity is still open. Jesus said, "I must work the works of Him that sent me, while it is day: the night cometh when no man can work." (John 9:4). If the night comes tomorrow, will we have done what the Lord asks of us?  I pray so. Allow me to end with a Scripture from Ephesians.
Therefore He says: "Awake you who sleep, Arise from the dead, and Christ will give you light." See then that you walk circumspectly, not as fools but as wise, redeeming the time, because the days are evil. Therefore do not be unwise, but understand what the will of the Lord is." Ephesians 5:14-17
Forever in His Service,
Jake Geier