As I looked through the current news early this morning, I thought back to the days not so long ago when one could skim through the main headlines and read a few of the news articles inside of an hour. Many of those who pay attention to world events unfolding today; particularly those who are aware of Bible prophecy, have made the same observation. As our world unravels, the speed at which the prophecies given by Old Testament prophets is escalating. 
One of the references I have in my study library is a second book written by the Old Testament scribe, Ezra. Although not formerly recognized as part of the canon of 66 books that we have in our official Bible today, the Second Book of Esdras, as it is called, actually was part of the King James version of the Scriptures in 1611. What is interesting is that even though the Catholic Bible today has a section of books in between the Old and New Testaments called the Apocrypha—which the Anglican Church rejected, this second book by Ezra was accepted by the Anglicans but not by Rome. The actual name of the book is "The Ancient Apocalypse of Ezra." Having now read it several times, I can understand why the Church of Rome would not accept it. Ezra's visions about theology and end times events challenge many theological and eschatological views held by official Catholic doctrine. 
My purpose in bringing this fascinating writing up in today's Mideast Update is not so much to discuss theological doctrines or even end times theology as to provide an interesting quote from Ezra's second book and tie it together with today's Update. Note these words by the Old Testament scribe, Ezra:
"Concerning the signs, however, behold, in the last days the inhabitants of the world will be taken in great number, and the way of truth hidden, and the land will be barren of faith. Iniquity will be worse than you see now, or what you heard of long ago. This land which bears rule now, will be laid waste. If the Most High grants you life, you will see that after the third day (or third trumpet) the sun will suddenly shine again in the night, and the moon in the day. Blood will drip from wood, the stone will utter its voice, and the nations will be troubled, and the air will be changed. The one whom the many do not set their hopes on (the Antichrist) will rule, and the birds will migrate. The sea of Sodom (Dead Sea) will produce many fish and make noise in the night, which none have heard before; but all will hear it. Confusion will abound in many places, and fire will often rain down, and the desert beasts will migrate from their places, and will be found in fresh water and friends will suddenly wage war on their friends. Then wisdom will hide itself, and understanding will withdraw to its secret chamber. They will be sought by many, but not found; then unrighteousness and self-indulgence will multiply upon the earth. One nation will ask another, 'Have any righteous men traveled through you?' and they will answer, 'No.' At that time men will hope, but not obtain, and will labor, but not prosper…" Second Esdras 5:1-13
Ezra was given a description of the Apocalypse itself but the world that he describes sounds more and more like what we are now approaching. The passage also reminds me of the Apostle Paul's warning about the prophesied perilous times at the end of the age in 2 Timothy 3:1-9. 
My reason for referring to these things is because so many today still—even in the Church world, are oblivious to the true nature of the times we live in today. What is coming will catch most of the world totally off-guard. Yet Scripture tells us that the Lord's coming as a Thief in the Night should not catch us by surprise. Why? Because we are doing what Jesus told us to do…Watch, Wait, Pray, and Stay Busy in the work of His Kingdom until He calls us home. Those who fulfill what Jesus has instructed will not be caught off their guard.
For many in the West, maybe we're just now beginning to finally realize that the world is changing. Strange weather anomalies, super-storms, famines, pestilences, wars and threats of wars, and strange things becoming visible in the cosmos are only a portion of what is happening. Mass shootings, large encampments of the homeless on our streets and the threat of anarchy in our metropolitan areas are just symptoms of a much larger reality
For many in the Mideast, they have become hardened due to years of unspeakable horrors and unsustainable living conditions. Most of the world is oblivious. I was In fact told by a friend that an acquaintance of his serving as a missionary somewhere in SW Asia told him that it is not nearly as bad in Syria as everyone has been told. That is not the experience of the House of Blessing missionaries. It really is that bad, but God is still in control and walks with them through whatever hardships they have to face. As He has promised, His grace is always sufficient for us, no matter what.
Now on with the Update… 
In northwestern Syria, the civil war between the Syrian / Russian forces and the rebel militants continues to cost greatly in infrastructure and lives of the civilians caught in the crossfire or by being in the wrong house at the wrong time. Sister Mufiedah and the Widow Sisterhood continue trying to save the lives of those that are suffering. Many of these injuries are devastating and the lives of the people can't be saved but they are led to the Cross of the Savior before slipping past the veil and into eternity. The short list of those Mufiedah and the Sisters provided medical help for in the last few days is 16 men, 12 women, and 8 children. There are of course many others being treated by other HOB missionaries in different locations. 
One of the special cases Mufiedah was directly involved in had to do with a woman who was full-term with twins and who would have died of her injuries if she had not been found in time by the House of Blessing missionaries. As is so often the case, there was no hospital or clinic available and so everything had to be done in the field. Mufiedah was able to stabilize the injured woman enough to turn her attention to the twins that needed immediate delivery. The Lord was merciful and she was able to deliver the twins, a little boy and a little girl. At last report, the mother is also still alive. Praise God for His mercies.
While lives were being saved by some of those in the HOB community of believers, others were helping with the difficult job of burying the dead. Brothers Omar, Sami, and Musa buried another 8 men, 9 women, and 6 children. The carnage these people face every day is impossible to imagine by those of us who have never had to experience it. 
The last of the 50 students remaining from the original 500 after the disastrous bombing last week have now also fled the area, including Sami. Once they get situated and can find a way to do so, I'm sure the teachings will continue. God always provides a way. I am told that brother Nader is also traveling somewhere with the massive crowd. I don't know the status of Omar at this time. He may have stayed back to care for whomever he can.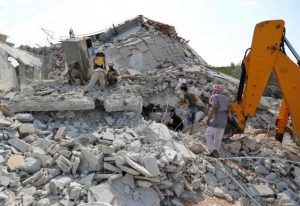 As has been reported for some time now through these updates, people are continuing to run in all directions, but not knowing where to go. Pastor R told me there are now well over 800,000 running for their lives in NW Syria. As they run, the HOB missionaries go with them. In time, the opportunity comes to share the Good News of the love of God with them. It is a message of hope that can only be heard from one source—those who love and serve the soon coming KING, Jesus Christ.
One miracle that turned out to be a huge blessing is that as the people ran, they came across a farm that had fields of zucchini squash and beans that had not been harvested and were soon to be lost. Many thousands were able to go through these fields and find enough to keep them alive a little longer. Praise God!  
In the midst of all this misery, starvation, and death, Sisters Hafezeh and Ferial were able to provide a communion service that well over 200 of the believers celebrated. Near Fallujah, Sisters Fatima and Mariam provided communion for at least 340 more. As always, there are multiplied communion services held across the Mideast by HOB missionaries that do not report in with the numbers in attendance. The Holy Spirit meets with every single one of them and they experience a special time of spiritual refreshing, healing, encouragement and empowering by the Spirit for the days ahead.
Brothers Sahbander and Mortadah continue caring for their community of 280 family units. They are continuing to face very difficult times there in western Iran but continue trusting for strength, protection, and provision from the Lord. They really need our support in prayer and finances.
This short synopsis of what is happening in the HOB community of believers in the Middle East can be told and retold many times over. Contrary to some reports–even by Christian organizations, Christians have not been run out of Iraq, nor Syria. They have however had to go underground. There are millions of them, and their numbers are growing. The HOB community of believers alone is huge and they are spreading the Good News far and wide.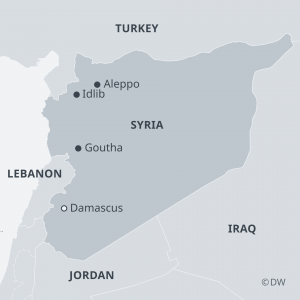 (This simple map on the left has been used before but helps in visualizing the Syrian corridor where most of the population is located)
What the immediate future holds for NW Syria, is a big question. News reports coming in within the past day describe battles between the Syrian regime and the anti-government forces where each side took about an equal loss of men. Then there are the civilians, as you can see in the photos. The battle was just east of Khan Sheikhun, which is located in the southern part of Idlib province and is located on a key highway running through the province as part of the main artery between Damascus and Syria's second most important city, Aleppo. The clashes were between the Al-Qaeda-linked Hurras al-Deen group along with another jihadist faction, Ansar al-Deen and the Syrian regime forces. Sixty fighting men were reported to have been killed, including men from both sides. 
The reports of civilians being killed continue from one day to the next. The only hopeful news the refugees ever hear comes from the Christian missionaries. So… the missionaries stay with the crowds and reach as many as they can. They know that the second coming of the Messiah is imminent and one of these days very soon the last soul will be reached that is to be reached before the beginning of God's judgment on a Christ-rejecting world. Maybe today? Maybe tomorrow?? Our God keeps all of His promises and He will come…SOON.
Another major issue and an ever-growing one, is the ever-increasing war rhetoric coming from Israel's neighbors. A current quote from "Eschatology Today", one of the intelligence sources I read frequently, had this to say yesterday::
From crisis point to war. Israel has been acting in its own self-defense for the past 45 days in an attempt to ward off a concerted effort by Iran and its proxies in Lebanon, Syria, Iraq, Gaza, and even in Judea and Samaria to attack the Jewish State with suicide drones and artillery rockets. In recent days government officials to militia commanders have made declarations of war against Israel from all of these places. Eschatology Today notes that these enemies are those named in prophecies given through Asaph (Psalm 83), and Isaiah (Isaiah 11 and 17), Jeremiah (49:23-27 and 34-39), and Ezekiel (28:24-26)…" 
I have to agree with his assessment. This is a war that was prophesied to happen and as of this date, has not been fulfilled in detail as we find it them in Old Testament passages. It looks like its time of fulfillment is at the door as the full list of Israel's enemies is being gathered and make the decision that it is time. 
So…we watch, we pray, we keep busy serving God in whatever capacity God has given us to serve. Soon, we will also pass through the veil and on into eternity. Let's finish well!!
Please keep all of the House of Blessing in your prayers. Pastor R and the entire HOB community of believers depend on our prayers and support. For those who can help with HOB with finances, please note the convenient PayPal button near the bottom of the home page of this web site. All funds received go to the missionary work of the House of Blessing.
Forever in His Service,
Jake Geier