Notice these words Jesus said to His disciples, including all of us who are His followers today:
"These things I have spoken to you, that in Me you may have peace. In the world you will have tribulation but be of good cheer, I have overcome the world." Matthew 16:33
There is a growing number of people everywhere realizing that the days in which we are living are extraordinary. Extraordinary can have a positive or negative connotation, depending on a person's point of view. It doesn't take a rocket scientist to recognize that our world is in trouble…real big trouble! We are surrounded by wars, rumors of wars, threats of war, ethnic clashes, out-of-control lawlessness, government corruption, sicknesses, diseases, pestilences, famines, droughts, bizarre weather patterns, and much, much more. For people who don't have their anchor in the immovable Rock, Jesus Christ, there is good reason for anxiety, fear, and even panic. But, for those whose hope is in Jesus, these are extraordinary times because we have read the end of the Book! Note this promise:
25 "And there will be signs in the sun, in the moon, and in the stars, and on the earth distress of nations, with perplexity, the sea and the waves roaring; 26 men's hearts failing them from fear and the expectation of those things which are coming on the earth, for the powers of the heavens will be shaken; 27 then they will see the Son of Man coming in a cloud with power and great glory. 28 Now when these things begin to happen, look up and lift up your heads, because your redemption draws near." Luke 21:25-28
As the Middle East continues to inch closer to a major mideast conflict every day, the House of Blessing missionaries follow the leading of the Holy Spirit so that many souls are reached while it is still possible to do so. There has never really been a time of peace in the Middle East since the Arab Spring began in 2011, although the intensity has varied over the years. 
Currently, there are bombs dropped, missiles launched and artillery shellings by opposing militaries. These include  Russia, Syria, Turkey, Israel, and the US. and of course Iranian proxies. Numerous militias representing differing ideologies scattered everywhere. In addition, there are many terrorist groups roaming all across the Mideast causing death, destruction, and much misery. Many of them kill each other on account of having differing Islamic beliefs. This leaves innocent civilians displaced, traumatized, injured and killed—often in large numbers. In the middle of it all are the House of Blessing missionaries. The work of evangelism continues on all fronts. There have always been casualties among the HOB community of believers, and it continues today. Just the other day, a report came in from Pastor R of a family of new followers of Jesus who were in their house when it was hit by a bomb. A father, mother, three boys and two girls were killed. Very tragic, but at least these seven individuals instantly found themselves in the presence of their new-found Savior. Praise God! 
Pastor R related another incident involving Omar and Sami a few days ago. They were out sharing the Good News about Jesus and distributing a few Bibles that they had with them when confronted by a group of Hezbollah militants. The militants took what Bibles were still in their hands and threw them on the ground. They then dragged Omar and Sami away about 100 yards and proceeded to beat them mercilessly. Pastor R said the men were severely beaten. While the beating was going on, suddenly there were some gunshots nearby. Omar and Sami said that a number of the militants ended up in a gunfight with other militants. Within a few minutes the Hezbollah militants who had beaten the missionaries ran off, leaving them lying on the ground. Pastor R said they were in poor condition, not being able to move very well, but are alive and slowly beginning to recover…AGAIN! We really need to hold these brethren of ours up in prayer!
In other HOB news (prior to the event involving Omar and Sami above), readers will remember that Suleiman and his team of missionaries recently reached and prayed the sinner's prayer with a group of 35 sheikhs and Imams. (Note: Photos are of the 35 sheikhs being baptized) In the days after they became followers of Jesus, these 35 sheikhs raised funds for a special celebration of their newly found faith in Jesus. They raised enough to purchase one truckload of wheat sacks. This load of wheat was of course way more than needed for their celebration. The intent was to distribute the rest among the refugees. 
The celebration was a great time of thanksgiving for what God had done among them and also an opportune time to share with curious onlookers what this was all about. As usual, scores of lives were transformed.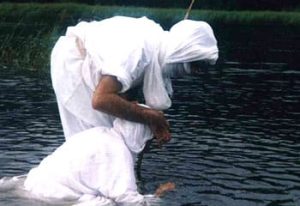 The House of Blessing missionaries did take the rest of the wheat, added some Oregano tea mix and went from family to family, sharing wheat, tea, and the Good News about Jesus. Between the  teams who went out and reported back in, at least 1,200 families were blessed. One thing that was special is that HOB was able to minister to each one of the 1,200 families individually.. Once again, a great harvest was brought into the kingdom of God! 
In closing, I ask again for intercessory prayer for all of the House of Blessing missionaries, their communities of believers, and of course, Pastor R. His health problems continue but the prayers of God's people keep him functioning. I pray for him to be touched by the power of the Blood of Jesus from the top of his head to the bottom of his feet. 
Forever in His Service,
Jake