I am presently on a very short trip away from my home state but want to at least get a quick update out since it has been longer than usual since the last one.
The situation in the northern part of Syria is not good. Although there has been a temporary hold put on the large military campaign that is planned in order to root out approximately 80,000 militants out of the area, the civilians are still suffering greatly. As far as the opposing sides are concerned, a temporary agreement has been reached by mainly, Russia, Turkey, Iran, and the Syrian regime. The allies and enemies differ between these nations represented and so, supposedly, a deal has been made to allow some relocations and other strategic shuffling. The nations that have brought their military might to northern Syria that has been drawn into the area is not being retracted but is there to fulfill the mission. The temporary hold on hostilities was originally said to last until mid-October but how long this pause will last in reality is a good question.
Pastor R tells me that tens of thousands of people are trying to escape to safer areas, but there is no shelter to be found for so many people. The circumstances they find themselves in are impossible. Thousands of them have no means of shelter whatsoever from the elements and are having to resort to finding shelter under trees or wherever else they can find some cover. Basic necessities are almost non-existent for way too many. Reports coming in tell of people having to try and eat tree leaves just to try and keep something in their stomachs and maybe survive a little longer. The reports I'm hearing is that the UN is not providing any help in these areas.
The House of Blessing missionaries in the worst of the locations, including where Sisters Mufiedah and Fatwa are, have temporarily stopped their HOB School of Ministry classes they have been teaching. The circumstances are so desperate and grave that they are doing what they can to treat the sick, bury the dead, and try to find some way of helping them to survive. Many of the sick and dying are believers and those that aren't, they are trying to reach with the Gospel before they pass into eternity. These are desperate times for these folks.
In other areas, scattered all over the Mideast, classes are going strong and new teaching materials are being supplied. There is a continued craving for the Word of God and the number of people in line to take the classes is enormous. People in the Middle East are well aware that the times we are living in are not normal times. They are maybe more aware than most in the West that the end of the age is imminent. They have a great desire to learn the Word of God, memorize it, and share it with as many as possible before the door of God's grace closes. It should inspire those of us who have it so much easier yet!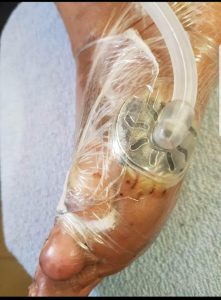 In closing this quick update, Pastor R is still being treated but is improving each and every day. A special machine has been brought in from Turkey that removed poisons from his system 24 hours a day and aids in the flesh and skin growing back. It is a blessing that this has been made available to him. Praise God!
Please keep all of the House of Blessing in earnest prayer. They greatly depend on the prayers of their brethren around the world. Never underestimate the power of your own private prayer for these folks. It is God's will to answer these prayers. Also, please let's ask our Heavenly Father to give us a heart of love and caring for these folks, as well as all of the lost they are trying to reach.
Also, for those that can help them financially, please find the convenient PayPal button provided on this site. All gifts in their entirety are put into the hands of the missionaries for the work of the ministry…and their needs are overwhelming. Thank you from all of the House of Blessing and myself! May the Lord bless each one abundantly. 
Forever in His Service,
Jake Geier