Although I have little to share as far as an official Mideast Update, I do want to quickly pass on some new information on Pastor R's physical condition.  Most of you who regularly read these updates will likely have seen the photo of Pastor R's foot and the infection he has been fighting. As his temperature would not stay down and in fact got dangerously high many times, brothers Sami and Omar insisted on taking him in to the hospital. It was quickly determined that there was little to nearly no blood flow to his feet and so there was little chance that the gangrene that was present would ever clear up without a correction.
Surgery was performed and several blood veins were opened up and the blood was confirmed to be flowing once again. The doctors also closed up the hole in his foot that was left previously when an attempt was made to clean the wound. This opening has now been cleansed and stitched up. With blood flowing again, it is hoped that the infection will be completely cleared out and eliminate the need for amputations. This is where our prayers are very much needed.
I was sent a copy of the procedural notes of what was performed on Pastor R and it is amazing that he lasted as long as he did without this being corrected. But, God has kept him alive for years when he would not normally have survived.  He will continue staying in the hospital long enough for the doctors to see him through this emergency. While he is there, he is also receiving medicine to help with his diabetes.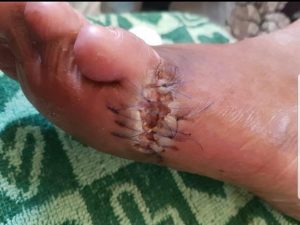 While praying for Pastor R, please continue to pray for the protection of the House of Blessing missionaries, particularly in the Idlib area where the Syrian and Russian forces plan to totally remove or destroy the entrenched 50,000-80,000 combined rebel forces. There is always a very high price paid by the civilian population who are just trying to survive. Because Idlib province is a high population area, the number of civilians and refugees is in the hundreds of thousands. The HOB missionaries are embedded within the general population in order to reach as many as they can with the Gospel of Jesus the Messiah, even at the very moment of death–which happens in hundreds of cases.
Below are just a handful of Scriptures that encourage us to be specific in our prayers as we intercede for our brethren, especially in such dangerous circumstances.
Finally, brethren, pray for us, that the word of the Lord may run swiftly and be glorified, just as it is with you, and that we may be delivered from unreasonable and wicked men, for not all have faith. But the Lord is faithful, who will establish you and guard you from the evil one. 2 Thessalonians 3:1-3
…praying always with all prayer and supplication in the Spirit, being watchful to this end with all perseverance and supplication for all the saints—and for me, that I may open my mouth boldly to make known the mystery of the gospel, for which I am an ambassador in chains; that in it I may speak boldly, as I ought to speak. Ephesians 6:18-20
I am the vine, you are the branches. He who abides in Me, and I in him, bears much fruit; for without Me you can do nothing. John 15:5
Come to me, all you who labor and are heavy laden, and I will give you rest. Take my yoke upon you and learn from Me, for I am gentle and lowly in heart, and you will find rest for your souls. For My yoke is easy and My burden is light. Matthew 11:28-30
Missionaries face the same fears, frustrations, anxieties, hunger, pains, and fatigue that all of the rest of us experience. Let's pray for the comfort, strength, opportunity for ministry, food and shelter, and protection, as we would like to have others praying for us, if we were in their shoes today. This is the Jesus Way.
Please also remember the great needs of the House of Blessing missionaries. None are paid and live totally by faith. They have just started Bible classes all over the Mideast and for a typical 10 hour study day try and provide at least one meal for the folks. And, of course, there are never enough Bibles. We however serve a very big God and since He is soon to call the true remnant Church home, I believe He will speak to people all around the world to help with this great last hour effort to bring many more into the Kingdom of God.  A great big thank you to all that have helped support HOB to this point. The job will soon be completed.
Forever in His Service,
Jake Geier
NOTE: For those that would like to help the House of Blessing financially, please find the convenient PayPal button on this site. 100% of incoming gifts are put into the hands of the missionaries. There is no overhead as all nearly all staff and missionaries live in tents embedded among the refugees. Thank you!