I was sent quite a number of photos showing the difficult conditions people in the refugee camps are having to endure again this year. This is of course not something new this winter of 2021. It is however something that many of us need to see again in order for us not to forget to pray for these folks and even help if the Lord so directs.
As you know, the House of Blessing missionaries are embedded among many of the thousands of refugee camps across the Mideast and they feel the Lord has placed them there to do what they can to help. Their number one goal of course is to reach as many with the only real hope available in this fallen world and that is the Good News of the Gospel of Jesus Christ, the one and only true Messiah.
As you can see by the few photos I am able to squeeze into this short update, the most recent storms brought down so much moisture that the ground could not soak it up. Some reports told of rain coming down for hours at a time. Water ran almost unimpeded—not just in between the tents, but right through them. In many areas the temperatures got down to freezing or even colder and snow became an additional problem. The storm this time around affected mostly the refugee camps in the northern areas closer to the border with Turkey. Idlib and Aleppo were especially hard hit. 
Most of us in the West have ready access to electricity, clothes washers and dryers, readily available heat, dry bedding, and homes that protect us from the elements. In these tent cities, none of these amenities are available. According to aid organizations, the greatest majority of refugees are composed of women and children. It is hard to imagine having everything soaked and muddy; all the children's clothing, mattresses, blankets, and most everything else because it is stacked on the floors of the tents. 
In continuing with his call, Pastor R gave me this report that he received from the HOB leaders who are the most regular to report in. Each of the leaders below have varying numbers of missionaries working with them. Most of them worked nearly around the clock helping people rebuild tents and getting the oregano-garlic mixture and oregano-thyme tea to as many people as possible to help them deal with the effects of the Covid virus and also the flu. 
Omar and his volunteers rebuilt 2,550 tents and distributed the oregano ++ to at least 6,000 refugees. Of those in his area he knew of 35 elderly people who died.

Mufiedah and her volunteers rebuilt 1,150 fallen tents and distributed the mixture to around 2,800 refugees. In their area 18 were lost to sickness or exposure. 

Adel and his volunteers distributed the oregano mixture to about 900 refugees. In their region they had 25 deaths.

Sabandar and Mortadah in western Iran distributed the oregano mixture to 458 refugees, and they are aware of 20 who did not survive. 

Ibrahim and his men distributed the oregano mixture to 520 refugees and in their location five did not survive. 

Hafezeh and Ferial have continued preparing communion for 20 people at a time. They prepare communion at least five times per day.

Fatima and Mariam also have continued with their special communion services, serving about 15 each time. They also prepare at least five times per day. All the communion celebrations include the oregano blend together with the communion.
The statistics above shared in today's update by no means tell the entire story of what HOB is about and what goes on from day to day. These numbers are just samples. With the HOB community of believers growing every single day, the numbers represented are not what one will hear on any news reports. The HOB community is scattered all across the Mideast and numbers somewhere between 700,000 to one million, most of it having to operate as an underground movement. HOB is not really an aid organization but uses what aid they can to touch the hearts of the people with the love of God…and God has used it mightily!
Wherever the HOB leaders are located, there are always scores of people asking for prayer. This is always the case with Pastor R and his special assistants, Raddi and Yussef, as well as many others. As they are available, Bibles continue to be distributed to the new believers. Generally, one Bible is shared among many people.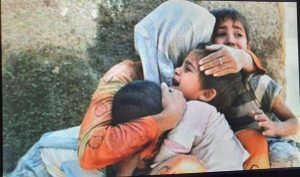 Many of you recently read the tragic story of Namade (corrected spelling is Na'matte). As her father is now dead and she is recovering from her past 6 ½ years of sexual abuse, her three little boys who are the result of the forced incestuous relationship, are being cared for by HOB missionaries along with many other children. Pastor R let me know that it is quite possible that Jamal, one of the latest miracle stories, and his wife are considering adopting the three children. Then maybe someday as Na'matte continues to experience God's healing touch on her life and emotions, she might be capable of reuniting with her boys.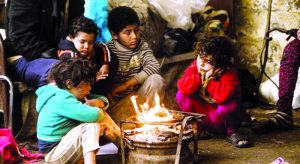 As I was concluding the call with Pastor R, I asked him how he was doing. He said that he was having troubles breathing but had no complaints. That sounds like him! 
Please do keep HOB in your prayers. I know many of you do on a regular basis and we are very grateful! It is a difficult time for them as they do what they can to minister to the enormous needs of the people and they pray every day that the Lord will continue to multiply the resources they have available. Just in Syria alone, there are millions of people displaced within the country since Syria's civil war began almost ten years ago. And, as of today, there is no hope of national stability within sight. 
I am reminded of a passage of Scripture in Hebrews 11 where we find a listing of some of the great people of faith through the ages. In verse 16 it says:
"…they were longing for a better country—a heavenly one. Therefore God is not ashamed to be called their God, for He has prepared a city for them."
Even so come, Lord Jesus…SOON!
Soon and very soon, we are going to see the KING!
Soon and very soon, we are going to see the KING!
Soon and very soon, we are going to see the KING!
Hallelujah, Hallelujah, We are going to see the KING!
No more crying there! We are going to see the KING!
No more crying there! We are going to see the KING! 
No more crying there! We are going to see the KING!
Hallelujah, Hallelujah! We are going to see the KING!
No more dyin' there! We are going to see the KING!
No more dyin' there! We are going to see the KING!
No more dyin' there! We are going to see the KING!
Hallelujah, Hallelujah! We are going to see the KING!
(music and lyrics, Andre Crouch)
Forever in His Service,
Jake