As I write this update I am frequently checking news sources, watching as new developments in the Mideast unfold. There are some late breaking developments that people may or may not be aware of and I will briefly touch on them in this update, and how current events are affecting the work of the House of Blessing missionaries.
One of the things that has developed is a large Turkish military incursion over the northern border of Syria. The area that is reported to be affected is a territory that is heavily populated by ethnic Kurds. Many are not aware that the Kurds are a people group that in today's world do not have their own country. There are somewhere between 25-40 million Kurds and are considered to be the fourth largest ethnicity in the Middle East. The Kurds today are without sovereign national boundaries of their own and so for the most part, the Kurdish population straddles the borders of Turkey, Syria, Iraq, Iran, and Armenia. 
Starting this past Wednesday, the Turkish military began an assault south over the border into Syria to set up what they intend as a "safe zone", making the claim that the Kurds are in league with terrorist organizations that Turkey's President Erdogan considers responsible for attacks within Turkey. Without getting into the tribal conflicts in the area—of which there are many,  the thing that concerns me the most today is that many of the House of Blessing missionaries are embedded within the Kurdistan population. There are a large number of Kurds who are followers of Jesus Christ today.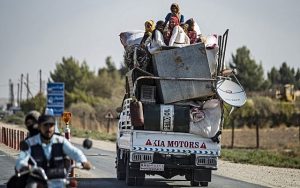 News sources I've been watching tell of great panic among the civilian population in the area. Tens of thousands of people are fleeing their homes and are trying to find safer locations. The reports so far, although conflicted, tell of as many as 200 or more Kurdish fighters having been killed and civilian communities being bombed. As more facts come available, I will try to report them. Needless to say, the people in the area need prayer, and for those of us who have been keeping the House of Blessing in prayer, this is a critical time to ask the Lord to guide them and protect them from the onslaught. Over the duration of Syria's civil war, millions of civilians have had to flee from one location to another, just to try and survive. From what has been reported by some news sources, at least part of the Syrian military is working in conjunction with Turkey's military. One cannot help but wonder if this in effect is trapping civilians and refugees between the forces from the north and the south. It remains to be seen how accurate that assessment is.
As I was writing this update, Pastor R made a special call and let me know that the 800,000 refugees they have been working with who fled from the Idlib / Aleppo region in the last few weeks, are just west of where the Turkish incursion has been concentrated. According to what Pastor R has heard however that Erdogan intends to extend the "safe zone" west of Manbij as well. This is where most of this large group of refugees are located—along with a large number of HOB missionaries who are there to help them. 
Pastor R did tell me that the incursion of the Turkish military has already cost the lives of some of the missionaries. He received reports of 3 men, 4 women, and 7 children of the HOB community in the north have just lost their lives. The HOB missionaries have told him that the onslaught is so heavy that it is nearly impossible to get the dead buried, including the 200 or more soldiers that have been killed.
According to Kurdish sources, another problem has to do with 12,000 ISIS militants who are being held prisoner. These are located in seven locations throughout the area that is now under siege. There is fear that in the chaos many or most could escape or even get set free.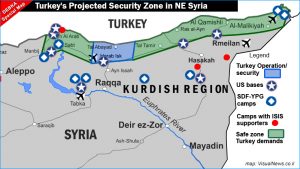 Sources are also reporting that Erdogan is threatening to release 3 ½ million Syrian refugees who are presently in Turkey into Europe instead of into the "safe zone" he intends to create. This of course appears to mean driving the Kurds out of the entire area or killing those who refuse. Pastor R says it is a very bad situation that appears to be getting worse by the hour.
One story that was shared with me by Pastor R is about one of the HOB leaders who has been working with Omar and Sami. Some of the missionaries have taken a few days to go back to their homes to check on their families. A wonderful faithful brother named Musa went back to his hometown and when he got to where his house should be, he found that it had been destroyed. He was told that his house had been hit with a bomb three weeks earlier and his wife, three daughters and his one son had been killed in the blast. It was one of those tragedies that everyone in a war zone knows can happen,yet hopes it does not.  It is hard to imagine the shock Musa must have experienced. This was especially hard on Musa as he had not heard any news of what had happened and had to find out in the way he did. Pastor R has asked that we hold him up in our prayers and that he would be comforted and find encouragement. We know that God has promised He will take what has been planned for evil by Satan and turn it into good. Only God can do such a thing with a man's personal tragedy of this magnitude.
Another report that came in to Pastor R this past week has to do with one of HOB's leaders named Adel. Adel and his wife went to visit Adel's uncle who happens to be a Muslim head-sheikh. As he began to share with him about Jesus, his uncle became very angry and had him bound and held in a room by himself with no food and very little water for seven straight days, telling him that he would not be released until he repented of his mistaken faith in the Christian Messiah and returned to following the teachings of Allah and his prophet Muhammad. 
Adel of course would not deny his faith in Jesus and after a week being bound and imprisoned, his uncle went to him and asked him what it is that he and his wife had and why they would not repent? Brother Adel told him that he and his wife had already repented, as had their six children. He had repented of his sins and asked Jesus to become the Lord of His life because, this Jesus his uncle was denying, had come to earth as God in the flesh to die on the cross and provide the free gift of forgiveness. This same Jesus then rose from the dead, lives today in heaven, and is soon to return to take His people to their eternal reward.
The old sheikh then told him that he and his family had been followers of Muhammad their entire lives but had never been as miserable as during the time they had Adel and his wife imprisoned. He then admitted that for the last week, his own family had had nothing but terrible nightmares of vicious snakes and other frightening things scaring them to death. He then asked Adel to share with his family about the true Messiah, Jesus, and how they know Him. This of course opened the door wide for Adel to share freely with this man. Adel and his wife were able to bring his uncle and his entire family to the place of submitting themselves to the true Messiah as they prayed the sinner's prayer! God's grace is amazing!
As wars, threats of war, ethnic conflicts threaten everywhere, the harvest of souls continues to be brought in. The demonstrations in Iraq have taken the lives of well over 100, and injured over 4,000 in the past few days. Conflict between Sunni and Shiite forces are escalating. The rumors of war and the preparations for war are hitting a fever pitch between Iran, along with their proxies, and against Israel and the United States. Yet, the harvest continues to be brought in. Bible prophecy makes it clear that things right at the end of the age will not get better until the Prince of Peace comes to put the world in order. So, as Jesus has taught us, we continue…
Pastor R continues praying for at least 150 per day. Pastor Farid, another 150 or so. Sisters Fatima, Mariam, Hafezeh, Ferial, and many others continue serving communion to as many as are able to come. The entire House of Blessing, including nearly 2,000 missionaries and many more volunteers continue being a blessing to hundreds of thousands of desperate refugees. They feed the hungry as they can, treat the injured, bury the dead, pray for the sick, provide clothing as it becomes available, provide Bibles, disciple the new believers, and share the love of God with anyone that will hear. And God multiplies all…!
During Yom Kippur, many of those within the HOB community spent time in fasting and prayer. Now, many are preparing to celebrate the Feast of Tabernacles. 
In conclusion, please pray earnestly for the entire House of Blessing community of believers scattered all across the Middle East. There are many difficult places on this earth but in the Mideast, they are on the front lines and depend heavily on your prayer and financial support. Thank you to all who have been so faithful. May the Lord bless you all abundantly!
For those that would like to help the House of Blessing, please find the convenient PayPal button on the home page. All funds received go to the work of HOB. Thank You!
Forever in His Service,
Jake Geier