In the last couple Mideast Updates, I have shared some of the information of what the House of Blessing is dealing with right now, especially in northern Syria. The infectious disease, Cholera, has spread quickly, where, as you know, millions have been displaced by the decade-long civil war are trying to survive, mostly in tent cities. Many of these camps rely on untreated water from rivers that contain raw sewage. The refugees in these camps are suffering from a severe lack of clean water and health care, and aid organizations are warning of another potential humanitarian crisis. 
The outbreak of cholera is causing more misery for hundreds of thousands of Syrians who are already at risk from hunger, attacks from Islamic militants, and now, the coming winter weather. The health system in Syria is severely under-resourced and extremely fragile according to the director for the International Rescue Committee. The civil war has been going on for eleven years now and according to authorities, about 7 million Syrians are internally displaced and dependent on humanitarian aid. The war in Ukraine has only exasperated the problem. What is making it even more difficult is that the UN does not appear to be offering aid—at least not in the camps where HOB is embedded.
Photos: left: Faddya lost three children, 3,5,7; right: Miriam lost two, girl 3, and boy 5
Pastor R reported that HOB was able to purchase 5 truckloads of wheat. One half load has been distributed per camp in the ten refugee camps that they are concentrating on the most. They were also able to obtain 170 truckloads of water to divide up among the same ten camps. The people have committed themselves to eating every other day in order to cause the food to last longer. 
Also, as has been mentioned briefly in the past update, efforts are being made to eliminate as much of the source of the cholera infection. As I mentioned above, it is water contaminated with raw sewage that is causing the problem. Members of HOB have gone to each camp and asked for volunteers to help them clean the problem up as best they can. The people were told that if the problem is not remedied, a great many more will die. As a result, HOB was able to get about 100 volunteers from each camp to help with the cleanup process. Tractors are used to destroy the contaminated fields of vegetables. Tractors are also being used to remove the debris and filth from the existing toilet areas, transporting the debris as far away as possible from the camps and burning everything that will burn. 
HOB, along with all the volunteers they can find, is building new toilet areas, also far enough away from the camps to avoid what is happening now. Wood and concrete is being obtained and new toilets are being built for each camp. Although it is probably not enough, at least 200 new toilets are being provided for each camp. It is an enormous task but hopefully, it will help bring the disease under control. 
While all this work is going on, the HOB missionaries continue sharing the Good News of the Gospel. They are also praying for a great many people who are already infected with cholera. The Lord has been gracious and has healed many. I was sent some photos of a few of these. The Lord is healing many people who are not believers as the missionaries pray for them. These folks then immediately want to know more about the God that loved them so much to heal them of this terrible disease. The harvest is coming in in great numbers! Praise God. The joy these people are showing as they are touched by the Holy Spirit is very obvious! Their baptisms in water are not at all a religious ritual. See the photos! 
Photos: left: foot washing, right: praising and giving thanks during day of fasting
Below, I have listed just a few of those who have reported in and the numbers of families they were able to reach with the Gospel and pray with.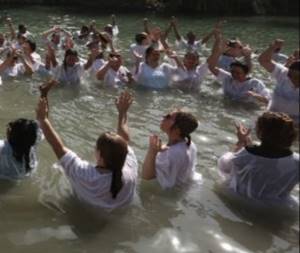 Suleiman, his sons, and his team:  900 families

Omar, Sami, Mussa and helpers: 850 families

Adel, Mahmoud and helpers: 185 families

Ibrahim, Akram and helpers: 190 families

Mufiedah, Sarah, Fadwa and helpers: 650 families

Sahbandar, Mortidah and helpers: 55 families
There are of course others but not everyone sends reports in.
The people continue to be taught what it means to be a follower of Jesus. The unsaved know that they will likely die early deaths due to the conditions they live under. When they are taught there is only one way to God and that is through Jesus Christ, the true Messiah, they respond very quickly.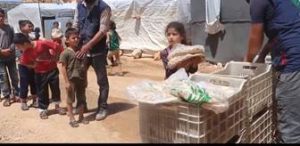 There are a great many reached through the means of sharing food. These people are desperate and any act of kindness gives easy access to share the Gospel. And, as already said, they respond. Praise God. 
Not only do the believers gladly raise their hands in praise to the One who has saved and healed them, but many later humble themselves before one another and participate in washing each other's feet and Jesus and the disciples did. Amazing!
Photos: left: food being distributed; right: people praising God after prayer for healing
Pastor R continues to pray for a great many people. The people need encouragement and the touch of the Holy Spirit in their lives, especially in such difficult situations. Pastor R is still being given antibiotics twice each day. His physical condition continues to be difficult to deal with but in the 10 ½ years I've had the privilege of fellowshipping with him over the phone, he has never once complained. He says, God has it all figured out and has His own reasons for everything. That's a lesson for us all. 
In closing, please continue to pray for Pastor R and all of the House of Blessing. The times are harsh for them but God's grace is more than sufficient. Time is very short. Jesus is very near returning to call His own home!
Forever in His Service,
Jake