Just before the actual Update for this week, I'd like to share a few thoughts in introduction:
All one needs to do to realize our world is facing a convergence of multiple crises like never before in man's history is to open our eyes. Many in the West would rather close their eyes to what's happening all over the world, and of course, most of the western mainstream media presents a narrative that fulfills that desire. The chaos all around the world today is accurately described in numerous Scriptures, one of them found in 2 Timothy 3:1-4
1 But know this, that in the last days perilous times will come: 2 For men will be lovers of themselves, lovers of money, boasters, proud, blasphemers, disobedient to parents, unthankful, unholy, 3 unloving, unforgiving, slanderers, without self-control, brutal, despisers of good, 4 traitors, headstrong, haughty, lovers of pleasure rather than lovers of God…
The passage above is a good description of the condition of lost mankind's society and culture. In Matthew 24.
4 And Jesus answered and said to them: "Take heed that no one deceives you. 5 For many will come in My name, saying, 'I am the Christ,' and will deceive many. 6 And you will hear of wars and rumors of wars. See that you are not troubled, for all these things must come to pass, but the end is not yet, 7 for nation will rise against nation and kingdom against kingdom. And there will be famines, pestilences, and earthquakes in various places. 8 All these are the beginning of sorrows. 9 Then they will deliver you up to tribulation and kill you, and you will be hated by all nations for My name's sake. Matthew 24:4-9
Of the abundance of Scripture that touches on this subject, I would like to add one more found in Luke 21:
25 And there will be signs in the sun, in the moon, and in the stars; and on the earth distress of nations, with perplexity, the sea and the waves roaring; 26 men's hearts failing them from fear and the expectation of those things which are coming on the earth, for the powers of the heavens will be shaken…Luke 21:25-26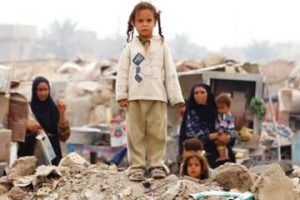 For most of the world—unless blinded or distracted by entertainment and materialism, misled by a dishonest media, or even church leadership that refuses to touch on the unfolding disaster on our planet today—even secular non-believers of the inerrant words of God recorded in the Bible are wondering where the increasing chaos in our world is headed. For believers who read their whole Bible, they should be aware. Jesus is coming soon. 
But, whether you happen to live in the relative affluence of the West or in the East, much of it under the rule of despots and cruel tyrants, we are in a wilderness. I will add a comment about this when I conclude today's Update…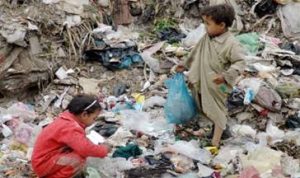 As regular readers already know, the northern parts of the Middle East, especially Syria, has been struck with the cholera plague. This is because vegetables, grass, and much of the water people have been depending on for drinking water has become contaminated with raw sewage. House of Blessing missionaries have able to rent a few tractors and solicit the help of about 100 volunteers per refugee camp in order to destroy as much of the contaminated vegetables and grasses that people have been picking for food as possible. They have also been working very hard at removing the refuse from the old toilet areas, removing what they can away from the camps and burning as much as they can. They have also been building new toilet areas outside of the immediate population of the refugee tent cities. It has been an enormous undertaking, and as of three or four days ago, was about half completed. It has been a costly endeavor to get the necessary concrete, steel, and wood. As already reported, a number of truckloads of wheat were purchased and distributed among the tens of thousands in each refugee camp to try and replace some of what they had been collecting from the fields. Fresh water was also an absolute necessity and provided since the natural water sources have come into question. All this has been accomplished by the generous gifts from supporters. The UN, to this point, has not been part of the effort.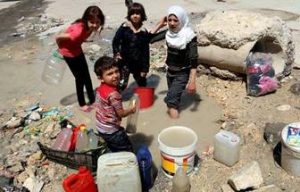 Much effort is being put into accomplishing this before the cold of winter hits in full force. Winter is already knocking on the door in the northern areas. 
While all this work is going on, the work of evangelism continues. A great many families are being reached every week. Just for reference, below is another up to date limited list of the results. Keep in mind, these are the ones that report the most often. 
Suleiman, his grown sons, and helpers were able to share the Good News of the Gospel in 1200 family tents. They also (as well as all those listed below) were able to share limited food supplies and Oregano tea mix and pray for each family. 

Omar, Sami, Mussa, and helpers: 850 family tents

Mufiedah, Sarah, Fadwa and helpers: 720 family tents

Adel, Mahmoud, and helpers: 420 family tents

Ibrahim, Akram and helpers: 360 family tents

Sahbander, Mortidah, and helpers: 65 family tents 
The above partial report reports over 3600 families visited by HOB missionaries. What an opportunity God has provided to share the good news with people who have never heard the Truth of the Gospel. And, for the most part, the people eagerly respond, especially when the missionaries pray for their sick and the Lord heals them! The new believers are then baptized as they are able to do so. 
I am told by Pastor R that missionary women (mostly widows) like Hafezah, Ferial, Fatima, Marium, and those who help them, in order to provide a celebration of communion to as many as possible, travel from place to place, providing communion five times per day for about 25-30 believers at a time. These believers share communion together as they sing praises and worship Jesus. The sick are prayed for and many are healed as they participate in the celebration of communion. As our Lord instructed, this is done in remembrance of what He has done for us!
As readers know quite well, the dangers of the mission field in the Middle East is very dangerous and can be deadly. A sad note to share today is the murder of the husband of Sara (this is not the same Sarah so often mentioned in my updates). He was killed by militants as he was evangelizing. Sara is of course grieving the loss of her husband and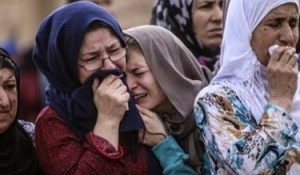 needs your prayers as you did for Brother Ibrahim and Mussa when their families were killed. God does meet the need. As the Bible tells us, even though grief is very real, our grief as believers is not hopeless as it is for those who do not know where they are going after death. All of us have an appointment with death in one way or another, unless we are living when that great Trumpet sounds and we are all changed from mortality to immortality and brought into the presence of Jesus. That could happen any day, by the way! Even so, come, Lord Jesus!
Please continue praying for Pastor R. The Lord continues to sustain him in spite of all he has had to deal with. Some things we will not understand until we are in God's presence, but we know that "all things work together for good for those who love God and are called to His purposes." (Romans 8:28) Praise God!
In closing, a thought about this "wilderness" we are all passing through…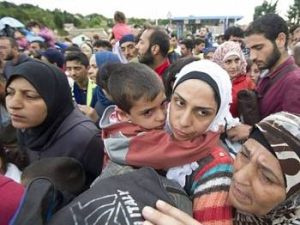 As we know, the wilderness and the Promised Land are two very different places. One is a land of hardship and the other is a land of rest and blessing. Jesus said this, "In your life you will have troubles and tribulations (wilderness), times of hardships, losses, struggles, tears, and times of uncomfortable waiting while not being in the place you would like to be in. We all experience it in one way or another. 
Yet, this is the place God has brought us to. Quite often we can't make sense of it. But, because of the promise of Romans 8:28 above, and many other promises in God's unfailing Word, the wilderness is not outside of the purposes of God, nor outside of His promises. God will use all things to complete His purposes and plans for each of us as His Blood-bought members of His much-loved family. In God, even the wilderness becomes a blessing! If God is with you (us), this trek through the blistering and barren wilderness is part of our destination. Our lives on this earth are part of heaven's domain. Because we have the living God living within us in the Person of the Holy Spirit, we can live a heavenly life. 
So…no matter what circumstance you find yourself in today, rejoice in the Lord and keep pressing forward—always keeping in your mind's eye, the joy you will enjoy for an eternity in the Kingdom of the One who conquered, not only your wilderness, but death itself! Hallelujah! Very, very soon, you and I will come to the end of this wilderness and be ushered into the Promised Land. Be encouraged!! Maranatha!
Forever in His Service,
Jake