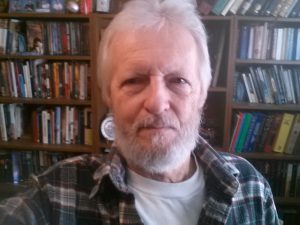 Over the years that I have been writing these Mideast Updates, passing on stories of real life events experienced by the House of Blessing missionaries, a phenomenon witnessed again and again is the amazing love and forgiveness of God and how it flows through His people, especially at some of the most difficult times. 
The life of the Apostle Paul is probably one we know more about than any of the other apostles. This may be partly due to the fact that God used him to write 14 of the 27 New Testament books (including the Book of Hebrews). Most of us know the story of Saul the Pharisee as a vicious persecutor of the Christian Church and his transformation to the Apostle Paul after his encounter with Jesus on the road to Damascus. We know of his missionary journeys and the trials and persecutions he endured for the sake of Christ. In 1 Corinthians 15:31, Paul said he "died daily." In 2 Corinthians 11:23-33 we have at least a partial list of Paul's trials and tribulations and it is easy to see that he was not exaggerating. In short, he was flogged with 39 lashes five times by the Jews for preaching the gospel (195 stripes). He was beaten with rods three times, stoned once, shipwrecked three times, and spent years in prison or under armed guard. While on his missionary journeys, he hungered, thirsted, lacked proper clothing, yet, only grew stronger in his preaching and teaching until his life was finally taken from him by beheading per order of Nero on June 29, 67 AD.
I have read the Foxx's Book of Martyrs several times, as I am sure some of you have. Since the Day of Pentecost, millions of the followers of Jesus Christ have been murdered. There has, however, been a marked increase since the beginning of the 20th century. The numbers continue to escalate as I write this update. More Christians have been martyred in the last century than in the previous nineteen centuries combined! 
Thousands of House of Blessing home-trained missionaries have been murdered for their faith in the last seven years. The story today has to do with the most recent martyred HOB missionary of whom I am aware. Although the details are minimal, it is enough to provide a fairly good picture of what happened.
As has been the practice of the House of Blessing, especially through the work of Sisters Mufiedah and Fadwa and the Widow Sisterhood, scores of the injured are ministered to on a daily basis. Because of the large number of refugees in northern Syria, with so many warring factions involved, and because so many hospitals and clinics have been heavily damaged or destroyed, the number of injured coming for help to HOB increases. When the injured come, there is really no time to ask a lot of questions to make sure the person wanting help is not an enemy. The widows have treated civilians and soldiers alike, no matter who they are. This was the case with an injured man named Mahmoud. (This is not one of several men named Mahmoud mentioned in past updates. Mahmoud is a fairly common Arabic name). 
It is at this point that the story becomes rather strange. Mahmoud had a serious leg wound when he approached the widows. He indicated that he really wanted help and so one of the sisters, named Rabha, began to help him with his injury. As she was treating him, seemingly for no reason, he pulled a knife and severely stabbed her. The HOB missionaries nearby saw what happened and ran to intervene and try to save her life. It however became evident very quickly that she had received a mortal injuryl. There was no way to treat an internal injury this deep in the field. 
When Mahmoud was asked why he had stabbed her, he said he had no idea why other than the fact that he had been sent to kill Omar. In the meantime, as Rabha was dying, she kept begging those who came to intervene to please not harm the man. She said, "he has no idea why he did what he did." She then began to pray for him, both in the spirit and also in Arabic so he could understand. Mahmoud, hearing her ask the Lord to forgive him for what he had done, became alarmed and confused. As he tried to keep the tears back he asked the others, "Why is she asking God to forgive me? I have just stabbed an innocent woman!" When Rabha heard that Mahmoud had been sent to kill Omar, she told Mahmoud, "You can't touch Omar! He's a wonderful man of God and you cannot touch him!" 
As a group of missionaries were tending to Mahmoud, others prayed with Rabha and did their best to comfort her. Pastor R told me that Rabha did not last very long but as she began to fade, she kept repeating the words, "Oh, the glory! Oh the glory! I see the glory!!" She went on like this for a few minutes and then with joy all over her face, quietly slipped into eternity, into the presence of Jesus, really able to see Him as He is, in all His glory! 
Those ministering to Mahmoud continued to pray with him and share the love of God with him. He soon began to sob. It was not a quick process with Mahmoud, in part because of his grief and shame over what he had just done, but in the end he truly began to understand how much God truly loved him. He was soon led in the sinner's prayer and afterward, Mahmoud was so relieved in his soul, he began kissing the feet of Mufiedah, Sarah, Fadwa, and the others—not only for the forgiveness he had received for what he had done to Rabha, but even more because they had led him to the Messiah who could forgive all the sins of his entire life. 
Later, Mahmoud told the missionaries that he and 20 others had been sent to find Omar and bring him in dead or alive. Omar had a reputation for having led a great many Muslims to Jesus and the Muslim leadership in the area had posted a $50,000 reward for his capture or death. Mahmoud had failed to find Omar and in his rage he struck out and stabbed Rabha. She had no idea when she left her tent that morning that before the day was over, she would become the ultimate human example of God's love to a man driven by an evil within that he didn't understand or even recognize. 
Jesus warned that many of His followers would face such persecution. Jesus put it in these words in John 15:
18 "If the world hates you, you know that it hated Me before it hated you"…..  20 "Remember the word that I said to you, 'A servant is not greater than his master.' If they persecuted Me, they will also persecute you. If they keep My word, they will keep yours also. 21 But all these things they will do to you for My name's sake, because they do not know Him who sent Me." John 15:18, 20-21
To God be the glory!
Through the gifts of those of you who support the House of Blessing, another two truckloads of wheat were purchased this past few days. The wheat was distributed in the northern part of Syria where the people have been running for their lives for the last few months. Omar, Musa, Adel, Sami and others not only oversaw the distribution of the wheat brought in, but also buried another 12 women, 8 men, and 14 children who had been killed. They also arranged for 18 women, 10 men, and 6 children who were injured and needing medical attention. 
As the wheat was distributed among the multitude and the people were able to eat food, the Lord once again began to open the hearts of the people who received the wheat. With the help of 250 of the HOB missionaries, Omar, Musa, Adel, Sami, and other leaders, thousands were in attendance and listened to the Good News being preached. Omar sent a report to Pastor R of 5,000 who had responded to the preaching of the Word and now all 250 of the HOB missionaries were very busy arranging to provide some follow-up with all those who had been prayed into the Kingdom of God!
For us in the West, this kind of response may be hard to accept as real. Yet, in times of desperation, when there is nothing but hopelessness all around, the one and only message of eternal hope is responded to en masse! The people in these crowds literally don't know if they will survive the day and they have no assurance of their eternal destiny. Having now heard the Good News of Jesus' death and resurrection and the free gift of forgiveness, those that accept have the assurance that even if they were to die tomorrow, they would spend eternity in the presence of the One who ransomed them. Now they have a HOPE! 
I am reminded of the Apostle Peter's sermon on the Day of Pentecost when 3,000 responded to one sermon by a fisherman! It is described in Acts 2:
41 Then those who gladly received his word were baptized; and that day about three thousand souls were added to them. 42 And they continued steadfastly in the apostles' doctrine and fellowship in the breaking of bread, and in prayers. 43 Then fear came upon every soul, and many wonders and signs were done through the apostles. Acts 2:41-43 
We are now living in the very last of the "last days" the Bible has foretold, and God's Spirit is being poured out in great measure to those who will respond to Him. Praise God for what He is doing and for what we have the privilege of witnessing and being part of!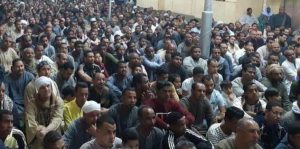 The House of Blessing very much needs your prayers and they need your financial support. Gifts sent to help the House of Blessing stretch a very long way. Here in the West, It seems that multiplied millions of dollars are spent to maintain large, expensive facilities, and a staff of multiple staff ministers. In the third world, nothing is spent on facilities and the leadership is homegrown and trained on the mission-field. When they gather, they congregate any place they can; it could be in open air locations, under a grove of trees, or quite often in bombed out buildings. On rare occasions there is the opportunity to use an existing functioning building, as in the photo above from about six months ago. With so many people being reached in such a short period of time, most find spiritual life and growth in the smaller gatherings. These are found all across the Mideast. Those that can, celebrate communion, and they spend special time before the Lord for hours at a time. God meets them right where they are. 
In other locations long lines still form for prayer. Pastor R, Pastor Farid, and many others spend 8-10 hours each day sharing hope, encouragement, and praying for the sick. And, God meets them at the point of their need as well.
The Middle East continues to be on the precipice of an even more brutal conflict; much greater than any seen since Israel became an independent nation in 1948. What is brewing will explode in a great fury, but it should not surprise us. The Old Testament prophets were given the details thousands of years ago and they recorded them for us to take note. Today, we are at the time of the fulfillment of a series of events coming in quick succession; all leading to the imminent return of Jesus our Messiah and KING. 
Iraq is in turmoil today, as is Syria, Iran, Saudi Arabia, Yemen, Lebanon, and most all other Middle East nations. Much of the rest of the world is not much better. We live in perilous times today and they are only going to get worse. It is only the physical return of Jesus the Messiah that will bring the world back into order and balance—not the efforts of presidents, prime-ministers, general secretaries, military generals, kings, queens, dictators, or even the United Nations. The Day of the LORD is at the door.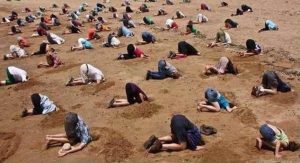 The Age of Grace is ending and God's judgment of our Christ-rejecting world is about to be unleashed in full measure. The Apostle Paul told the Thessalonian Church that the unbelieving world will be caught totally off guard by the end of the age, but the faithful remnant of God's people should not be caught off guard. Don't be like those that would rather bury their heads in the sand! Be on the watch!! Maranatha!
Forever in His Service,
Jake Geier