In the Mideast Update dated 11/9/2016, the story was told of a young 28-year-old graduate of the House of Blessing's School of Ministry named Same (pronounced Sammy).  Same felt it was God's task for him to go to his elderly father's mosque and share what God had done for him. The story of Same reaching out to the 82-year-old head-sheik, Muhammad, and the men with him is one that many of us will remember for a long time. Those that have read the story will remember that Muhammad became a believer and when he shared his own testimony at Friday prayers last week, 70 of the 90 men present also became believers in Messiah Jesus.
(Note: Photos used below are not necessarily connected to this blog story but are pulled from my current photo files to illustrate the reality experienced by the missionaries on the ground. ) 
We left the story at the point where 20 of the 90 men present ran out of the mosque and no one knew where they went.
When I received my next call from Pastor R, he told me that he had exciting news to report. Of the 20 men that ran out of the mosque, 18 went home and shared the things they had heard that morning at the mosque and brought their entire families back with them. They asked to be prayed with so that they could know God the way Same and his father Muhammad now did. After they had all been prayed with, they had a great celebration. God is good! When I asked what had happened to the other two men, I was told they apparently died of heart attacks.
As I thought about the great miracle that God brought about through Same's obedience to the leading of the Holy Spirit, I found myself praying for the rest of the recent HOB School of Ministry graduates. I believe that God is going to do some amazing things with every single one of these new evangelists. The harvest is going full strength today; multitudes are finding themselves in the valley of decision, and millions are being brought into the Kingdom of God from all around the world today!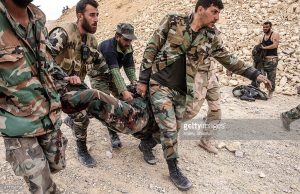 There is another story that has taken a miraculous turn these last few days. It was just recently learned that Sister Mufidah had been forced at gunpoint to treat 13 injured soldiers. Each one of them, with the exception of their lieutenant, was healed and then introduced to Jesus, the Messiah. The continuing part of their story is that they ended up bringing 80 family members to HOB's missionaries for prayer. Each of these people became followers of Jesus the Messiah. Then, due to their testimony, another 125 were brought to the missionaries. These also prayed the sinner's prayer and became believers in Yeshua! What mighty things God is doing! All of this coming from a forced ministry situation at the point of a gun!
Needless to say, it is stretching the resources of HOB's missionaries to help as many as they can, not only with what little wheat, medicine, and clothing they have to share, but also Bibles. So many hundreds of people are being reached with the gospel that it is impossible to have enough Bibles on hand to give out, even if only one per family is given!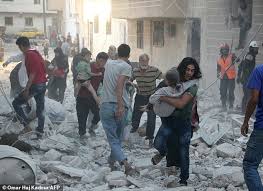 Not only are these missionaries having to deal with shortages of supplies and Bibles, but the bombing campaigns have become so intense, there is no place to hide. The short lull that was experienced (which was very limited), is no longer in effect. The former great city of Aleppo, along with Idlib, Homs, and Hamah, Halab, and many smaller towns, are being systematically reduced to piles of rubble. Yesterday I received news reports of three additional hospitals that were bombed. Then today I saw an additional report with details of a children's hospital having been heavily damaged. People were found cowering in fear in the basements.
As has been the case all along, the worse things get, the more open people are to hearing the gospel. This is why HOB stays imbedded within the refugee populations. It is costly though. This last week 8 more HOB missionaries and 3 new believers were killed in northern Syria. In Fallujah, brother Adel reported that another 12 were lost there. In Mosul, the losses were even heavier, with 43 believers having lost their lives. Among the dead, tragically, there were 8 children.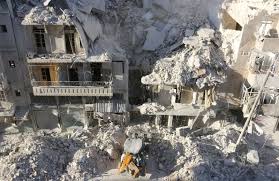 In the last three weeks or so, the reader might remember the 37 widows who were found huddling inside a bombed out building who had been ISIS captives. Then, another seven had managed to escape and connected with brother Akram while he was evangelizing on the streets of a town outside of Mosul. Now, just a few days ago, another three widows were found. They were originally part of a group of 13 who had become jihad sex slaves when they were captured by ISIS. Akram has all 47 of these women together and we are all praying that the missing ten are found. All of them need a great deal of healing, physically, emotionally, mentally, and spiritually. Thank God for the help sent up from Fallujah by Sister Fatima. They will have their hands full, but God is able, just as He was with the 26 in the Fallujah area a few months ago.
The goal of setting Mosul free of ISIS control is not working so far. There is great chaos there because of the military entities facing off with each other. Even with the chaos however, there were at least another 220 souls reached. It has become very difficult to follow up with them. There are multitudes ripe for the truth, but people are being pressured to leave the area. It has become very difficult to know who the enemy is. When people do manage to get out, they have absolutely no place to go. People are going out into the cold desert, where it may be a bit safer, but they have no means whatsoever of sustaining their lives.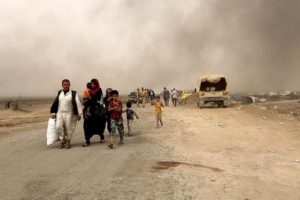 As some of you may be aware, an urgent request for prayer was sent out for Sister Mufidah and some of the women assisting her in her ministry to the injured. These women were in an area that had been bombed, working with survivors. While they were there, another jet bombed the area and they were not able to get clear of the blast zone.  Mufidah and the rest of the women were badly injured and on the threshold of death. They lost a lot of blood and had gaping injuries. People from all over the world took the burden of prayer seriously and God intervened. Mufidah and the women are now expected to survive, but they are quite weak. I don't know that there has been any blood available for them to have transfusions. But, God is not hampered with our shortages, so we are trusting Him completely! God is good! Let's continue to pray these women back to a full recovery. I know they want to get back to what God has called them to.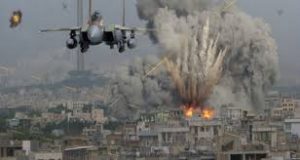 These women were injured in northern Syria. But, at the same time that the Russian military stepped up their attacks on the rebels in the entire Aleppo / Idlib area, the believers continue to gather for communion. Hafezah and her assistants served well over 700 people this past week. And, God continues to meet with the people, encouraging them, healing them, and rebaptizing them with power from on high! Each person participating always leaves with a special anointing!
So, in closing, please continue to pray for the HOB missionaries. Russia is sending in hundreds of sorties a day, sometimes by the hour. It is impossible to find areas where one is guaranteed safety. We serve a big God though, and He answers prayer!
For anyone that desires to help in their support, send me an e-mail and I can provide you with details that work from anywhere in the world.
In His Service,
Jake Geier   
House of Blessing; 3206 SW 45th Street, Redmond, Oregon USA 97756