Although the Christmas season is now passing us by, I would still like to begin this update in wishing each one the continued blessing of what the season of Christmas season is all about. In spite of the turbulent world we find ourselves in today, the miraculous story of what the Christmas season is all about is has never changed. The miraculous conception and birth of the Christ-Child fulfilled the prophecies Old Testament prophets had spoken and written about in centuries past. This one special Child born of a virgin was expected by those who were familiar with and understood the prophecies of the Old Testament prophets. This included an aged man named Simeon and an old prophetess by the name of Anna. 
This one Child became the central Character that all world history has revolved around. This is not surprising considering the fact that He was in fact, not only the Creator of the world we live in, but also of the entire universe. He was God in the flesh of a man, and is God today as He sits seated at the right hand of the Almighty Father. We find these words written by the prophet Isaiah:
For unto us a Child is born, unto us a Son is given; and the government will be upon His shoulder. And His name will be called Wonderful, Counselor, Mighty God, Everlasting Father, Prince of Peace. Of the increase of His government and power there will be no end. Upon the throne of David and over His kingdom. To order it and establish it with judgment and justice. From that time forward, even forever. The zeal of the LORD of hosts will perform this. Isaiah 9:6-7 
Now, today's update from the House of Blessing…
I am told that the HOB missionaries have been using the special mixture Omar, God inspired him with, and it is working well far and wide across the entire House of Blessing community all across the Middle East. Pastor R said that it is clear Omar had heard from the Lord when he wrote the ingredients down. Whether or not the actual ingredients are a scientific answer to the virus or not, is not known, and hardly matters at this point. No one is making that claim. What is for sure, is that God is responding to the faith of the people as they take the mixture and drink the special tea. It has now worked for thousands wherever the HOB missionaries have been able to make it available to the sick. Praise God! 
There are those who might ridicule something like this, but we must be very careful. There are many stories in the Bible of strange happenings as people obey God. To us as humans, it often makes no sense—especially if we look at it from a scientific or clinical basis—but, then there is God. How else would someone's shadow heal anyone? What miraculous potion is in a cloth anointed by someone who has prayed over it? For that matter, what is the source of power when prayers are sent across distances, often thousands of miles? It is all God! So, we listen to Him, we trust Him, and we obey Him—even when what He says sounds a bit strange. 
What Omar was given from the Lord is no less or more strange than what Sister Mufiedah was given several years ago. The ingredients the Lord instructed her to put together for use in treating very serious, often life-threatening injuries, has saved countless lives—and, without anesthesia. The other women trained by her is what became known as The Widow Sisterhood. This was usually used in locations where little or no medical help was available. The ministry of these brave women is well known in the Mideast today. Mufiedah had asked the Lord what to do in a very difficult situation she found herself in, He spoke to her, and she obeyed, God acted. It is really that simple!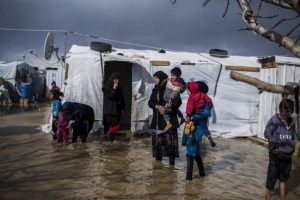 Pastor R shared a story with me this last time he called. It's one of those wonderful examples of the grace, mercy, and provision that God often sends from unexpected sources. This story has to do with a man named Jamal. This is how it was told to me:
Jamal was a man who had come looking for Omar. As Jamal tells it, Jamal had heard of Omar for quite some time and had wanted to meet him. Because of having to constantly move from one location to another because of the ongoing civil war, it took months to finally locate him. 
Jamal was very happy to finally make his acquaintance and then explained his reason for wanting to find him. First of all, Jamal asked Omar if he could help him become a man like him–a man of God. He had heard so many things and seen examples of what God had done in places where Omar and his team of missionaries had been.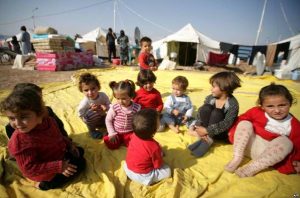 Omar then shared with him the secret of his ministry. It all had to do with his relationship with the true Messiah, Jesus Christ. He told him the real story of Jesus—not the Islamic version, or any other version, but the biblical story as it really was. After he explained who Jesus really was and why He had come, he asked Jamal if this is the relationship he was looking for. And of course, Jamal said, yes, this was it. Omar then led both Jamal and his wife in the sinner's prayer and they became part of the family of God, right there in Omar's tent.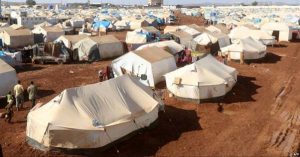 Jamal then asked if there was any way he could be baptized. This however was a bit of a problem. There was no lake, river, stream, or any water hole anywhere in the vicinity. The Holy Spirit then whispered a thought into Omar's mind and he called for the help of a couple of the missionary men. He asked them to dig a hole about the size of a grave, only it need not be as deep. After they dug the hole and Jamal and his wife had changed clothes, he asked them to set themselves down in the hole. The men then covered Jamal and his wife with sand–except for their heads of course. Omar then took a small container of water and baptized them both by pouring it over their heads!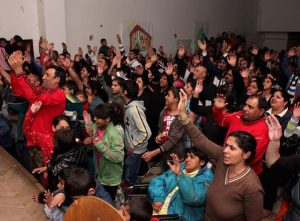 Maybe some reading this account would object and say that this cannot be a true baptismal immersion because they were not immersed in water. It seems that God saw it differently. They did the only thing they were able to do under the circumstances and God blessed them for it. The proof of this became obvious a few minutes later. 
As Jamal and his wife were being 'baptized', the Spirit of God touched them and began doing an amazing work within them. In a few minutes, they got up out of the 'baptismal hole' and it became evident that God was still doing something extraordinary with Jamal. There was an inward work going on and within about fifteen minutes, Jamal began to act very sick and threw up something that looked like a small dark animal. Whatever it was, it kept moving and so the missionaries killed it. Was it alive? Was it a living cancerous growth? There is no way for us to know. Jamal did say that he had had a cancerous growth inside of him that had been there for at least eight years. Praise God he was now free!
I don't doubt that the description of such an event is hard on those of us who are a bit squeamish or the more sensitive type, especially if we have not been around some of the ugly, demonic things that can appear–especially in darker cultures where things of the occult have had their grip. But for those who minister in areas that have been in darkness for centuries, these things are common. There is much evil in this world and we have been called to proclaim the Good News of forgiveness and freedom through Jesus. Praise God for the freedom through the Blood of Jesus.
Jamal then asked if Omar would teach him to understand the Bible as he did so that he can also minister to people in the same way. One way or another, Jamal and his wife will be taught and trained to minister to the needs of the many lost. God is good!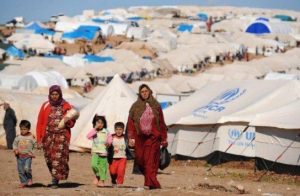 There is one more important part to this story that I must share. After they had fellowshipped together for a while, Jamal commented to Omar that he noticed that he was trying to raise money to help with HOB's ministry to the people. Jamal said he wanted to help and asked Omar to come with him. Jamal took Omar to a place where he dug a hole in the ground. In the hole he uncovered a container which had $22,000 in it. He took the money and gave it to Omar, telling him to use it however it was needed the most. As Jamal shared more of his own story, it turns out he had been a jeweler but because of the chaos of war, he had had to bury what money he had left and hope to retrieve it some time in the future. 
With his newfound freedom from his old life and now a brand new calling on his life, Jamal and his wife felt this is how the Lord would have them begin their new life! Omar told Pastor R that they were able to purchase four truckloads of wheat sacks, one truckload of blankets and mattresses and ½ load of rice and ¼ load of beans and tomatoes. These supplies were then distributed to forty different refugee camps where HOB missionaries are embedded. As I write this update, the people still have food to eat from this great provision and, one day after another, the Lord continues to multiply it.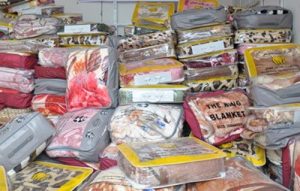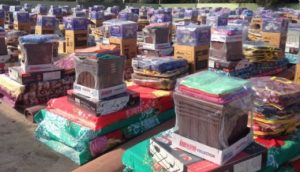 The greatest miracle of all of course is the thousands of souls that are reached through the provision through the House of Blessing. As has been the case for several years now, HOB has been used by the Lord to reach people that the United Nations relief organizations are not able to help. And, as they continue to provide for as many as they can, they also share Omar's special mixture of ingredients and the special tea with as many as they possibly can.
The untold number of small groups gathering for the celebration of communion even continue adding the tea into the communion, and God has blessed and God continues healing the people. 
The reports coming in include many people that were on their deathbeds with either the COVID-19 or a deadly flu but then were miraculously raised up.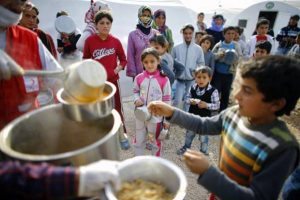 Christmas has come in a spectacular and miraculous way to many thousands in the Middle East. The blessing came in a way no one could have imagined. But, I can remember hundreds of these special interventions through the ministry of the House of Blessing since I've been writing their story since late March, 2012. 
As to the 'baptism' of Jamal and his wife, they will be baptised in a real body of water as soon as one can be found. This latest series of miracles is only the very latest that has been reported to me. God continues to multiply and bless those who are trusting Him. Many of the people who have extra clothing or other supplies are giving them to those who are lacking. It sounds very much like what we read in Acts 2.
Now all who believed were together, and had all things in common, and sold their possessions and goods, and divided them among all, as anyone had need. So continuing daily with one accord in the temple, and breaking bread from house to house, they ate their food with gladness and simplicity of heart, praising God and having favor with all the people. And the Lord added to the Church daily those who were being saved. Acts 2:42-47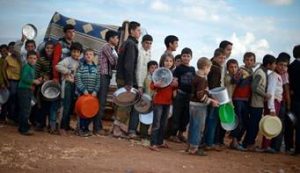 What a God we serve! As we are looking at the end of 2020, let's all determine to make the most of what little time there is left in this age. Jesus is coming, and He is coming very, very soon! Are you watching?? There is a special blessing promised to those who delight in the return of the Messiah! Blessings on you all.
Forever in His Service,
Jake