In spite of all we are seeing happening in our world today, I think a good way to begin the year 2021 is with Psalm 118:24 which says, "This is the day the Lord has made, we will rejoice and be glad in it." Those of us who are the servants of the Most High GOD can say this with the greatest confidence because He is in control of all things. Nothing catches Him off guard or by surprise! Let's trust Him with the year, 2021.
In my previous House of Blessing Mideast Update I told a story given to me over the phone by Pastor R of a man named Jamal who had searched for Omar for some time and eventually found him. It was an inspiring story of God's miracle working power to change Jamal's life as well as that of his wife and the miraculous provision God brought about through this man.
Today, I would like to pass on the story of another man. Once again it is a man who had heard of the House of Blessing and in particular, Omar. When he finally connected with him and the men got a chance to talk, he told Omar that his name was Sameer. Sameer than asked Omar the same question so many had asked before. He asked Omar if he could teach him how to know God the way he did. Omar then told him the Good News of the Gospel; telling him the real identity of Jesus and why the sacrifice of His life was necessary. He also explained to him how powerful the Blood of Jesus was to remove the stain of all sin. As Omar explained these things to him and asked Sameer if he would like to commit his life to Jesus, Sameer was quick to agree but asked if he could confess some things that had plagued him for many years.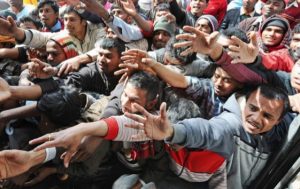 Sameer told Omar that because of the never ending civil war in Syria and the desperate times it brought, he had to resort to a way of life that brought him great shame and in time seemed to have brought on a visible curse of sickness on him, his wife, and two daughters. Sameer went on to explain that when times got so desperate that he could find no way to provide for his family, he took to robbing the dead. In many locations in the Middle East, particularly in Syria, unburied corpses are not hard to find. There are so many dead at times that they cannot be buried fast enough. One of the things that HOB missionaries have been doing as part of their ministry to the people they are embedded with, is help them get the dead into the ground. Along with the problems today with the flu and now the Covid virus, not getting the dead into the ground fast enough can be the cause of people becoming infected with cholera. When cholera begins to run rampant, it is a much worse plague than the Covid virus. 
Sameer continued with his story and said that he took anything valuable he could find from those who had died. This may include rings, gold fillings, clothing, and anything else that could be sold or traded. He often even found food that had not been consumed. It had finally caused his wife to ask him where he had gotten the money he had and he had to admit to her what he was doing. Sameer's wife expressed great displeasure and disgust but Sameer's response to his wife was, "What else can I do? I can't watch you starve to death!" As Sameer's wife expressed her shame, this of course only humiliated Sameer that much more. What was he to do? Then he heard about the House of Blessing and brother Omar. When he found Omar, he was given of the supplies that were provided through Jamal's gift, and now he was asking to be introduced to Omar's Messiah, Jesus Christ.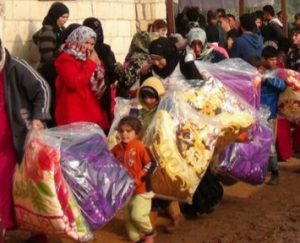 After Omar led Sameer, Sameer's wife, and two daughters (ages 9 and 11) in the sinner's prayer, Sameer asked if they could be baptized. The reader might remember that Omar had previously had to come up with a rather unique method of baptizing Jamaal when he became a believer in Jesus because they really had no way to baptize him. Since then, an old tub type of container had been found in a bombed out building. That old container became the official baptizmal tank for the area where Omar and his team of HOB leaders were ministering. 
Almost immediately after baptizing Sameer and his family, they began to get violently sick and all four of them vomited a yellow liquid onto the ground. Sameer then explained to Omar that he and his family had been sick for some time now. He pulled up his shirt and showed Omar red spots that had developed all over his body. He said it was the same with his wife and both daughters. Omar then said, let's baptize you all four again. As they baptized Sammer and his family, Omar and the brothers prayed and asked the Lord to heal them completely of whatever disease they had contracted. And praise God, as they came up out of the water, all four were completely healed! Pains had stopped and all the red spots on their skin were gone! Omar then also gave them the tea mixture that has brought healing and relief to so many with the flu or the Covid virus. God is good!
Pastor R did mention to me that now that Omar had something to use for baptisms, Jamaal would be baptized 'the proper way'! 
It is a blessing to be able to share a 'featured story' like the one of Jamaal's story or that of Sameer and his family. Over the past almost nine years since I have been writing these updates, there have literally been hundreds of stories. With most of them, the details were limited but the events were very real. Someday when we have all been gathered together in the presence of Jesus to begin our eternal existence in His Kingdom, there will be plenty of time to get to know these brothers and sisters and hear 'the rest of the story' that each has to tell! 
What does get lost in the statistics often shared with the reader is the miracle of each individual that is touched by the love of the HOB missionaries and the lives that are transformed for eternity. For today's update, the quick report has provided these statistics for the last few days. Omar and his team of leaders ministered to approximately 1,500 refugees. This includes supplying as many as possible with essentials, especially something to eat. Each also receives special prayer and with most of them, this includes praying the sinner's prayer with them. 
The very same can be said today for many other HOB leaders and their teams: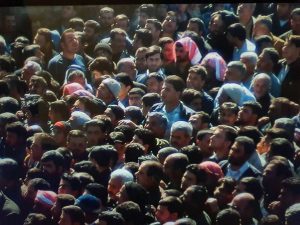 Mufiedah and Sarah – 850
Adel and Abed – 650
Ibrahim and Akram – 750
Sahbander and Mortadah – 450
These are just some of the ones who usually send in reports. Most don't. The communion celebrations continue all throughout the week with 15-20 at a time gathering in most locations. These are with Fatima, Mariam, Hafezeh, Feriel, and an untold number of leaders I have no names for. These times of refreshing are offered five times per day because the number of believers is so large. This makes it possible for more people to experience these special times. 
As stated earlier, these may seem to be just 'numbers', but to God, they are not. Each person is a miracle in process. The Bible tells us that God is not willing for any to perish. Not all will be saved of course, but these 'numbers' are those that are being brought in the Kingdom of God right at the very end of the age. Praise God!
Pastor R's two special assistants, Yuseff and Raddi continue to minister to long lines of people every single day. These lines usually have 180-200 people patiently waiting their turn. 
Pastor R is doing much better than he had been. Of course, I have never heard him complain about anything as long as I have known him! The Lord continues to honor his commitment to the work of the ministry he has been called to and the harvest of souls continues to come in.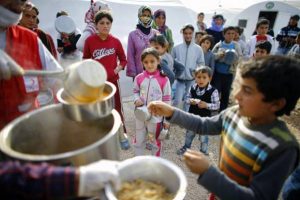 As I conclude today's update, I want to thank each one of you for your sincere prayers for the House of Blessing. Your prayers are for somewhere around 2,000 HOB missionaries and an underground church of at least 700,000 (that we know of). I also want to thank those of you who have helped them financially. The needs of course never end because HOB is embedded among many millions of people. The mission field truly is enormous! The investment goes to bring souls to a commitment to their Savior and God. The dividends are 'out of this world'!
Keep awake, stay in prayer, and Keep Looking Upward! Have a New Year blessed with the presence of the Lord in each of your lives!
Forever in His Service,
Jake