Every time I check my regular news sources, it becomes clearer by the day that our troubled world is hurtling toward cataclysmic events, the likes of which will leave all other troubled eras in our world's history pale in comparison. For those in the West, so far, at least for the most part, we just read or hear about these things. But, for those who are in the middle of the wars, carnage, and chaos that it brings, it is a daily life and death situation.
This brings me to a phone call I just received this morning from House of Blessing's Pastor R. For those of you who read this blog regularly, you might remember the story and photo of four head sheikhs who had recently become believers in Jesus Christ. I have included their photo once again in this update. These four men had been gloriously saved and baptized after having sat in on some of the Bible classes being taught by House of Blessing missionary teachers.
After eagerly studying along with the many other students since that time, these four former sheiks got together and, after discussing it, decided that they would take a step of faith and all four of them would share their testimonies and teach the unadulterated truth of God's Word in their former mosques. Between the four of them, they had about 18,000 regular male attendees. All four of these men were miraculously given the opportunity to say everything they had come to say. This truly is a miracle! Each man told how they had been challenged in their souls once they had heard the real truth. They shared how after hearing the truth and spending a considerable amount of time thinking everything through carefully, they decided that they must humble themselves before this God, the One they now knew was the only real God, and ask Him to forgive them of the sin in their lives and ask Him to be their Lord from that day on. They told the story of how this God, whom they had never known before, paid the price to set mankind free of the death sentence of sin, paying the ultimate price by sending His Son to die on the cross. This price necessary to free mankind, could not be paid by anyone else, certainly not another man, nor any false god. They also told the story of Jesus being raised from the dead, ensuring the resurrection unto life for any man, woman, or child that would put their faith in Him. These four crowds of men were also told of eternal life that would be the inheritance of all those who humble themselves, repent, and become followers of Jesus Christ.
The former sheikhs also made it very clear that all of the many years of teaching that they themselves had done from the Koran had been in error because the Koran is a book of lies and only leads to eternal damnation. They shared how the Almighty God of the Bible was a God of love, in obvious contrast to Allah, the god of the Qu'ran and his prophet Muhammad.
These former head sheikhs were very well received by their former congregations; the proof of this being the fact that none of the four men were killed by their own listeners, as is so often the case when anyone attempts to contradict Muhammad's writings, the Qu'ran, or what Islam teaches about Allah.
The tragic part of this story however came after these men left to go home. One of HOB's Bible students was witness to the fact that several ISIS jihadists pulled up to them, grabbed them, forced them into their vehicle and left. There has been no word whatsoever since they were abducted. This just happened a few hours before the writing of this update, Friday, January 29, 2016. These men have now joined over two dozen others who have been abducted just recently, including a man who preferred himself to be known as Rami's father, rather than by his real name…Muhammad.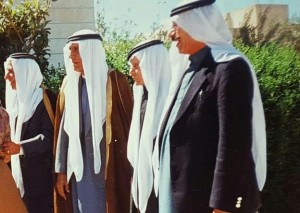 I was reading again in the Book of Acts, in the New Testament. In chapter 16 we have the recorded account of the Apostles Paul and Silas being taken to prison for preaching the Gospel of Jesus Christ. The passage reads:
Now it happened, as we went to prayer, that a certain slave girl possessed with a spirit of divination met us, who brought her masters much profit by fortune-telling. This girl followed Paul and us, and cried out, saying, "These men are the servants of the Most High God, who proclaim to you the way of salvation." And this she did for many days. But Paul, greatly annoyed, turned and said to the spirit, "I command you in the name of Jesus Christ to come out of her." And he came out that very hour. But when her masters saw that their hope of profit was gone, they seized Paul and Silas and dragged them into the marketplace to the authorities. And they brought them to the magistrates, and said, "These men, being Jews, exceedingly trouble our city; and they teach customs which are not lawful for us, being Romans, to receive or observe. Then the multitude rose up together against them;' and the magistrates tore off their clothes and commanded them to be beaten with rods. And when they had laid many stripes on them, they threw them into prison, commanding the jailer to keep them securely. Having received such a charge, he put them into the inner prison and fastened their feet in the stocks. But at midnight Paul and Silas were praying and singing hymns to God, and the prisoners were listening to them,. Suddenly there was a great earthquake, so that the foundations of the prison were shaken, and immediately all the doors were opened and everyone's chains were loosed…(Acts 16-26)
These apostles were badly beaten with rods and thrown into the lower parts of a prison. To add to their pain, they had their feet fastened into stocks, which kept them from being able to find any comfort whatsoever. But, instead of moaning, groaning, or complaining, asking God why He would let this terrible injustice happen to them, they spent their time praying and singing praises to God. Everyone in the prison heard them.
In this story, a great miracle happened, and not only were they set free, but the Philippian jailer and his family were reached with the gospel of Jesus Christ, and they became believers. As history shows, not everyone that ends up in a prison because of the cause of Jesus Christ is set free, but there are many stories documenting the accounts of those who have been set free. I remember some of the House of Blessing missionaries having been freed unexpectedly after they had endured unimaginable horrors, but God saw them through, and great things came about as a result.
No one knows what the outplay of this abduction will be, but if we as their Christian brethren will be diligent in our prayers, there is no limit tp what can be accomplished. We know we serve a God that is always in total control. Along with our commitment to care and pray for the family of God, we need to trust that He does not miss a thing, and that… all things work together for good to those who love God and are called according to His purpose (Romans 8:28).
As to the rest of what is happening with the hundreds of HOB missionaries; here is a quick breakdown:
The School of Ministry classes continue as before. Every one of these students is quite aware of the dangers of being caught–especially in a group. The leaders are seeking the Lord for wisdom as to whether they need to relocate or not. When we study the life of David in 1 Samuel of the Old Testament during the time when he was running for his life from King Saul after God's presence had left him, we find David making a point of seeking wisdom from God as to which direction he should go. I find it mentioned four times in 1 Samuel 23. This is our pattern for today as well. We seek wisdom from God. God has not changed.
In the northern areas of Syria and Iraq, Sister Mufiedah and the "Widow Sisterhood" continue ministering to the war-injured. Dozens and dozens are being healed miraculously. Each and every one of these also commits themselves to Messiah Jesus. The work that these brave women do is pretty gruesome at times. Imagine yourself rolling bodies over  to see who is still alive and who is not; then attending to bombing victims who are barely alive. This is what they do day after gruesome day. Many of the widows have either been killed by bombs or missile attacks, or worse yet, have been abducted by ISIS. We must pray for them.
The reports continue of the many innocents killed in the bombing attacks. Many new believers, including dozens of children have been lost. In Iraq, brother Omar lost two more missionaries to martyrdom, besides the former sheikhs who were abducted. Hunger and exposure are a continuing problem in the winter months, but the problem is worse this year than in the previous years–especially in Syria. Right now, there are numerous HOB missionaries that need to be buried, but it is not a good time to do so, due to the weather, and also the great danger. Just a few days ago a vicious storm blew in. As it did, dozens of tents,not only blew down, but blew away from where they had been anchored. Because of the mud and water everywhere, anchoring tents securely is a real challenge.
Sisters Hafizeh, Ferial, and Fatima continue providing communion with the ingredients that the Holy Spirit instructed. Hundreds and hundreds are reached with the gospel; many hundreds are healed, and all are baptized with the Holy Spirit! God is good!
All this is continuing in Syria, Iraq, Kurdistan, Iran and Jordan. Amazing days!
I would like to close with an encouraging Scripture out of the Book of Revelation. It reads:
And he showed me a pure river of water of life, clear as crystal, proceeding from the throne of God and of the Lamb. In the middle of its street, and on either side of the river, was the tree of life, which bore twelve fruits, each tree yielding its fruit every month. The leaves of the tree were for the healing of the nations. And there shall be no more curse, but the throne of God and of the Lamb shall be in it, and His servants shall serve Him. They shall see His face, and His name shall be on their foreheads. There shall be no night there: They need no lamp nor light of the sun, for the Lord God gives them light. And they shall reign forever and ever. The he said to me, "These words are faithful and true." And the Lord God of the holy prophets sent his angel to show His servants the things which must shortly take place. "Behold, I am coming quickly! Blessed is he who keeps the words of the prophecy of this book. Now I, John, saw and heard these things. And when I heard and saw, I fell down to worship…"Behold, I am coming quickly, and My reward is with Me, to give to every one according to his work. I am Alpha and Omega, the Beginning and the End, the First and the Last." Blessed are those who do His commandments, that they may have the right to the tree of life, and may enter through the gates into the city...He who testified to these things says, "Surely I am coming quickly."(Revelation 22:1-8, 12-14, 20).
We know that we have entered the most tumultuous time in human history. We are a breath away from the beginning of Daniel's 70th week, also called "The Day of the LORD." Unprecedented events are due to begin unfolding at any time now. As believers in Jesus, we have a confidence not available to non-believers. The effectiveness of this confidence however depends greatly on the intimacy of our walk with the One who controls it all. We are His people! Let's walk with the promises of Psalm 91 in our hearts until we hear that great trumpet of God and the voice of the archangel with which He will call His faithful ones home! I am ready. Are you?
Jake Geier 
House of Blessing; 3206 SW 45th Street; Redmond, Oregon USA 97756