How much does God involve Himself in the affairs of men? There are those who only understand God as a powerful Being that may have created the heavens and the earth but has long ago left the earth and its inhabitants to fate and to their own devices. The Bible tells us differently. History continues to unfold just as it was foretold thousands of years ago by the Old Testament prophets. Not only does God have intricate involvement with the affairs of men in general but He is also involved with men on a personal level. Here is what the Psalmist King David wrote:
O LORD, You have searched me and known me. You know my sitting down and my rising up; You understand my thought afar off. You comprehend my path and my lying down, and are acquainted with all my ways. For there is not a word on my tongue, but behold, O LORD, You know it altogether. You have hedged me behind and before, and laid Your hand upon me. Such knowledge is too wonderful for me; it is high, I cannot attain it……Your eyes saw my substance, being yet unformed, and in Your book they all were written. The days fashioned for me, when as yet there were none of them. How precious also are Your thoughts to me, O God! How great is the sum of them! If I should count them, they would be more in number than the sand; when I awake, I am still with You. Psalm 119: 1-6; 16-18
The passage above and many others tell us of the intimate knowledge God has of His own. He is never caught by surprise with anything that comes to us in life, the good or the bad. He also promises that all things will work out as He has planned, although we often dislike the process we go through. King Solomon wrote a proverb pertaining to God's sovereign direction in our personal lives:
A man's heart plans his way, but the LORD directs his steps. Proverbs 16:9
The story I am going to tell in this update reaches back just over two years to January, 2016. Some readers may remember a group of four head-sheikhs who came across HOB Bible classes being taught to a large number of new believers. The classes were being taught by four men named Yosef, Zakaria, Abed, and Faisal with the aid of their helpers. After listening in on Bible classes for some time, the four men asked permission to sit in on the classes for another day or two. That in itself was a miracle considering the status of these Muslim teachers, but after the four men spent a couple days listening to the teachings, they came to ask the teachers to pray with them so that they could meet Messiah Jesus and have their sins forgiven. That was another miracle!
As the story was told two years ago, these four men were then baptized in water and then continued in the classes being taught, intending to complete the entire course. Just before completing the course, these four new believers made the decision to temporarily return back to their home mosques to give their testimonies to the men that they had been teaching for many years. However, they did not tell the HOB teachers of their plans.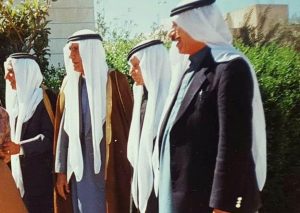 These four, Mefliah, Radi, Taher, and Shaher, had a combined total of 18,000 men who attended their individual mosques on a weekly basis in the Fallujah area. These men were well received when they gave their testimonies, telling their entire stories including how they found Jesus Christ to be the real Messiah and how they were now learning everything they could from the Bible as fast as they could. They also apologized for having taught them error because they had not known the Truth until now. All of this went unchallenged by the men in the mosques.  However, word spread of what these men were now testifying, and tragedy hit when they left to return to their classes. One of the HOB Bible students witnessed them being grabbed by several ISIS militants, forced into a vehicle, and driven away on January 29, 2016 to an unknown location. Much prayer has gone up for these men for the past two years. Many people have had the men's photo on the wall of their prayer rooms.  Some presumed they had been killed by ISIS.
When Pastor R called this past week, he first gave me the latest details of the work of the missionaries in the different locations as he usually does. He then told me a story that brought him to tears as he described the details.  However, these were tears of joy. He told that he had been contacted by brothers Akram and Mustafa, the House of Blessing leaders who have continued to minister in the Mosul area. They described how four new believers had come looking for them with a story of having found four men in very weak physical condition. They had decided to help them. These men were Mefliah, Radi, Taher, and Shaher!  The story of their lives in the two years since being kidnapped by ISIS is impossible to adequately describe, but, here are the most basic facts:
When the militants grabbed the men, they took them to an unknown location, eventually keeping them in a cave. There the militants began to inflict unimaginable torture to them in order to get them to deny their new found faith in Jesus Christ. Remember, these men had only been believers for perhaps two weeks before they were abducted. The men were beaten, starved, physically tortured including having their fingernails pulled out, burned many times, and they were repeatedly sodomized. Time after time, the men told their captors that it did not matter what they did to them. They would never give up their faith in Jesus Christ, the real Messiah. They were brought to the point of death many times during these two years.
Finally their captors became enraged and decided to murder them as brutally as they knew how. They brought in a pack of dogs that had not been fed for some time and turned them loose on our Christian brothers who were tied with ropes and had no way of defending themselves. As the dogs ran toward them, they could only lift their hands in worship to the One who was about to receive their spirits. As they did this, the dogs suddenly turned and charged the 16 militants who were in the cave, killing 14 of them before the two remaining captors could shoot them.
After the dogs were killed, the two remaining ISIS militants ran to the men, shaking from fear. They untied them, begging for forgiveness for the things they had done to them. They then ran for fear that the dogs might come back to life and kill them too!
After two long years, these four brothers were finally free, but they were in no condition to go anywhere on their own strength. This is when God arranged for their future friends to find them and offer help. It's just like God to send these specific four men to help—not just any men, but four more Muslim head-sheikhs! These sheikhs also had mosques of their own and had many attending their weekly meetings. In the next several days, Mefliah, Radi, Taher, and Shaher were able to answer all of the questions that the sheikhs had even though they had only studied God's Word for two weeks or so. Part of their studies with the HOB School of Ministry had included memorizing Scriptures that were in their study materials. These scriptures and their prayers (as well as the prayers of so many of our readers) sustained them for these two long years in captivity. The prayer now is that the two remaining ISIS militants, who will never be able to forget what they witnessed, will also come to find Jesus Christ as their Messiah. God let them live for some reason. Forgiveness is available for even them. The power of the Blood of Jesus is more than potent enough to forgive their sins.
The four sheikhs and the sizes of their mosque congregations are: Ziad: 750 members, Gigess: 950 members, Alaa: 1,100 members, and Fathi: 600 members. Keep in mind that the members to these mosques are all men. The miracle continues in that all of the members of these four mosque congregations have now also prayed the sinner's prayer and have become believers in Jesus Christ, our soon coming KING. They are now busy reaching their family members and friends with the Good News of the Gospel. Praise GOD!
I have written each of these people because many of you pray for them by name. This has proven to be a great blessing, especially in the case of Mefliah, Radi, Taher, and Shaher. There are still many others missing—including a man always referred to as "Rami's father."
As many are now rejoicing in the return of these four men, others continue to deal with great difficulties. This last week has seen non-stop rain and snow in many areas. Brothers Omar and Same gathered about 180 volunteers and helped to reset or move well over 600 tents for the refugees. In the process of helping them, they were able to share with the refugees about the love of God. It always provides an open door.
Pastor R's 12 specially trained men (we call them "disciples") also spent much time trying to help the people in ways that most would not. Although HOB can't afford to rent a tractor at this time for burying the dead, these twelve men have been digging the graves by hand in order to get the corpses buried.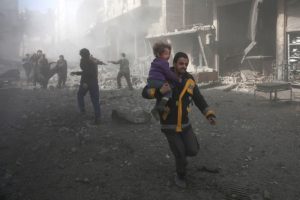 In northern Syria, where many civilians are being killed and chemical weapons are being used,  Mufiedah, Fatwa, and the Widow Sisterhood have ministered to the wounds of about 80 new victims.
For those that have been watching the news, the Ghouta area has been hit really hard. In that one area alone, among the civilian casualties, 80 of the adults belonged to the HOB Christian community. Tragically, in addition to the 80 adults were also 25 children.
Sister Sarah, along with the 45 helpers she had this last week, shared the Word of God and the Good News of the cleansing power of the Blood of Jesus, with near 500 people.  
In the Mimba area, the threats of war are increasing by the day. Northern Syria has a large presence of Turkish troops, Russian military, US military, the Kurds and other entities. The threats of a major clash between Turkish and Syrian troops are not going away. Please pray for the people caught in the area. Starvation is also a great factor in both the Mimba and Ghouta areas. Many are losing their lives due to hunger and exposure to the elements.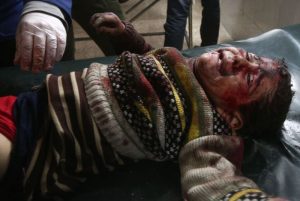 Just before posting this update, I received the news that another suburb of Damascus was heavily bombed. Over 200 people were killed, including over 50 children. It just goes on and on and on. Even so come, Lord Jesus!
The teaching materials continue making their rounds all across the Mideast to the House of Blessing community of believers. The main subject is the "Beatitudes" that Jesus taught. There are an untold number of small groups everywhere. Because this update is a bit long, I won't list the numbers. Suffice it to say that there is an enormous House of Blessing underground Church that is busy "finishing well", sleeping not more than two or three hours a day, but they know there is major conflict on its way to the Middle East and they are doing everything they can to reach that last soul that causes the Son of God to call His children HOME! We are going home SOON!
The needs as you know are very great. Thousands of Bibles are needed again. But, that means that the harvest is being brought in…and very fast! For those that would like to help, please use the PayPal button provided on this blog site. 100% goes to HOB.
A quick word on Pastor R. He is healing well. He is fighting with the flu and all of its symptoms but he is believing in the Lord's power to sustain him and keep him going. God is good! Two Scriptures in closing:
But as for you, you meant evil against me; but God meant it for good, in order to bring it about as it is this day, to save many people alive. Genesis 50:20
And we know that all things work together for good to those who love God, to those who are the called according to his purpose. Romans 8:28
FINISH WELL
Forever In His Service,
Jake Geier