In the last few days we had requests for special prayer for Pastor R, founder of the House of Blessing. I have received a short phone call with some new information to share. As most regular readers already know, Pastor R had an emergency procedure due to a heart attack he had suffered. I don't know details though it sounds that an angioplasty procedure was performed to clear an artery. I will provide more information as I receive it. What is of great concern at this time is Pastor R's lungs. During our call, he could barely speak due to the difficulty he was having with breathing. Let's continue to bring him before the Lord in prayer. We serve a faithful God.
The missionaries continue to minister to the lost day after day, and by His Spirit, working through the missionaries, many souls have been reached this past week. In the north, another 150 souls have had their eternal destiny changed. They have come to recognize there is only one true Messiah and His name is Yeshua. These 150 who had been blind, now see!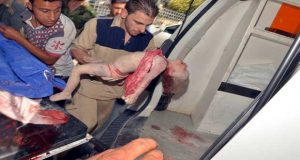 I don't know the current number of Widow Sisterhood missionaries involved, but they are busy every waking hour ministering to the refugees where these widows have been placed. They are fearless, dedicated, loyal to the work of the ministry, and because of the Holy Spirit working through them, minister with authority and power. The community of HOB missionaries continues the work that God has called them to, regardless of how many are killed each week, and this past week was no exception.
This is also the case in the Damascus area. Presently, my wife and I are still in Israel for a few more days before we return to our home in the United States, and I had the opportunity this past week to travel from the lower end of the Sea of Galilee where we are staying, to the Golan Heights that we hear about in the news so often. I was taken as far as it is possible to go by car in the north. I can only think of one appropriate word to express the feeling of being so close to the city of Damascus, and yet so far. At the farthest point we went in Israel, it would have been less than an hour's drive to Damascus. As I looked in the direction of Damascus, I could not help but think of Pastor R and the many HOB missionaries located in that city which is mentioned so often in Scripture.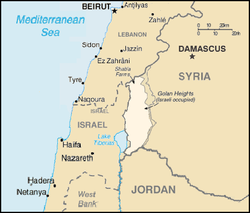 Right now, there is a true move of God in Damascus that the world is not aware of. Sometimes it is reported that there are few Christians left in the Damascus area. That is really not the case. Week after week, I am privileged to hear the stories about the brave missionaries whose lives are on the line day after day. In spite of all the fighting between Assad's Syrian army and the rebel forces, the work of the missionaries continues. In spite of the many terrorist groups fighting each other, people are hearing the Good News about Jesus Christ. Regardless of the concerted attempt to completely stamp out Christianity by the many jihadists, the Word of God continues to spread!
In the short phone call with Pastor R, once again I received a bit more news about Omar and his fellow recent graduate friend Same (pronounced Sammy) of the HOB School of Ministry. The recent crowd of over 2,000 men that became followers of Yeshua are continuing their studies. These men who have now become servants of Messiah Yeshua, are spending many hours each day being taught God's Word. These men are divided up in three buildings that had been mosques, but are now functioning as Christian centers. How they are managing to do this, I have no idea, but it has been going on for several weeks now. Tables and chairs have been bought, and many thousands of pages of study material have been copied so that each of them can do homework.
I know what will happen as these men begin to share their testimony with those around them. I'm sure their immediate families have already received the Gospel. This is what always happens when the men are reached in this culture. Close relatives and friends are not far behind!
Sister Sarah is another HOB missionary, even though she has not had as much training as most of the School of Ministry graduates. Her testimony is powerful. So powerful, that day after day, week after week, as she goes from place to place, crowds of people gather to hear what she has to say. And, she and those helping her minister, lead one after another to the feet of Yeshua. Every one of these is a miracle!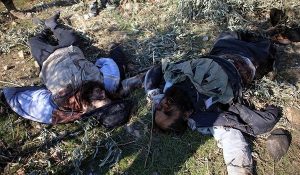 Most of us in the West have little idea how great are the miracles such stories coming out of a Muslim culture really are. There are a number of Christian relief organizations that are doing what they can to alleviate the desperate need for food, clothing, medicine, and other necessities of life. But, there are very few that are embedded within the refugee camps, actually sharing the truth of the Gospel of Jesus. This is what the House of Blessing does. When they are able, it is HOB that gets sacks of wheat to the areas where the U.N. refuses to send their people. Just recently, the Lord made it possible for HOB to bring in four large semi-truck flatbed loads of wheat and distribute it as far as they could. This does not make the news, nor does it make the front pages of Christian magazines. But, the Master keeps track–both of those that do the distributing, and also those that provided every single dollar it took to make the purchases.
There are no magazine reports telling of the hundreds of refugees and their gratefulness to these Christian missionaries that share their own bread with strangers. Most often, this convinces the refugees of the love of God for them as individuals. The price paid by the Messiah begins to mean something. There are also no publications telling the stories of those that follow the battles, going through the casualties on the ground, checking the bodies for any flicker of life. But, this is what the women of the Widow Sisterhood have been doing and still are today. This is how Mufidah and the seven women with her were caught in a shootout, a story told in an update just days ago. Only the Lord knows the number of those that were dying that were reached just in time before they enter eternity. As most of readers know, many times, these women are caught and killed as secondary bombing runs are made and they are still working among the wounded. These things are still happening today, even though the control of different sectors of the country change from one entity to another.
The news out of Fallujah was minimal this week. Brother Adel did report that they were able to reach 75 souls. This is 75 human beings that were headed to an eternity without Christ, but now, even if they lose their lives tomorrow, they will spend an eternity witnessing the glory of the One who paid the price for our eternal freedom. Hallelujah!Another ongoing miracle that most of us may not realize the significance of is the large number of believers who gather in at least two main areas for communion services. These special gatherings continue several times a week and include many hundreds of believers. As has been shared many times before, these are not the typical communion services that most are used to in their churches. These services are centered around the celebration of communion, and not just as a five minute ritual slipped into the church service program. Please don't think I am criticizing churches and their celebration of communion. That is not my purpose. These people though, who live in mortal danger every hour of their lives, purposely get together for one reason, and that is to be obedient to something the Lord Jesus instructed His Bride, the Church, to do. They come together, doing something that is quite physical–the taking of the bread and the wine, but as they do, the Holy Spirit responds to their obedience as well as their deep desire to fellowship with the lover of their souls. God shows up and no one leaves the same as when they came. People are spiritually invigorated, emotionally strengthened and encouraged, and quite often physically healed. And, those that have not been baptized with the Holy Spirit as is described in Acts 2, leave hours later having been baptized with the power of the Spirit of God! This past week, in northern Syria, Sister Hafezah and those helping her served communion to about 900 gathered believers, and Sister Fatima, another 750 in the Fallujah area! God is good!
For those that may not know what is going on in the city of Mosul, it is worth the time to check out what is really happening there. I won't go into much detail in this update because I have spent considerable time doing so in the recent updates, but suffice it to say that the battle for Mosul is not over. The plan to retake control of this great city from the Islamic State has been unfolding for many months now. The eastern half of the city has been liberated but the city on the western side of the Tigris river is not free yet. The Iraqi military and its allies, which include American forces in the mix, are engaged in the most brutal part of the mission. Baghdadi, the ISIS leader, has fled and left the collapse of the ISIS forces in the hands of some of his leaders. They know that they are going to die, but they intend to take as many civilians down with them as possible. The reports, along with photos, are proving them to be doing just as they threatened. This makes it very difficult for the forces coming in, and doubly terrifying for the 750,000 still trapped with these savages.
Brothers Akram and Mustafa and those ministering with them continue going where no one else will go, certainly no aid groups, secular or under the name of Christianity. Because of this, HOB was able to reach 422 of the lost. But, the loss of life to the Christian community was great. This past week, HOB lost 52 of their missionaries and members of the Christian community. It was a very hard week, but it is not stopping them. It is also in the Mosul area that the 56 widows are being ministered to. They are continuing to be instructed in the Word of God and ministered to physically, mentally, emotionally, and spiritually. Every single one of these widows has gone through unspeakable horrors during their two year captivity as sex slaves in the camp of the ISIS barbarians.
I would like to remind us all of something at this point, and I thank you for indulging me. I receive calls every week, sometimes two or three calls weekly, giving me the updated information. I then take this information and pray over what I have received and ask the Lord to help me write it out in a way that will fulfill His wishes for the Mideast Update. I find myself having to remind myself again and again, that these numbers of people…whether the number "saved" as we say in the West, or those who have been killed, are not just "statistics."  These are people, just like you and me. They have family, they have friends, and their deaths are a tragedy, although for a believer, the grief is not the same as it is for an unbeliever. Those that have been led to find, and now recognize for who He is, this Jesus of Nazareth, and have asked for His Lordship in their lives…they are on a destiny like none they could ever have imagined! Can I give a cost value of a single soul? Can you? We have no way of doing so, but God has. Every single soul was seen by the Almighty as worth the price paid. This is why I often talk about the Lord as "The Lover of our Souls." He really does love us that much! So…we dare not allow ourselves to slip into thinking of these "numbers"  of people as just "statistics."
I would like to close this update with a passage that is familiar to most of us. It is found in Psalm 116:
Precious in the sight of the LORD is the death of His saints. O LORD, truly I am your servant; I am your servant, the son of your maidservant; you have freed me from my chains. I will sacrifice a thank offering to you and call on the name of the LORD. I will fulfill my vows to the LORD in the presence of all his people, in the courts of the house of the LORD in your midst, O Jerusalem. Praise the LORD. Psalm 116:15-19
Truly, the deaths of these missionaries and believers are precious in the sight of the Lord. And, they see themselves as His servants. They are fulfilling their vows to the Lord and in the presence of His people as well as in view of those that are presently their enemies. God sees every single one that falls, and every single one that passes is immediately welcomed into the presence of the Lord where they will receive their inheritance as children of the KING of Kings and LORD of Lords!
God is good!
Forever In His Service,
Jake Geier