At a time of the year when the Muslim people of the world are observing Ramadan, a time of fasting, prayer, and reflection, terrorist groups are using the month to showcase their hatred even more than normal. According to the NTEB website, the first 27 days of Ramadan have so far resulted in 152 Islamic terror attacks globally, resulting in 1,389 deaths. At the time of this writing, Ramadan ends in just a few days. We will see if more carnage will be added to what has already been done by the Islamic jihadists. ISIS is urging a surge of civilian attacks to end Ramadan. I am reminded of a Scripture from the Old Testament: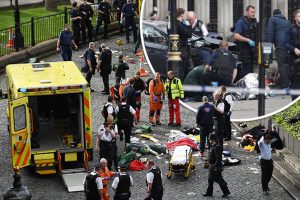 And the angel of the LORD said to her (Hagar): "Behold, you are with child, and you shall bear a son. You shall call his name Ishmael, because the LORD has heard your affliction. He shall be a wild man; his hand shall be against every man, and every man's hand against him. And he shall dwell in the presence of all his brethren." Genesis 16:11-12
In light of what this Scripture says, I find it most interesting that Islam claims God's promised seed to Abraham was Ishmael, not Isaac. The Bible of course says just the opposite, and as the Scripture above shows, Ishmael would become an antagonist to all around him. History has proven this out. But, there is an answer. It is found in a familiar verse of Scripture in the New Testament:
The thief does not come except to steal, and to kill, and to destroy. I have come that they may have life, and that they may have it more abundantly. I am the good shepherd. The good shepherd gives His life for the sheep. John 10:10-11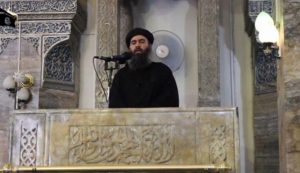 From its very inception, Islam's prophet, Muhammad, taught his followers to kill and destroy all that would not bow to his brand of religion.  That message has never changed, and the closer we come to the  end of the age, the more extreme Muslim sects become. One such sect, those called the "Twelvers", say that in order for their Messiah, the Mahdi, to return to this earth, they need to bring the world into as great of a state of chaos as possible. This is what the thief (Satan) that Jesus was speaking of, is all about. In contrast, Jesus came to give life, the life of a forgiven man or woman who now has the promise, not only of being at peace with God in this short life, but also for all of eternity! What a contrast! And, it is not lost upon the hearers of the message that the House of Blessing missionaries share in this critical hour.
Untold thousands of Muslims have chosen to ask Jesus Christ, the true Messiah, to take over Lordship of their lives during this Ramadan! And the outpouring of the Spirit of God continues. God's grace is being poured out in great measure upon those that will humble themselves before Him and recognize Him for Who He is. God is faithful to forgive any and all that will ask for His free gift of forgiveness. This was bought for the human race through the death and resurrection of Jesus Christ.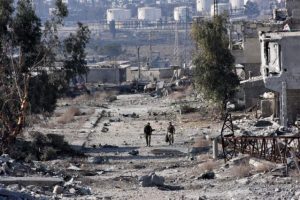 In the war-torn Middle East, peace is something that seems forever gone. Maybe it is…at least until the Prince of Peace comes to reclaim this wicked world from the evil one.
The so-called Arab Spring, which is now 6 ½ years old, has killed many hundreds of thousands of civilians. A greater number yet have been injured, untold numbers permanently maimed. Then there are the many millions that have been displaced, most with no hope of ever being able to go back to what they had or from where they were displaced. These are the consequences of man's striving for power and control. For all of the talks at the United Nations to bring peace and prosperity to the world, without God, it is impossible!
Among the different locations where House of Blessing has the strongest presence, we have been receiving regular reports from northern Syria. Mufidah and her beloved Widow Sisterhood continue in their pursuit of the most seriously injured. Many were ministered to and led to the feet of Jesus this past week. Only when we all finally arrive on the other side, will we realize the full scope of what these brave and powerful women have accomplished for the Kingdom of God through the power of the Holy Spirit.
The same can be said of both Hafezah and Fatima. One in Syria, one in Iraq, both faithfully ministering to the crowds of people that gather throughout the week to be refreshed by the Spirit of God as they celebrate communion together until the early hours of the morning. This past week, just these two women and those helping them served communion to over 3,000 believers. And, again, only God knows how many total there were, but it was these 3,000 many times over! There are many others that are doing the same throughout other locations in Iraq and Syria, as well as  Kurdistan, Iran, and Jordan. Six main locations and then innumerable smaller ones. God is good!!
Adel and Khaled have faithfully continued the work of evangelism in the Fallujah area, having been able to add at least another 270 to the community of Christian believers. Everywhere the believers are, they are bearing fruit and the community of believers continues growing exponentially.
The numbers of people gathering around Sarah when she speaks to people also continues to grow. The Lord brought her at least 320 to minister to in the last few days. During Ramadan, there has been a heightened spiritual openness. The carnage the people have seen, the great losses they have experienced, the disappointment in their own religion of Islam has brought them great pain and disillusionment, but yet, there is the desire for real Truth. This can come only from the true Messiah, Jesus Christ. And, they are responding in great numbers.
In and around the metropolis of Damascus, even though so much has been destroyed, there are still millions trying to find their way through all the chaos. Pastor R's 12 men whom he trained, have reached another 240 in the last few days. And then there are Same and Omar, and their trained help. They, and the large number of volunteers evangelizing with them were able to pray with another 1,800, as they prayed the sinner's prayer and then were baptized as new believers! It is absolutely astounding what God is doing. They do not have enough Bibles…not even close, but they reportedly continue making more and more copies of teachings made available so that the new believers can learn the basics of Christianity.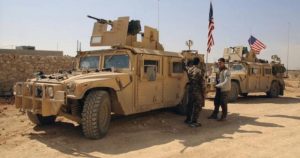 Then there is Mosul. The brutal and bloody battle for control of this major city is still not over. But, Akram and Mustafa along with a large number of HOB missionaries continue to reach the lost. They were able to reach another 700 who prayed the sinner's prayer. These are people who are living under some of the worst of conditions. Just in this area, another 140 of the new believers lost their lives this last week. Most of these have not been buried yet. It is hard to imagine!
Miriam, her helpers, and the 55 remaining women who had been ISIS captives for two years and are now back on their feet, are also continuing to help with the work of the ministry there in the Mosul area along with the rest of the HOB missionaries. Thank God for His restoring power!
The most difficult thing for me to share in this Mideast Update, is what is happening among those who are still trapped in the hands of ISIS militants. Previously 700,000 were trapped; that number is now down to 100,000, but they are being used as human shields. Tens of thousands of these are children. But, among these 100,000 are 85 House of Blessing missionaries. They know that without a supernatural intervention of God, they are going to die, but they fully intend to lead as many of the 100,000 to the feet of Messiah Jesus as they can before they are killed. Akram and Mustafa know that hundreds are being reached. There is just no way of getting word from them.
Folks, I am convinced that we are looking right at the end of this age. If there is another Ramadan before the Bride of Christ is called home I will be surprised. I, however, know better than to set dates. But, there is a convergence of events today like never before in history. There are unprecedented events unfolding behind the scenes that would shock most people if they had any idea. The world, without knowing it, is running headlong into the exploding events of the Day of the LORD, the last seven years of man's history before the literal return of the KING of Kings and LORD of Lords, Jesus Christ, the Messiah. The Restrainer, the true Church working under the power of the Holy Spirit is about to be taken home to her Lord and Master, and those that remain will face a period of time like none that the human race has ever experienced.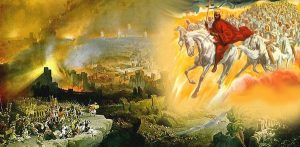 It is important for us to realize these things because if we don't, we won't be preparing to meet our Lord. Nothing matters more now than finishing this life with every fiber of our being paying attention to the leading of the Master, so that we can finish well. This is not a high school or college graduation we're about to experience. We're about to enter eternity. How would you like your last moments of time on this earth to be recorded in Heaven's books? It's time to prove that we love our Lord as much as we say we do!!
Please pray for all of the House of Blessings and of course Pastor R as he leads them in the work that God has called them to. Pray for their strength, perseverance, and protection. I only mentioned the ones that lost their lives in Mosul, but every area had those who paid the ultimate price for their faith again this week. They need to know that we have them covered with our prayers. Also, if the Lord lays it on your heart to help them financially, please use the convenient PayPal button on the blog site and 100% of your gift money will be in the hands of the missionaries within a couple of days. None of the funds are for the operation of the blog, every dollar is delivered into the hands of Pastor R and the HOB missionaries for their needs. Thank you all!
Maranatha!
Forever in His Service,
Jake Geier