I had the opportunity to speak and pray with Pastor R four times this past week. It never ceases to amaze me, as I hear of the miraculous things that are continuing to take place, even under the most horrific circumstances. At a time when all of the efforts of the world's most powerful and influential people, who are having summits, talks, negotiations, often political arm-twisting, are failing miserably. Yet, the work for the Kingdom of God continues, and at an ever-increasing pace and effectiveness. The photo below is a good example of this very thing.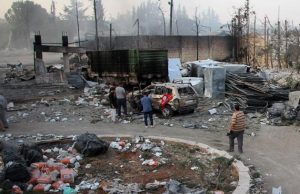 Because I have had a strong interest in Bible prophecy for many years, I spend a considerable amount of time trying to stay abreast of events as they unfold around the globe. World news continues to get worse; there are ever more wars, natural disasters, economic fears, political chaos, social upheaval, and even incoming cosmic threats; yet, more souls are being brought into the Kingdom of God today than ever before in the history of mankind. The stories and testimonies coming from the front lines of today's spiritual, as well as physical, wars are beyond extraordinary!
I am more convinced than ever that this harvest is increasing exponentially because of the true Church, who follow the leading of the Holy Spirit in prayer, but not just prayer. The Church puts real feet to its prayers through support for the work of God and His Kingdom as well. The threats to the Church come from the outside and they come from the inside. But, has it ever really been any different? Read the Book of Acts!
Right out of the chute, directly after the Spirit of God fell upon those gathered in the upper room on the Day of Pentecost, the attacks that had been aimed mainly at Jesus Christ before His death, resurrection, and ascension, were redirected at the infant Church. The attacks from the religious establishment in Jerusalem became venomous. So much so, that Gamaliel, a very much trusted and influential Pharisee, in strong words, warned the Jewish religious leaders who were attacking the fledgling church, saying:
"Men of Israel, take heed to yourselves what you intend to do regarding these men. For some time ago Theudas rose up, claiming to be somebody. A number of men, about four hundred, joined him. He was slain, and all who obeyed him were scattered and came to nothing. After this man, Judas of Galilee rose up in the days of the census, and drew away many people after him. He also perished, and all who obeyed him were dispersed. And now I say to you, keep away from these men and let them alone; for if this plan or this work is of men, it will come to nothing; but if it is of God, you cannot overthrow it–lest you even be found to fight against God." Acts 6:35-39
How accurate that warning was! The Jewish leaders who refused to accept Jesus Christ as the prophesied Messiah of whom the Old Testament prophets had spoken for centuries, found themselves fighting against God Himself! A mere 40 years after Yeshua was seated on the Throne with the Father, Jerusalem was sacked and burned, including the beautiful second Temple. As Jesus had predicted, not one stone was left upon another. Unless one has seen the sight themselves, it is hard to get a feel of the true reality of this. My wife and I, on a trip to Jerusalem in 2012, saw these great stones still piled on the ground. Not only was the city and its temple destroyed, but 1.5 million Jewish people were slaughtered by the Roman army before the city of Jerusalem was literally plowed under. The Christian community were the only ones that survived the onslaught. This is because they believed the warning Jesus gave them. He had told them that when Jerusalem was surrounded on all sides by armies, they should immediately leave the city and flee. The Christian community did, and they survived. Very soon, in another layer to the prophecy Jesus gave, this will happen again. The ones that will survive will again be those who flee as Jerusalem is surrounded. These will be protected in Petra, a location within modern day Jordan.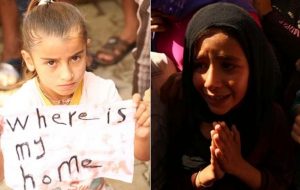 God takes care of His own! This is not just going to happen in the future, but is also happening today. Pastor R excitedly told me how he himself has once again been raised up by Abba Father. In answer to prayer, the terrible case of the flu that he had, has left him and his temperature is almost back to normal. Because of this he was once again able to meet with the House of Blessing leaders from all areas of the Mideast. They have met for prayer; they have fasted, and spent much time seeking the will of Abba Father.
Because of the failure of peace talks again, the conditions on the ground have only gotten worse. Yet, hundreds have been introduced to Yeshua! These people, knowing that they are probably going to die one way or another, are asking the Son of God to be their Lord and Master! And their families are being reached as well. Multitudes in all areas are accepting Jesus Christ as their Saviour.
In the Aleppo and surrounding area, Mufiedah continues working on literally dozens of badly injured people–people who have absolutely no hope, even if they were taken to a well equipped hospital. God, however, is meeting their need right where they are. Mufiedah and her "Widow Sisterhood" continue moving from place to place, looking for those who need help. Those that receive help also decide to ask Jesus to forgive their sins.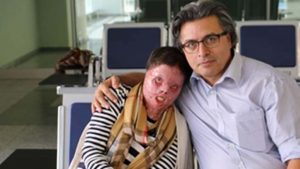 Sister Sarah continues gathering crowds wherever she goes. Her crowds continue to be 100-150, sometimes as many as 200 or more. What a story she has to tell, and God touches hundreds of hearts with His love and offer of forgiveness and a true eternal inheritance. It is hard for most of us to even imagine the horror that some of the people go through. The photo of this young woman is just an example. She had chosen to set herself on fire rather than go through what her captors had in their plans for her. I know nothing of her spiritual condition, but there are thousands just like her; badly injured physically, but also damaged emotionally. They all need to experience the love of God. House of Blessing missionaries are there for that very reason. Forgiveness from the Father is available just for the asking…and they are asking!
Sister Hafezah shared communion with about 950 believers this last week. It continues to amaze me how these folks manage to gather together to celebrate their freedom from sin and the corruption of this world. For a few hours, they lose all sight of the ever-present death and mayhem, and sing and dance before the Lord. Father answers and overcomes them with His Spirit, touching, healing, and baptizing with His Spirit! God is good!
In Fallujah, where there are about 180 HOB missionaries ministering, people are running in all directions trying to stay alive; trying to find anything edible. Yet, the Word of God triumphs! Hundreds have found Yeshua as the true Messiah again this last week. Multitudes more are hearing the good news and are contemplating what the message of these brave missionaries really says.
Fatima was able to provide communion to about 800 believers this last week, and as in Syria, God met them in glorious fashion! People there also sing and dance before the Lord into the early hours of the morning.
One piece of good news is that the 26 widows that have been receiving special care due to their injuries and horrendous months spent in captivity to ISIS, are now out of the special home where they have been living. They are now fellowshipping with Sister Fatima and her family of believers. These widows will now begin ministering to others who have gone through similar difficulties. God is good!
In Mosul, which incidentally is ancient Ninevah, there are about 220 HOB missionaries working amongst the people. Here also, hundreds are struggling for their lives. But, the good news is heard by crowds of people. The good news of Yeshua's death and resurrection for the sake of the world is the only good news! It is gladly accepted, even if it causes them to lose their lives as infidels in the eyes of Allah's army! Dozens have again been killed in Syria and Iraq, including missionaries, new believers, and children. Yet, the work goes on.
As I spoke with Pastor R, he told me how once again 300-500 people are streaming to him daily for prayer. Even though he is not completely well yet, he is strong enough to minister to these people. That's amazing!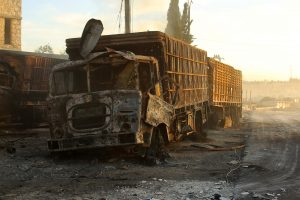 House of Blessing is now making arrangements to provide some more truck loads of wheat to the refugees. Many know that a large convoy of trucks carrying supplies for the United Nations, was bombed. I believe 19 of the 31 trucks were destroyed. Of course, the food, blankets, medicines and other essentials were also destroyed as the photo on the right shows. When I asked Pastor R how HOB gets the food to the destinations, he told me that they have yet to lose a truckload. They have found ways of getting the deliveries to their destinations. Sometimes they have to take the supplies in smaller loads in order to make it through, but they have been successful. Praise God! At this time, the refugees are particularly desperate due to the UN having cancelled all future deliveries until something changes. This means that people are starving to death.
As HOB continues ministering to the needs of hundreds of thousands of people, we must continue to pray with earnestness, just as if we ourselves were the ones to be living through what they are experiencing. God will answer such prayers! God will also supply. He uses us as we obey Him, and then He multiplies it to meet the need at hand, just as Jesus did with the 5,000 and then again with the 4,000. Jesus Christ is the same yesterday, today, and forever!
Again, I want to thank all those who have been so faithful with your prayers and support. You have been faithful to God's call and God is always faithful to us as we trust and obey Him. He more than makes up for what we cannot do in our own strength!
Continuing in His Service,
Jake Geier