As I write today's Mideast Update, I am looking at a short article that came out in the Atlantic on September 24, 2016. It is titled, "I Do Not Believe There Will be Peace". This was a quote from General Jamal Mohammad Omer, the Kurdish military chief of staff, in an exclusive interview in his office by the Atlantic.
The top military leader of the Peshmerga, the Kurdish military forces was of course referring most directly to a major battle coming up possibly by the middle of October, to try and liberate the major city of Mosul from ISIS, who has had it under its control for the last two years. He was, however, also hinting at the ongoing battle that the Kurdish people have been fighting for their own independence.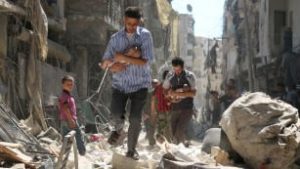 Will there be any semblance of peace in the Middle East in the foreseeable future? In light of the complexities of the politics and the unpredictable moves and countermoves of the many nations and their militaries involved, the short answer is, no.  In addition to this, all that is unfolding in this part of the world has been foretold and well-documented by ancient Biblical prophecy and…will surely come to pass.
At the same time that this update is being written, Iran is expanding its naval influence beyond where it has ever been before; the Egyptian navy is upgrading and increasing its armada of warships, and of course, Russia's powerful military presence in the Mideast is known by all. Russia continues to increase its military presence and influence, the latest by bringing its aircraft carrier, the Admiral Kuznetsov, to the eastern Mediterranean Sea.
In addition to the ongoing conflicts and power struggles within the Islamic nations of the Middle East, there are the escalating threats against the nation of Israel by these same nations. Every Muslim nation around Israel has their missiles aimed at Israel, thousands of them, and they will not stop their aggression until they have either wiped Israel off the map, or Israel finally destroys their ability to threaten her in any significant way!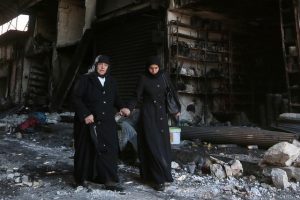 As the House of Blessing missionaries continue ministering to the desperate needs of the masses in Syria and Iraq, they are well aware that the likelihood of things getting any better is non-existent. They know, as should we, that we are now witnessing a confluence of events Jesus warned us about, signs warning of the end of the age. This means the world is on the precipice of the beginning of the Apocalypse. This also means that the return of Messiah Jesus is imminent! Knowing that this is the case, HOB is working around the clock. So many refugees from the horror that is Syria are dying every day. Most have no relationship with the only One who can forgive sin and guarantee eternal life in heaven. The Lord has given us, as His ambassadors, the ministry of reconciliation. It reads this way in 2 Corinthians:
…if anyone is in Christ, he is a new creation: old things have passed away; behold, all things have become new. Now all things are of God, who has reconciled us to Himself through Jesus Christ, and has given us the ministry of reconciliation, that is, that God was in Christ reconciling the world to Himself, not imputing their trespasses to them, and has committed to us the word of reconciliation. Now then, we are ambassadors for Christ, as though God were pleading through us; we implore you on Christ's behalf, be reconciled to God. 2 Corinthians 5:17-20
Over the last few days, the Lord has entrusted Mufiedah and the sisters working with her to minister healing to another 32 war-injured people. Each of these, as has been the case through this ministry, are led to a relationship with the true Messiah, by praying the sinner's prayer and asking Him to be Lord of their lives. Praise God! Sister Hafezeh and those helping her in the general area of Aleppo and Idlib, led another 1,100 people in celebrating communion.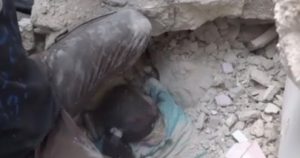 One of the latest attacks in northern Syria has left another 90-100 people dead, including some children. Seven of these were believers, along with two of their children. It is always difficult to hear of believers like this, who are here one day and then gone the next. Thank God we know that they are now in the presence of the Lord. As of my last call from Pastor R, there are about 70 missionaries ministering in northern Syria at this time.
Pastor R told me that Sister Sarah shared her testimony and story with over 150 in the last few days. God continues using her in the work of evangelism. As she shares the good news of the gospel and her testimony how she found Jesus and how her own grief was relieved through prayer, she, and those helping her, are able to bring others to the feet of Yeshua for forgiveness.
In Fallujah, brother Adel said that there are about 120 HOB missionaries busy sharing the Word of God with many hundreds of people, and many are becoming believers in Jesus as a result. Tragically, 12 more believers were lost during the last few days. Things are pretty difficult, but in spite of it all, Fatima was able to lead over 900 in communion throughout the week. The 26 widows that had been housed in a special home while going through physical and emotional healing, have now joined the ministry team working with Fatima, Adel, and the others in the Fallujah area. God is good!
In Mosul, everyone is well aware of the major battle coming for control of the city. People are already running from place to place, just trying to find someplace safe. The 200 HOB missionaries ministering in this area know that they have no control over what will be unfolding, but they know the ONE who does have ultimate control over all things. It is in Him that they trust, and it is on Him that they depend for wisdom, power, and protection from the evil one. And, people around the world, like you and I, pray for them every day for these very things. God answers, and will continue to do so until He calls us all home when the time of the Gentiles is over. That is now very soon!
In conclusion to this update chapter, I would like to go back to sharing a little more about northern Syria, especially Aleppo. Since the United Nations had the large convoy of supply trucks attacked in Syria, losing 19 of 31 trucks and the supplies they were hauling, they have put a hold on aid deliveries. This has caused a desperate situation to get much worse. The people have nothing to eat. House of Blessing has been able to get at least some food trucked into the area, but much more is needed. They are working on this, and as God provides, more will be sent. As the reader knows, this is not just for the feeding of physical bodies, but also to share the love of God with a people who have not seen much love in their entire lives. And, through the providing of at least one meal a day, the people are turning to Yeshua, the true Messiah, by the hundreds!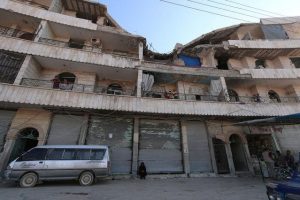 Aleppo had once been a thriving city with a population, in 2010, of 3.164 million. Damascus, before the beginning of the Syrian civil war, boasted a population of 2.65 million. The third largest city, Homs, had a population of 1.369 million, and the fourth largest city in Syria had 933,000 residents. I could not find an accurate number for the populations still in these cities. In fact, I could not even find a current estimate. Syria's population in 2010 was over 21.5 million. As of a Reuters article that was written early in August 2016, statistics show that at over 11 million, or over half of Syria's population has been displaced since early 2011! In Aleppo, one hospital or medical facility after another has been destroyed. Hundreds of doctors have been killed, and thousands of physicians have fled the nation entirely. And…the statistics only get worse, the deeper one researches the subject.
It is hard for those of us in the West to imagine our cities, like Los Angeles, Chicago, Houston, Toronto, Berlin, or Brisbane being destroyed as these cities in Syria have been. These however are the facts. The House of Blessing missionaries have now been ministering in these most difficult areas since the so-called Arab Spring began. How many people have been killed in the Mideast since it began? Estimates go as high as 500,000, just in Syria. These people have all headed into eternity. This is why these missionaries hardly sleep. They see souls, souls, and more souls! We, as their Christian brethren, continue to support them earnestly in prayer…and, financially, as the Lord directs. Time has almost run out!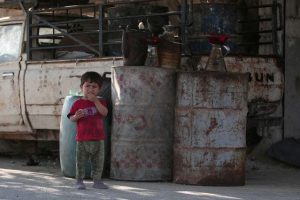 Yesterday, September 26th, twelve of the House of Blessing missionaries in the Aleppo area started teaching classes again in HOB's School of Ministry. Each of the twelve teachers have two assistants. The teaching of these classes is intense, and for many hours each day. Through these classes, the new believers are given a good foundation in the Christian faith and its doctrines. As it always happens, there is always a very long line of people signing up for these classes once they start. As God makes the provision, these classes will continue in spite of the war and lack of many basic human needs being met. There is no electricity in most areas. People wash once a week, at best. Entire families often survive on 50 liters of water per day. It normally takes 20 liters of water per person for basic hygiene. Most of the population is doing without running water or proper sanitation. Water pumping stations are not working and people are having to rely on boreholes as water sources. Getting water from these boreholes is also quite dangerous because of the fighting and bombardments. So, please, PRAY!
I do have the names of the twelve teachers and the 24 assistants. They have asked me to send you their names so that you can pray for them individually. I know the names are hard for Westerners to pronounce, but if nothing else, write them out on paper and hold them up before the Throne of Grace. God knows these names and knows the people these names belong to very well! They are listed in the Lamb's Book of Life. And, God will honor your faith and the faith of these faithful missionary teachers! Some of you might recognize names from earlier lists that have been made available.
Each of the twelve teachers are listed first below, and then their two assistants.
Ayman, IYad, As'ad

Yitzhak, Basel, Tawfiq

Ali, Thamer, Gad

Atta, Khairy, Zuhdi

Abed allah, Akram, Badr

Ahmed, Sufian, Bandar

Kayed, Shafiq, Bashir

Yuns, Osama, Atif

Moussa, Amjad, Fares

Ghazi, Bakr, Kassim

Yosef, Labib, Maher

Fahad, Mukhtar, Burhan
May God bless and keep you all in your service to the KING of Kings and LORD of Lords!
Jake Geier
House Of Blessing; 3206 SW 45th Street; Redmond, Oregon USA 97756