Today's Mideast Update will concern itself mainly with Pastor R. I am amazed at all of the things that have happened in the past six years since, by way of a divine appointment, our paths crossed. None of us could have imagined what would unfold. In early April 2013 Pastor R and two other men, Rami and Jameal, were brutally attacked by ten Hezbollah militants while sharing the Gospel in southern Syria. The intent of the Islamic militants was to slowly kill all three with clubs and stoning them as infidels. As they were attacking the men, a separate group of militants was coming down the same road, shooting people dead as they went. The Hezbollah militants then ran to save their own lives, leaving Pastor R, Rami, and Jameal for dead on the ground. They weren't dead however, and were moved off the road by HOB missionaries and taken to the tent they were staying in. The other two men went home to be with the Lord some months later when they were shot to death, but as we know, the Lord has chosen to keep Pastor R here, though confined to a wheelchair ever since.
Over the years since that early April in 2013, Pastor R has been attacked numerous times. In April of the next year, 2014, he and two other men were attacked at in the night while they slept. Fourteen men had come in and intended to beat them all to death. For some reason, they suddenly left before they had completed their evil task. All three men were in bad shape, but they survived. Pastor R's skull was fractured in the beating but he did not know how serious his condition was at the time.
Approximately three weeks later, Pastor R was attacked again as he slept. This time, he was alone. A bag was put over his head and he was brutally beaten until he lost consciousness. He was not found for quite some time and by then he had lost a great deal of blood and had fallen into a coma.  He was immediately transported to a hospital under a fictitious name. The doctors found that his skull had been fractured–for the second time–and infection was now found inside his skull. The doctors determined the infection was from the skull fracture three weeks previous. Surgery was necessary to save his life. During 11 hours of emergency surgery, Pastor R "died" three times according to the doctors, but the Lord kept him alive…again!
These are not the only attacks he has been subjected to. The tents he has stayed in have been attacked and destroyed more than once, sometimes within minutes of him having been moved to a new location.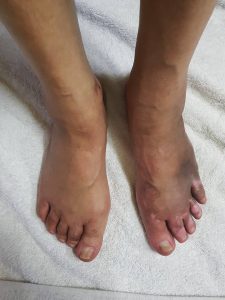 Pastor R has had quite a number of challenges with his health beyond the physical injuries he has received, but he has always been reluctant to discuss his own health. He has diabetes; he has had a lot of trouble with his heart; he has had pneumonia, the flu, throat infections, and gangrene infections more than once. The latest infection affected his feet and nearly resulted in amputations. Yesterday I was told that the healing in his feet (which is still in process) is now regarded as a miracle by the doctors. Pastor R said they are actually using the word "miracle"!
When I spoke with him yesterday, he let me know that he is going to leave the hospital so that he can get back to doing the work he has been called to do. His work is curtailed while in the hospital and he wants to put a stop to a growing hospital bill. I found out that the hospital is billing him $5,500. It would be much, much higher in other places, especially in America. I am praying that financial gifts will come in quickly for this hospital bill to be cleared so that he will be allowed to leave.
Although elevating a person is not my intent, I would like to point something out about Pastor R's life of ministry. What I know of him and his experiences reminds me of what I read about the Apostle Paul. The great Apostle was used of God to write most of the New Testament which puts him in a very special category but shy of that, their ministry experiences have quite a resemblance. Listen to the description given in the book of 2 Corinthians:
…in labors more abundant, in stripes above measure, in prisons more frequently, in deaths often. From the Jews five times I received forty stripes minus one. Three times I was beaten with rods; once I was stoned; three times I was shipwrecked; a night and a day I have been in the deep; in journeys often, in perils of water, in perils of robbers, in perils of my own countrymen, in perils of the Gentiles, in perils in the city, in perils in the wilderness, in perils in the sea, in perils among false brethren; in weariness and toil, in sleeplessness often, in hunger and thirst, in fastings often, in cold and nakedness—besides the other things, what comes upon me daily; my deep concern for all the churches. 2 Corinthians 11:23-28
I want to thank all who have prayed and all who have given so generously–some for a long while now. I know I have been saying for a long time now that time is very short, but we truly are on the very precipice of the beginning of the Day of the Lord. Whatever we do today will have eternal value. We do serve a mighty God!
For those that would like to contribute, please use the PayPal button provided on the blog site. 100% of the donation funds go to the ministry of the House of Blessing. Thank You and may the Lord bless you abundantly for your care of this last day's harvest ministry.
Forever in His Service,
Jake Geier
NOTE: I will be reprinting another episode of the earlier stories from the archives within a couple days. Be watching…