As I was looking over notes that I had taken from my phone call with Pastor R this week, my mind went to stories that many of us have read in the Book of Acts. Stories of the seedling Church on the Day of Pentecost which grew into a force that has not been stopped for 2,000 years. In those 2,000 years, there have been a multitude of attacks on this Church. Some of the attacks came from false prophets, false christs, pagan emperors, brutal dictators, and an endless stream of attacks rising up from within the Church itself, doing everything possible to deceive and lead Christians astray. Yet, in spite of all, the Church has prevailed. Jesus had warned His disciples in saying, "The thief does not come except to steal, and to kill, and to destroy. I have come that they may have life, and that they may have it more abundantly."  He also stated that the gates of hell would never prevail against the Church. This has proven to be true. In spite of the fact that there were times, especially during the Dark Ages, when it seemed like the lamp of the Church might be snuffed out, it did not happen, nor could it happen. God's Word could not fail.
NOTE: Photos below do not necessarily follow the update narrative, but they are current photos of some of the House of Blessing gatherings within the last two weeks that the HOB leadership wanted you, the readers, to see. Because of this, I squeezed a few more photos into the Update storyline than I normally would)
History shows that the Church began under the most difficult circumstances, but it flourished. Then when Christianity was accepted as an "allowed" religious belief, especially when Christianity became the State religion during the reign of Charlemagne, then the Church began to compromise with the world, thereby losing its effectiveness and spiritual power. Bible prophecy tells us that the Church would experience two contrasting world-wide movements during the generation of the Messiah's second coming. One of these movements would be a worldwide drive to unite all religions under one religious system and under one spiritual head, a man whom the Book of Revelation calls the False Prophet. On the other hand, the true Church would become united in its submission to the unadulterated Word of God, and to the true Head of the Church, the one and only true Messiah, Jesus Christ. We are seeing both of these today.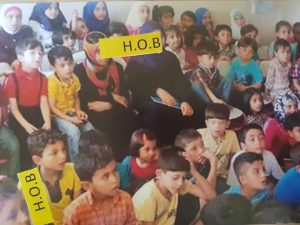 The New Testament Book of Acts, which is an inspired accounting of the history of the first few years of the Church, ends with the 28th chapter. However, I believe that the history of the Church continues starting at chapter 29 and will not be complete until the last Gentile is reached during the Church Age. As the Church Age comes to a conclusion, the times of the Gentiles will be complete and the 70th Week of Daniel, also called the Day of the Lord, will be ushered in. As we know, this will be a time of unprecedented apocalyptic events. It will be a time when God will judge a wicked, rebellious world. It will also be the promised last seven years of God's direct dealings with the nation of Israel. During this time God's attention will be directed to the children of Abraham, Isaac, and Jacob, and for His own name's sake, God will open their blinded eyes.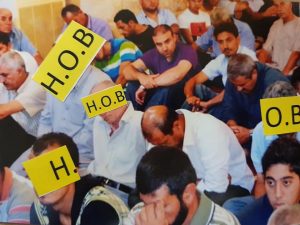 As I have written many times on this blog site, it is because of the convergence of prophetic events in our generation that we know we are in the last of the last days before the end of this age. It is because of this that the House of Blessing in Syria, Iraq, and Kurdistan is making the most of every single remaining day of God's grace before this dispensation of time ends. The Age of Grace could end tomorrow…next week…or next month. We don't know when, but Jesus told us we would recognize the season.
As we now find ourselves at the end of November 2017, the winter weather is arriving in the Middle East and with it, the wind, rain, and nights are getting colder. Soon there will be snow, especially in the northern latitudes. As has become a major problem every winter, tents get blown down by the storms and the House of Blessing missionaries take it upon themselves to help as many of the refugees as they possibly can. In stormy weather this often becomes an effort that takes two or three sleepless days and nights. But, the love of God that is shared with these desperate and suffering people opens the door wide to share the Good News of the soon coming Messiah.
This last week, along with over 400 tents that were rebuilt by the HOB missionaries, a half semi-truck load of wheat was purchased by HOB and distributed to the refugees in the Deir El-Ezzor and Raqqa areas. These locations are just some of the latest cities to be devastated by missiles and bombs aimed at ISIS locations in order to drive the militants out. The wheat delivery was made possible by generous believers from around the world. HOB's missionaries are often asked why they would give food away that they could obviously use for their own needs. For the missionaries, the answer is easy.
The love of God that is shown by the Christian missionaries is in sharp contrast to the love demonstrated by the hatred and murder at the hands of Allah's thugs. There is a growing hatred for Islam among multitudes of Muslim people who are suffering endless attacks. All they see is one faction of Islamic militants after another interested in nothing more than killing each other and anyone else who happens to get in the way. Then they see the House of Blessing missionaries whose actions show real love—the love of God—even to their enemies! Instead of murdering people in the name of Allah "the merciful," there is the unselfish love of God poured out on them in the name of Jesus Christ. If you were in their circumstances, which would you be attracted to?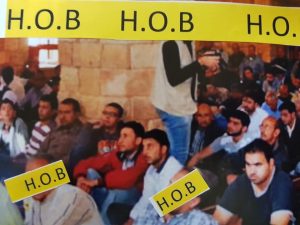 Islam celebrates the birthday of its prophet Muhammad this week. There is a growing number of Muslims today who are secretly doubting that Muhammad is a prophet at all–certainly not a prophet of God. In light of the continued massacres over the centuries and the endless hatred and violence still being preached in most of the mosques around the world today, Islam has nothing to offer except more of the same. It has been this way since Muhammad claimed he was a prophet.The massive attack in northern Sinai recently is a good example of this fact. There were well over 300 killed, including many women and children, and many injured, and for what? This kind of thing has been going on in the name of Allah and his prophet for over 1,400 years. Muslim people are wondering how this can be a religion of peace from Allah who claims to be "Allah the merciful."
As a religion, Islam also cannot offer the assurance of forgiveness of sins, no matter how religiously the Qu'ran is followed throughout the life of a devout follower. The promise of possible entrance into Paradise is also not guaranteed. The life-long Muslim can only hope that he or she has enough good deeds accumulated throughout life to weigh the balances in his favor…and then, after a life of devotion to Allah and his prophet, Allah may decide the faithful adherent was not worthy after all. This is why the Good News of Jesus and His free gift of guaranteed forgiveness is so joyously received!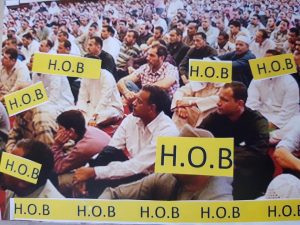 To a former Muslim who is now a born-again believer in the Messiah, Jesus, the Bible is his most prized possession. And having the chance to sit in on classes taught by the HOB teachers who teach the new believers about God and His Word is something that is seen as a privilege. The eagerness with which these folks study and memorize God's Word is inspiring to those of us who are familiar with these Mideast Updates. These new believers truly love the Word of God, and they have learned to also love the Author!
My latest report received from Pastor R confirms that many classes that are still in session are nearing completion. As of today (if I have the numbers correct) there are 280 attending classes in Fallujah. HOB's School of Ministry has 350 more in Mosul. There are another 300 students in Kurdistan, 220 in western Iran, and another 450 in Tal Afer, Iraq. I am sure there are others scattered around the Mideast but I don't know the locations, nor do I know how many there are in attendance. But, as I look at the hundreds of new HOB missionaries being raised up, I praise God for the amazing things He is continuing to do. Who could have done such a thing? Who could even have dreamed it six years ago? I hear doubts expressed by folks at times, wondering how such things could even be true. It is said there can't possibly be that many new missionaries being raised up under these conditions. There can't possibly be that many believers. BUT for GOD!! The numbers of the missionaries and the many hundreds of Bible students are a small percentage of the souls who are dedicated followers of our Messiah Yeshua within the underground Church in the Mideast. They are everywhere!
In the metropolitan area of Damascus, the five leaders Same, Omar, Hesham, Tallat, and Assem, after completing the courses they were teaching to their 1,500 students, have been going from home to home so that they can tell more people about Jesus. Within the last week they were able to reach another 100 families. This is after the 200 homes they visited last week. The recent graduates are now also out among the population and beginning to share with as many as will listen.
Pastor R's twelve personally trained men spent part of this last week evangelizing and also part of their week rebuilding tents along with other House of Blessing missionary volunteers. Additionally this last week, the Widow Sisterhood continued with their work ministering healing to the war injured. Mufiedah, Fatwa, and the other sisters worked with 24 who were in serious need of help. The women were also able to help these folks pray the sinner's prayer and bring them into the Kingdom of God. As all these things are going on, Sister Sarah continues to share with crowds week after week. Many who have experienced great losses in their families come to hear her testimony and to be prayed for. God has a special way of comforting those who have experienced some of the greatest losses in Syria's terrible civil war when they turn their lives into His merciful hands.
In the previous update, I mentioned that Munzer and Fatima had been invited to share their testimony and tell the Good News of Jesus Christ in three major Iraqi mosques. In this week's call from Pastor R, I was told that the three head sheikhs who invited the two to speak had full crowds of people in each of their mosques. One mosque had an attendance of 700, the second 800, and the third, 1,200 in attendance. Reports afterward from these gatherings are that about 70% of one mosque, 75% of a second, and 80-85% of those gathered in the third mosque responded in tears after they heard what Munzer and Fatima had to share about the love of God. Many were crying out loud, asking to receive Jesus the Messiah as Lord and Savior. They also very much expressed their desperation to know God as Munzer and Fatima know God. What a miracle! These people see the real thing and want nothing more than to experience it for themselves!
Pastor R mentioned in his phone call to me that the people in the Mideast know a great conflict is coming. They figure that they are either going to die as Muslims or they can choose to die as Christians. More and more are choosing to die as Christians because they know where they are going afterwards. What a way to look at life! People are watching the sides lining up and preparing for war. One can see Iran's reach across the Mideast today via the continuous road all the way from Tehran, through Iraq, through Syria, through Lebanon all the way to the Mediterranean Sea. Iran has 13 confirmed military bases within Syria now and is constantly bringing more weaponry into Syria. The former strongholds of the Islamic State have been given into Hezbollah's control. Hezbollah, Hamas, and Yemen's Houthi's all take their marching orders from Tehran–who in turn is directly allied to Russia.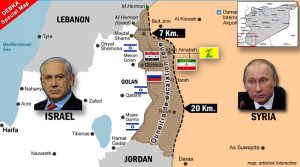 A major development that has been in the making for some time and is now confirmed, is that Russia, Turkey, and Iran have formed a strong strategic formal alliance. This is an alliance foretold by Old Testament prophets and is happening before our very eyes. This is putting enormous pressure on Israel, especially since Israel now has enemies protected by Russia as close as 4 miles (about 7 km) from their Golan Heights border. Russia has given their approval for Iran's strategic movements, but according to the Kuwaiti newspaper, Al Jarida, an Israeli source has disclosed a promise from Jerusalem to destroy any Iranian facilities within 25 miles (or 40 km) of the Golan border with Syria. (After having been taken along the entire length of the Golan myself by my good friend and cab driver, including to the very top where we looked over at the Syrian guard shacks while in Israel early this year, it is hard to imagine the Iranian and Hezbollah facilities now being that close.)
At the same time as Iran, Turkey, and Russia are strengthening their alliance, Saudi Arabia, the UAE, Bahrain, and other Sunni Muslim nations are also strengthening their own alliance against Shiite Iran, Syria, and Lebanon's Hezbollah. A great war between the Shiites and the Sunni's seems inevitable, and right in the middle of it all is Israel. This could easily be the next Mideast conflict that has been threatening for several years—very possibly what many call the Psalm 83 war. And right behind it or in tandem with this major mideast conflict, we can now see the great Ezekiel 38-39 war between Russia, Iran, Turkey and all their allies against Israel.
Even though the civilian population in the Middle East doesn't know how the Bible describes these wars playing out, they do know there are great conflicts coming. And, for those of us who understand Bible prophecy, we know that these conflicts involving Israel are a direct sign that we stand at the very precipice of the end of the age.
With all of these things in mind, we hardly need reminding that the House of Blessing needs our prayer and support. They are right in the epicenter of all of these events. Every passing week there are more of these dedicated missionaries who pay the ultimate price.  This past week was no exception. The needs continue to be great, but the moving of God's Spirit within the Mideast through the work of the HOB missionaries continues to be much greater.
Even though the missionaries don't involve themselves in the politics of all that is going on, they do understand the critical nature of the world situation today, and, so should we. Jesus harshly criticized the Scribes and Pharisees for not recognizing the signs of His first coming. We that have Bibles scattered throughout our homes should know enough to recognize the signs of His second coming. You and I can't change the world situation but we can fulfill God's calling on our lives by living each day as if it is our very last day on this earth before we stand before our LORD and KING It just might be.
Forever in His Service,
Jake Geier