As we come to the end of February 2017, I received news for this update through a phone call as I was traveling south along the Dead Sea. As is usually the case, I have received both good news and also tragic news. Before I get to the actual House of Blessing update, it will be helpful to give a few brief details of the situation on the ground in the Middle East.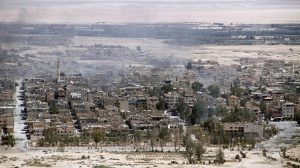 Even though, as committed followers of Yeshua, we depend totally on the leading and direction of the Spirit of God every hour of every day, the way this plays out in the daily lives of the missionaries is affected by the circumstances around them. The political maneuvering of individual Mideast nations, their allies, and the numerous military forces continues. One of the main headlines in the Mideast has to do with the continuing battle to take down the Islamic state. Although they are far from being defeated, the amount of territory that they have actual control over is steadily shrinking. The last major city where they have significant control is Mosul, Iraq. ISIS has already lost control of the eastern side of the city and gradually incursions are being made into the western side. The main Mosul airport was retaken this past Thursday and advances are now being made into adjacent neighborhoods. As neighborhoods are being taken back from ISIS, women are seen celebrating the end of their 2½ years of tyranny under these brutal savages. As women celebrate their new-found liberty, men come out in droves, mainly begging for cigarettes.
The Iraqi air force has become increasingly aggressive in their attacks on ISIS positions. In the last few days they have actually flown into Syrian airspace in order to hit ISIS targets. ISIS continues to suffer devastating defeats from the Russians, Iranians, Turks, Kurds, Saudi's, the U.S.  and other members of the coalition.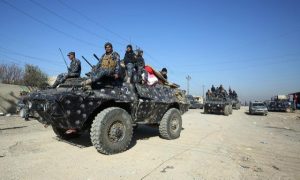 ISIS is, however, responding with horrific suicide attacks, either by individual jihadists with suicide vests or by using car bombs. These attacks have happened in several Syrian locations, including Homs. At least six suicide attacks are on record with several security locations having been hit, leaving several dozen dead including a substantial number of high-ranking military leaders. Another of these attacks was just outside of Al-Bab, Syria, killing at least 51. Iraq has not escaped the vengeance of ISIS, with numerous sites being hit, including the capital Baghdad which was attacked by a suicide bomber. At least 52 people were killed. ISIS is also attacking with mortars and, now using a weapon that is relatively new for them, weaponized drones. Because ISIS has sleeper cells in many nations around the world, this latest weapon ISIS has obtained has become a significant concern to many nations, including the United States.
All of the continuing chaos and carnage is adding to the desperation of the people. And, as I have often mentioned, even Muslim people are weary of what Islam has brought upon them with killing for the sake of killing, even other Muslims. The missionaries, however, have a reputation for being kind, giving, and forgiving. Because of this, HOB missionaries are sought out and as they share the Good News, people will listen. Someone I was visiting with in Jerusalem described the contrast quite well. He said that true followers of Jesus are known for their kindness, their politeness, for their compassion, and for their love. The Muslim, however, is quick to chop off a hand or someone's head. "Which one would you choose?" he asked. And that is exactly what the HOB missionaries are finding to be true. The hunger for God's Word is great!
What is unfolding around the Damascus area is certainly a testimony to that very thing. Omar and Same are preaching and teaching day after day. The more they share the love of God, the more responses they get. In the last few days, another 200 lost souls recognized Jesus Christ for who He really is and they prayed the sinner's prayer. This is in addition to the thousands reached by these two recent School of Ministry graduates in the last month. It was nearly unheard for a mosque to close and then reopen as a Christian church. Yet it has happened several times in the last month! Also, in the Damascus area, Sarah is continuing her evangelizing, especially to the heartbroken who have lost children or loved ones in the ugly Syrian civil war. The Lord gathered about 130 to hear her tell how God met her at her very worst moments of grief and despair, giving her a special blessing that not many have experienced. The people respond and the miracle of spiritual transformation continues! Sarah has not stopped since the day that God intervened in such a special way in her life, and God has blessed her faithfulness in great measure.
In northern Syria, between Mufidah, Fatwa, and the Widow Sisterhood, another 21 badly injured people were ministered to. Each has now experienced the healing touch of God and each one is now a follower of Jesus, the true Messiah. Also in the north, although the number of Christian believers able to gather for communion was not as large as at other times, there were still over 600 believers who gathered to worship God, sing His praises, and celebrate communion together. Praise God!
Unfortunately, the bad news from northern Syria is that there were many innocents lost again, five of these having been of the family of Christ-following believers. But, there were at least 145 more new believers added to the family. God is good!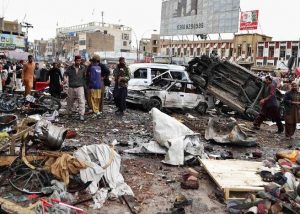 In the Fallujah area, there were another 21 believers killed and, on advice from Pastor R., brother Adel and those working with him are trying to use great care in their evangelizing. As far as they are concerned, the longer they can stay alive, the more souls they can reach while there is still time to do so. There were believers added to the family of Christians but I don't have a number to report this week. Their names are, however, written in the Lamb's Book of Life and God knows exactly who they are! Thank God! Sister Fatima was able to provide communion this last week to approximately 400 believers.
In northern Iraq, I was told that 34 more of the believers lost their lives. They are however now in the presence of the Lord, and are waiting to be joined by all of the rest of us who are true followers of Jesus Christ! We'll all be gathered there very soon, I believe. In Mosul there were also more souls reached for the Kingdom of God but, as in Fallujah, I do not know the number.
In closing this Mideast Update, I would like to share a thought about an experience I had just a couple days ago. Although, the well I visited is now inside the basement of an old church in Nablus (ancient Shechem, located north of Jerusalem in the West Bank), I am told that I was at Jacob's well–the very well where Jesus sat and spoke to the Samaritan woman in John chapter 4. For those that have visited Israel you will understand the feeling of being in a place where Biblical events are said to have happened so many centuries before. It was surreal. Could it be that I stood within inches of where the Master sat…or, were my feel on the very spot where His feet had once been? Did I really take water home, drawn from the very well that the Samaritan woman drew water every single day, 2000 years ago? That is what I am told!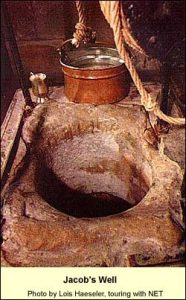 Visiting this well brought to mind the conversation Jesus had with this Samaritan woman. Their discussion centered around worship and where the right location for worship really is. Part of the conversation went like this:
"Sir," the woman said, "I can see that you are a prophet. Our fathers worshipped on this mountain, but you Jews claim that the place where we must worship is in Jerusalem." Jesus declared, "Believe me, woman, a time is coming when you will worship the Father neither on this mountain not in Jerusalem. You Samaritans worship what you do not know, we worship what we do know, for salvation is from the Jews. Yet, the time is coming and has now come when the true worshippers will worship the Father in spirit and truth, for they are the kind of worshippers the Father seeks. God is a spirit, and his worshippers must worship in spirit and in truth." John 4:19-24
Not far from the site of Jacob's well where Jesus met the Samaritan woman is the mountain that the Samaritans considered as the only accepted location in which to worship God. Mount Gerizim is where Samaritans have worshipped since before the time of Christ, and as of my visit to that very mountain location, they still do. While visiting the summit of Mt. Gerizim and the museum located there, I was given an explanation of how the Samaritans believe that they are the true worshippers of God and how they are convinced that they worship God on the true location that God accepts as the place to sacrifice and worship Him. The Jewish people on the other hand believe the Temple mount is the right place to worship God. Mormons also have their ways of worshipping God, and their location is far from the land of Israel. Muslims see Mecca and Medina as the centers of true worship and as a result millions go on the hajj every year, traveling to Mecca, purchasing a proper sacrificial animal, and perform their religious rituals. Every other religion has their own teachings on where and how to worship.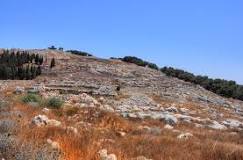 Yet, Jesus said, the day is coming when the true worshipper is not going to worship on Mount Gerizim, Jerusalem, or any other place. The true worshipper will worship God in spirit and truth. Where is the truth? It is in the Word of God, the Bible. How does one worship God in spirit and truth? By having a heart relationship with Almighty God…a relationship based on the recognition that Jesus / Yeshua was not just a great prophet or teacher. Jesus, the one and only begotten of the Father, is God in the flesh of man! Every other great teacher or prophet, whether a true prophet or false prophet, has lived, and has died (other than the two Old Testament prophets, Elijah and Enoch). Not Jesus! Not Yeshua! As He had told his disciples ahead of time, He rose from the dead! Many hundreds saw Him in person. Even secular Roman historians were baffled with the fact of His resurrection.
This is the Good News that the House of Blessing missionaries are telling all over the Middle East. And, it is being heard and responded to…by the multitudes! There is only one gospel with this story, and it is found in the Holy Bible. There are many supposed "holy" books, but only one that was authored and dictated by the Creator Himself. It is the only true source of Truth–the Truth that every human being craves.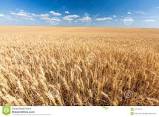 As we are already at the beginning of the month of March 2017, the fields are white, and they need harvesting, just as Jesus said. For those that God is speaking to, please pray for the House of Blessing and all of its missionaries. Pray for the "Widow Sisterhood." Pray for Pastor R. Time is almost out. This part of the harvest is near complete. But, help is needed. HOB needs our prayer support every day, and they always need financial help. There is a great need for Bibles at this time. There are thousands of new believers and they need Bibles so that they can read and study as they are trained in the true ways of God. Gold and silver will perish. One of these days all of our possessions will be worthless, but the Word of God lives on in the hearts of those who have hidden that Word in their hearts. God honors those that will dare to obey the leading of His Spirit. God's promise to us five years ago, at the beginning of this project, was that every single Bible provided and distributed would bear fruit…MUCH fruit. It has done just that! God is good!
Gifts can be mailed to the U.S. address below, or PayPal can be used to send a gift for the ministry of the House of Blessing by using my e-mail address. (Donations mailed to the US address are being deposited by a friend of HOB while my wife and I are in Israel). 100% of the donation monies go into the work of ministry on the ground. Thank you to those that have prayed and given so faithfully! God does not miss a thing!
Forever In His Service,
Jake Geier     [email protected]
House Of Blessing;   3206 SW 45th Street;  Redmond, Oregon USA 97756