In John 16:33, Jesus warned the disciples with these words:
…in this world you will have trouble. But take heart! I have overcome the world.
Sometimes God allows some of us to be in places of trouble because that is where we will find the lost. If some of us aren't there, how will they hear the Good News? The Apostle Paul put it this way:
…the same Lord is Lord of all and richly blesses all who call on Him, for, everyone who calls on the name of the Lord will be saved. How, then, can they call on the one they have not believed in? And how can they believe in the one of whom they have not heard? And how can they hear without someone preaching to them? And how can they preach unless they are sent? As it is written, "How beautiful are the feet of those who bring good news!" Romans 10:12b-15
House of Blessing has hundreds of dedicated missionaries scattered all over the Mideast. They are concentrated in the Aleppo area and other cities and towns of the northwest part of Syria. There are also many HOB missionaries around Damascus. In Iraq, there are hundreds more HOB missionaries ministering in and around both Mosul and Fallujah and their surrounding areas. Besides the hundreds of missionaries, there are a multitude of believers and followers of Yeshua who gather together wherever they can for classes that are being taught by those that have completed training at the House of Blessing School of Ministry, and of course there are the hundreds of small groups of believers that gather as often as they can to worship God, pray, and have Bible studies. There are also many that have traveled farther, going into western Iran and assorted locations in Jordan, where this latest HOB project began five years ago.
There are also two large and very special communion services that are held weekly. This past week, the report from northern Syria is that there were 900 believers that gathered with Sister Hafezah and those helping her with the preparations. In Fallujah, this past week, Sister Fatima served 700. In light of all the chaos in Syria and Iraq, this continues to be a testament of the love of God to bring all these believers together and protect them from enemies that would love to destroy them. It is a miracle, week after week.
Most of these missionaries have had opportunities to leave the front lines and go to safer places, but they have chosen not to do so because they feel God has called them to be right where they are–where the people are the most desperate and badly need the hope that can only be found through Jesus Christ.
This is a good time to give a short update on the circumstances on the ground. It helps in our ability to pray with some specifics.
The fight for Mosul has taken much longer than originally anticipated, but, after some pauses in the action in order to make strategic military adjustments, the advance of the Iraqi military and its coalition are continuing. The east side of the city, having been declared 100% liberated in January, is connected to the west side by five bridges. All five of these bridges have been damaged due to the conflict, but with repairs of the southern-most bridge, reinforcements and supplies can be brought in.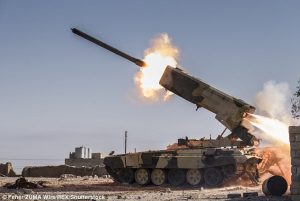 The civilians that are set free are almost always jubilant but are also not shy to say that the situation is a real disaster. There are many stories coming from behind the ISIS lines. Mosul residents tell of four to five car bombs being placed on each street. One older woman told of five of her family members that were killed by one of these bombs that was ignited in front of her home.
The further into western Mosul the Iraqi military push, the more intense the fighting becomes. The original mission of freeing the city by defeating and destroying the ISIS forces now has a dual purpose, the added task being to protect as many of the civilians as possible while accomplishing the original mission. The deeper the Iraqi military drives, the denser the population.
According to the latest reports, the Iraqis are within about 500 meters of the old section of downtown where most of the government buildings are. The older section of the city also has streets that are too narrow for most military vehicles, which means that the soldiers have to go on foot from building to building looking for the enemy and driving them back, hopefully while avoiding sniper fire or a booby trap of some sort.
There are still about 750,000 people caught in the western side of the city. The danger to the rest of the population is extreme. ISIS militants are barbaric and show no mercy for the elderly, handicapped, women and children, much less men. U.S. Army Lieutenant General Stephen Townsend estimates there are about 2,000 ISIS soldiers hiding among the civilians. General Townsend also said that he estimates there are between 12,000-15,000 ISIS fighters left in Iraq and Syria, divided up between the two countries. But ISIS is facing an onslaught of a force of more than 100,000. Residents of Mosul are fleeing west Mosul by the thousands. At last count, more than 60,000 have managed to escape, 10,000 of these in the last two days. Officials are prepared for an additional 100,000 or more at refugee camps outside of the city.
Before giving a quick update on the conditions in Syria, let's think for a moment of both the difficulties and the opportunities in Mosul. Those reading this Mideast Update have undoubtedly read the story from Mosul in Part 1. I do not know which part of Mosul that the man, Moshe, was in when he was found by Akram. I am assuming, because the eastern portion of the city has been taken back from ISIS, Moshe must have been found somewhere in or outside of the western portion of the city. There are many stories coming out of western Mosul of the horror the people are going through. Missionaries like Akram, Mustafa, and many others are there to reach as many as they possibly can before they are lost as was Moshe's entire family. One minute they were alive and the next, dead. We need to hold these missionaries up in earnest prayer. God listens to and answers the prayers of His people! In the midst of this battle for control of the city of Mosul, the HOB missionaries were able to reach 350 souls. During the same period of time, 35 of the believers and many innocent civilians went into eternity.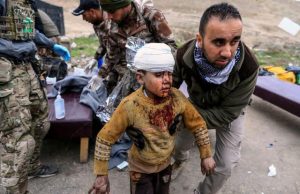 For today's report, I do not have many details about the situation in Fallujah, but word from Brothers Adel and Haled is that 190 more souls were brought into the Kingdom of God. We praise the Lord for every single one! Adel said that another 17 of the HOB missionaries and newer believers who were volunteering were killed in areas where explosives were set off or where they were point-blank shot to death. It is hard for most of us in the West to imagine how it really is in some of these areas. There really is no law. In the middle of all this however, Sister Fatima was able to serve communion to approximately 700 believers this past week! Praise God!
Now, on to Syria. As in Iraq, the latest reports out of Syria say that ISIS is gradually being defeated and pushed back. Syrian government forces have taken back village after village in northwest Syria. Even Al-Bab, a city that had a population well over 70,000 a decade ago–twice that much in its district–after many days of bitter fighting in the streets, has been reclaimed from ISIS control. ISIS has now lost most all of the northwestern portion of Syria.
The last major bastion of power and control for ISIS in Syria is in Raqqa, the self-proclaimed capital. ISIS' holdings in northwest Syria have been retaken by three different rival forces: Syrian Kurdish groups backed by the U.S., Turkey-backed rebels, and the Syrian government forces under Bashar al-Assad. Raqqa, which is being taken back from ISIS, is a city of about a quarter million with approximately one million in the Raqqa governorate. The danger of one military force accidentally hitting another has become a very grave issue. Mistakes or miscalculations can be deadly. On a run-up to the assault on Raqqa, Russian and Syrian forces came close to hitting an American force where 500 Americans were training local forces. Turks, U.S. backed Syrian Arab Coalition fighters, Kurdish forces, Free Syrian Army allies, ISIS, and Syrian regime forces are all within hand-grenade range of each other–all within the same military grid.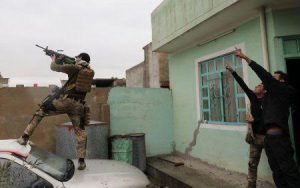 This is the condition on the ground…today. It could change drastically tomorrow. The House of Blessing missionaries are not particularly concerned about the politics of what is going on, nor are they interested in who is starting each battle. Their concern is for the souls of men…as ours should be. For these missionaries, the situation has changed many times. There have been times when bombs and missiles were coming faster than anyone could find a way to escape. Mufidah and Fatwa, along with the rest of the Widow Sisterhood, have adjusted to whatever situation they find themselves in. Sometimes there has been food to eat, other times not. Always there are the injured and dying. They do their best to put themselves in between the dying and eternity, praying that they can help the dying recognize who the true Messiah is and give Him complete lordship over the few moments they have left on this earth, as well as their eternity.
Mufidah and those sisters with her ministered healing to 12 badly injured people this last week and Fatwa and her helpers an additional 18. The most exciting thing, however, is that every single one of them became believers and followers of Yeshua, the Messiah! In the north, Hafezah and those helping her provided and served communion to about 900 believers during the week as they gathered for prayer and praise. From the beginning, when these special communion services began, God has done mighty things while the people were worshipping Him. Long time readers might remember that former head-sheikh and husband to Fatima, Brother Salem, before he was martyred, had wanted to provide communion for as many believers as he could gather together. He had already several bottles of wine. After he was killed, his widow, Fatima, was given special ingredients by the Holy Spirit which she mixed together with water and the wine. Many healings were witnessed and nearly all those that partook of the communion were also baptized with the Holy Spirit and power. This is still going on today! God is good!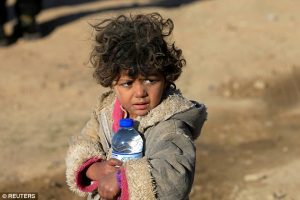 Another ministry through House of Blessing that began with an astounding miracle is the ministry of Sarah. After bringing a bloody bag containing the blown-up pieces of her little boy and dropping it in front of Pastor R as he was praying for a crowd of people, God intervened by giving her an open vision. She found herself in the presence of Jesus Himself and He showed Sarah her little boy completely restored and playing with other children in paradise. Sarah has been using that story and all God has taught her ever since to turn untold numbers of hearts toward the true Messiah. In the last few days, 180 people gathered to hear her testimony! Along with all this wonderful news, there is of course always the difficult. Another seven of the believers were killed as they were ministering to the people, victims of continued bombing.
In conclusion of this Mideast Update, I want to share some of the miraculous things that God is doing in the Damascus area. Regular readers will remember the ongoing miracle that Brothers Omar and Same (pronounced Sammy) have been a part of. Many hundreds of Muslim men have recognized who the true Messiah is and have given Him lordship over their lives. As a result, three mosques have now shut down as mosques but have reopened as Christian churches. There are so many new believers now that there is a great desire to learn about the Bible and more about Messiah Yeshua. Over 2,000 of the newly reached men have been gathering in the three mosques and, with help from additional HOB teachers, these men are beginning to be taught. There is great excitement as God continues opening doors and there are new believers added to the number every day, including an additional four Muslim head-sheikhs! These men have now joined the other 2,000 students of the true Word of God. What a miracle! I am reminded of this passage in the book of Acts.
So the word of God spread. The number of disciples in Jerusalem increased rapidly, and a large number of priests became obedient to the faith. Acts 6:7
Because of the fact that mosques normally have no furniture in them, Same and Omar were desiring to find a way to buy some tables and chairs for their classes. One of them decided to put it before all these new believers and give them an opportunity to contribute. They prayed and God answered. The equivalent of $2,015 American dollars came in! So, they are going to be able to get some tables and chairs. How many, I don't know, but we have seen God multiply everything for these folks as they learn to put their faith to action. God is good!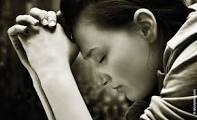 I again want to thank those who have answered the call of God to pray for these brave and loyal servants of the Master. There are those that have also helped financially. From all of House of Blessing, THANK YOU! Every dollar is carefully prayed over and distributed to meet as many needs as possible. HOB continues to experience a great need for Bibles with so many new believers added to the Church. But, we serve a big God, so we put the need before Him and believe Him for the supply.
(Note: Even though I am presently in Israel, HOB deposits continue to be made, both from donations sent by mail and those sent by PayPal. Thank You)
Forever in His Service,
Jake Geier      for PayPal     [email protected] 
House Of Blessing;  3206 SW 45th Street;  Redmond, Oregon USA 97756