As we continue watching the unfolding of news in the Middle East, we see tensions continue to rise. The reality of the life and death struggle faced by this generation is real across the entire world, few places more desperate than for the millions of displaced peoples of the Mideast. Some regions are of course experiencing harsher circumstances than others. 
In northern Syria, masses of people have tried to flee over the border into Turkey but most have not been able to make it. People have left everything behind in order to try and escape the horror of the indiscriminate bombing runs. There are numerous media outlets confirming the fact that Russian and Syrian bombers are even still dropping barrel bombs on civilian locations. This has, and still is, costing the lives of many innocent people and many thousands continue running for their lives. 
Those that could not make it over the northern border of Syria into Turkey have situated themselves as best they can under groves of trees. House of Blessing missionaries continue embedding themselves within these refugees and do their best to help them with whatever it takes to survive. In the last few days, missionaries had to bury seven women, four men, and eight children who belonged to the HOB community of believers. Many more have been treated through the efforts of Mufiedah, Sarah, and other brave women of our beloved Widow Sisterhood. These women continue to put their lives on the line day after day to minister to the needs of those that need help. Each of these people also hear the Good News about God's forgiveness through the Blood of Jesus. 
Since the previous Mideast Update, HOB has been able to order and distribute another ½ truckload of wheat as well as some clean water to help some of the most desperate survive a little longer. As the food is distributed and as the missionaries help to feed the people, they are able to go about the work Jesus has called us all to–sharing the love of God with the lost.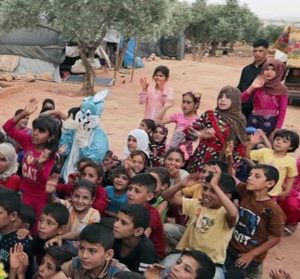 Another purchase that has been made through the generosity of God's people from around the world since the last update is another 500 Bibles. These will mainly be distributed among three main locations where the HOB School of Ministry is beginning Bible study classes once again. There are always long lines of people waiting to take these classes, but HOB can only handle a limited number at a time. Classes began on today's date, June 24, in Aleppo, Idlib, and classes are continuing in the Deir Ezzor area where a large number of ISIS militants and their families were reached with the Gospel recently. They also were badly in need of Bibles to help them with their studies of God's Word. These classes are being held in bombed out buildings or any other areas with enough shelter for the purpose. 
I was given a list of names of the latest main instructors. Please take these men and their assistants before the Lord in prayer that the Lord would give them the anointing and wisdom from the Holy Spirit to raise up this new crop of missionaries. Each of these men below along with their assistants, have been given the responsibility of teaching and training one hundred new believers.
Abu Nihad and 12 assistants
Khalil and 12 assistants 
Bassam and 12 assistants
Nader, Abed, and 12 assistants
Fahmi and 12 assistants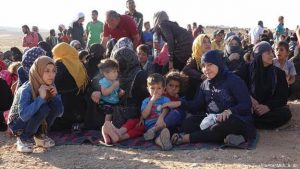 The House of Blessing tries to make sure that all students will have at least one meal a day of lintels, beans, and some clean water to drink for the next 2-2 ½ months until their classes are completed. These classes consist of intense study for 6-8 hours or more per day and then more time in memorization of Scripture passages before resting for the night.
There are of course many other classes being taught in one form or another within HOB communities all over the Mideast. Communion services are also being celebrated by the hundreds in different locations. Sisters Fatima and Mariam met with 340 this past week and Sisters Hafezah and Ferial met with another 280. There are of course locations scattered all across the Mideast where communion services are being held that we don't necessarily receive detailed reports from. 
Things continue to be very difficult for the believers in Iran, and it does not look like it is going to get better any time soon–especially in light of the growing tensions between Iran and the United States. The number of believing families continues to grow however in spite of everything. Praise God!
Pastor Farid continues in his calling; praying for 120-130 people a day. God continues healing many people, and many more are brought into the Kingdom of God through the sharing of God's Word by him and those who daily assist him.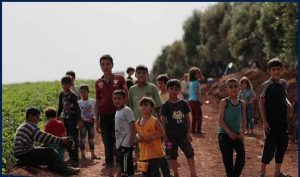 Pastor R also continues praying for at least 160-180 per day. He is struggling with a touch of the flu and the headaches that come with it, but God continues to sustain him day after day. 
In conclusion, please continue to pray for all of the House of Blessing missionaries and the huge community of believers they watch over. Their needs are great, but their love for their Lord and Master is greater! We continue asking the Lord to supply their needs as they minister right in the middle of much misery, death, and the chaos of sectarian strife and war. God continues to answer prayer and He continues to multiply the harvest that is brought in and He multiplies the food and financial supplies for the missionaries as God's people are faithful to the need. Much thanks to all who have taken the House of Blessing into your hearts. Thank you for all the prayer support and financial help! God is good!
For anyone who would like to help financially, please find the convenient PayPal button on this website. All funds that come in go to the ministry of the House of Blessing.
Forever in His Service,
Jake Geier