As promised in the latest Mideast Update, and at the request of readers, I will gradually reprint some of the older stories from earlier updates. As many believers have found, keeping a record of the things that God has done in the past helps to encourage us in the present. Jesus is the same, yesterday, today, and forever! We serve a good GOD!
Enjoy this wonderful story from 2016:
*************************************
MIDEAST UPDATE, 11/9/2016
The Psalmist wrote these powerful words in Psalm 91:
Because he has set his love upon Me, therefore I will deliver him; I will set him on high, because he has known My name. He shall call upon Me, and I will answer him; I will be with him in trouble; I will deliver him and honor him. Psalm 91:14-15
A young man named Same (pronounced Sammy), was one of the latest 280 graduates of the House of Blessing School of Ministry. He, as well as the others, had attended the long hours of training day after day until weeks later, he had successfully completed the course. He didn't mind the long hours, nor did he mind the constant threat which each of these classes was constantly under, because he had learned to believe the words of this powerful psalm. Their classes were scattered around the northern Syrian metropolis of Aleppo / Idlib, or rather, what is left of it. They did not have comfortable classrooms located within stately red brick buildings as we normally picture a Bible school. These classes are held in bombed out buildings or other makeshift structures that the men could crouch inside of as they listened to their teachers.  Their teachers were not honored professors who were known by the Dr. at the front of their names, or the PhD. afterwards. These brave teachers were men who had taken the same type of course, under much the same conditions, maybe only months earlier. But, they had learned well. They had especially put great effort into hiding the Word of God in their hearts because, in the Middle East, there are never enough copies of the Holy Scriptures. It is a great treasure to own one, much less have an extra one to give away.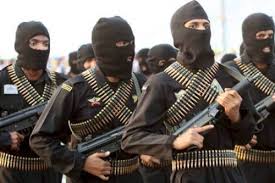 Day after day, these men listen, they study, and they learn to pray. They also learn to trust the One who died for them; for provision as they learn, and for protection. The need for God's protection is not just a fleeting thought for these men because, as they are digesting the Word of God together, the sounds of gunfire, the shaking of the ground from mortars, the concussions caused by incoming missiles, and the smell of burning buildings–or bodies, is only too common. They also never know when a group of jihadists may happen to walk in on their Bible classes. Yes… "because he has set his love upon Me, therefore I will deliver him… is a real promise from a very real GOD, who holds them in the palm of His hands!
Of the 280 new graduates, 180 were sent by the House of Blessing leadership to help bury the dead. The sooner the corpses can be buried, the better chance they have of avoiding the deadly disease, cholera. The other 100 men were commissioned to go into mosques and begin sharing the true story of Yeshua and the good news of God's love and forgiveness. This is where we find this story about Same starting just over one week ago.
Same is only 28 years old and is the son of a head shiekh who has been instructing Muslim men in the ways of Islam and his prophet Muhammad for 55 years. Same's father was named after the prophet Muhammad, as so many Muslim men are, and is now 82 years old.
The very first person Same wanted to reach with the true story of the Nazarene Rabbi and the story of His sacrificial death, was his own aged father. This is why he picked his own father's mosque and the 90 men who were his followers as the starting point for his missionary work. This can be a treacherous way to begin the work of evangelism, and it quickly proved to be just that. As he found a way to begin sharing his own testimony and the incredible story of God's love, it was soon made clear to him that sharing this story was not going to be tolerated. Several of the men grabbed Same and took him into a back room of the mosque and began to beat him. He was told that they would continue to beat him, without mercy, until he repented of his blasphemy against Allah and his prophet, and for becoming an infidel. Two of the men said they should kill Same unless he repented and returned to his Muslim faith. Of course, Same refused to deny Yeshua, so the beatings became more intense and continued for the next three days. When two of the men wanted to kill Same, his father would not let them. He told the men that he knew his son well, and knew if he spent a day with him, he would repent and return to Islamic faith. So, the men backed off and left Muhammad and Same alone.
For the entire next day, Same shared with his father, the aged Muslim sheikh, the story about Jesus. He had memorized much Scripture and so began to share with him all about who Jesus really was. He was not just one of the group of many ancient prophets. He was God in the flesh! He also told his father how the prophet Muhammad was a false prophet and had distorted the entire story of Jesus, including the lie that Jesus had never really died on the cross. He also explained how sin originated and why sin cannot be offset by good works. He explained to the sheikh how the real problem of sin is the fact that it is inbred in the genetics of every single human being that has ever been born since Adam and Eve fell in the Garden of Eden.
About this time, Same's father said he wished he had a Bible to read for himself. Same told him that if he would allow him to step outside, he would retrieve one that he had hidden between some rocks. So, Same went to his hiding place, got the Bible, and brought it to his father. Same then began telling him about the Blood of Jesus and why this Blood was different than any blood in the universe. He talked to him and faith, salvation, eternity, and heaven. At the end of the day, Same's father asked his son to lead him in the sinner's prayer. At the age of 82, this old Muslim leader became a brand new child of the living God by repenting of his sins and declaring Jesus Christ to be his new-found Lord and Master!
The story continues. During these three days when Same was trapped in a back room of Muhammad's mosque, being beaten for his faith in Jesus, it later was revealed that the men who were beating Same could not sleep for the entire three days. Not only were they not able to sleep, but they were having hallucinations; horrid, perverse, demonic creatures appearing before their eyes, causing them great terror. The whole experience helped to bring these men to a place where they not only had to question the true roots of their own religious belief system, but to make the same decision their head-sheikh had made.
As Friday came and Muhammad's mosque filled to participate in Friday prayers and to listen to the weekly teaching, the old sheikh decided it was a good time to share his experiences of the past few days. After sharing his testimony and preaching based on his new beliefs in Jesus Christ and the power of His Blood to forgive man's sins, he invited the men gathered in his mosque to make the same decision he had just made. Out of the 90 men in attendance, 70 decided that they also needed to submit to the Lordship of Jesus, the real Messiah, and were each led in the sinner's prayer! The other 20 men ran out of the mosque and have not been seen. Same and his father, Muhammad, are now praying for these 20 men that they will be brought to the same place of submission to Jesus as the rest of the men. They are also praying that these 70 men will be able to reach their families and friends with the good news.
As I heard Pastor R tell this story to me, I couldn't help but picture Stephen in Acts 7. He was also a young Christian man that was full of the Word of God and the power of the Holy Spirit. In Stephen's case, he was martyred. In Same's case, he was willing to pay the same price for his faith in his Messiah, Jesus. He nearly did. As Pastor R continued with this story, I was also struck with something else. Same said that the entire time he was being beaten, he didn't feel a thing! Now, I know this is not always the case with every believer in the same situation, but I have heard this told many times now as I have continued relating the events in the lives of the HOB missionaries. God has many times intervened supernaturally and relieved those being tortured of the pain! God is good!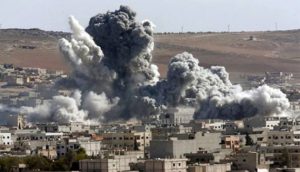 After hearing this story, I thought about the other new graduates of the School of Ministry. Each of these men has had the courage to take on the same task that Same took. Each man is walking directly into the lion's den, or intends to within the next few days. We, as their brethren, really need to hold them before the Lord in prayer! And, as we do, let's put our faith to work and believe the Lord to do amazing things as these men walk out their calling.
Syria, regardless of declared ceasefires and attempts at providing "safety corridors" for people to escape the bombings; regardless of endless negotiations, will not find a peaceful resolution. More war is coming, and this means multitudes of souls will be entering eternity. The HOB missionaries know this and so live for one thing only, that is to reach as many as they can before the door is shut.
The weather is getting colder every day and soon bitter cold will be the problem instead of the stifling heat endured seemingly just weeks ago. Presently, in northern Syria there are about 230 HOB missionaries on the ground. Mufiedah has had 12 newly injured people brought to her for ministry. At the same time, another five of the new believers have lost their lives, along with two more of their children, killed while ministering in a location that was bombed.
The reports coming in to Pastor R also told of the continued ministry of Hafezah and those helping her as they provided communion for over 900 of the believers this past week. Sarah had another 80 attend as she continued to encourage family after family that had lost children or loved ones. Her stories of her glimpse into the realm on the other side of death for those who are in the presence of Jesus provides great hope to a people who have little on this earth to put hope in! This last week, there were about 220 souls reached and brought into the Kingdom of God!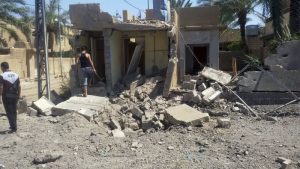 In Fallujah, HOB has about 120 missionaries on the ground. It also continues to be very difficult in this area. Even though most of the ISIS jihadists have been driven out, there are plenty more extremists to go around. The beliefs vary between sects of Islam, and the likelihood of your beliefs being the same as the person questioning you, even if you are a Muslim, is pretty small. The penalty for heresy is death. And, the definition of heresy at the moment is in the hands of the man with the gun or machete. Christians will always be guilty of heresy, and they are all infidels in the eyes of Islam, no matter which brand or sect. This last week, another 18 believers were lost, both men and women, but 150 souls were reached. Praise God!
In Mosul, the work continues in spite of all the fighting and attacks from outside of the city. ISIS has not been driven out of the city yet and so the conditions are very poor. Many are being reached, but the death toll is high with 62 of the newer believers and 18 children killed in the last few days. The losses have been high every single week for months now. In spite of the losses however, the 200+ missionaries on the ground had the opportunity to bring another 300 souls to the feet of Yeshua! Just think; these are 300 that would have spent an eternity lost, but now they are found! This is another 300 that will be part of that great reunion soon in the presence of Jesus, the coming KING.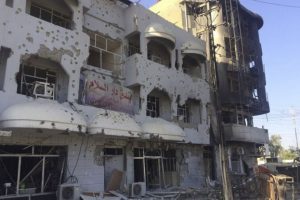 A few days ago, I shared the story of the 37 widows that Akram found in Mosul. These women who had been in the hands of ISIS for the past two years, are now being cared for by the community of believers. As I shared in the last update, Fatima sent a crew of eleven women to help in the care and restoration of these women. This past week however, as Akram and a couple other brothers were ministering in one of the small towns outside of Mosul, some women quietly approached the brothers and asked if they remembered them. As Akram looked more carefully, he finally recognized that these women had also been part of the HOB missionaries in the past. As it turns out, there were a total of seven of these women, and they had also experienced the same fate as the other 37 just freed from ISIS captivity. These women, it appears, had managed to escape their captors but had no place to go. They also had to watch their husbands and children killed at the hands of the jihadists. Akram and the brothers then immediately made arrangements to get the women to the same location where the other 37 women were being cared for. Thank God that these women are now free and in the hands of loving Christian people that will help them through their healing process!
I know there are many who question why God would even allow such terrible things to happen. We can answer this in part because we know that we are living in a fallen world; a world that is quickly coming apart at the seams. Answering all of the questions, however, will be nearly impossible on this side of eternity. There is a line we need to draw, at which we refuse to pass in our thinking process. God is God, and we are not! We only see in part and dare not assume that we understand or see more than we do. We are a small part of a very big puzzle being assembled. I am reminded of what God told Job:
"Shall the one who contends with the Almighty correct Him? He who rebukes God, let him answer it." Then Job answered the LORD and said: "Behold, I am vile; What shall I answer You? I lay my hand over my mouth. Once I have spoken, but I will not answer; Yes, twice, but I will proceed no further." Then the LORD answered Job out of the whirlwind, and said: "Now prepare yourself like a man; I will question you, and you shall answer Me; Would you indeed annul My judgment? Would you condemn Me that you may be justified? Have you an arm like God…?" Job 40:2-9
There is much in this life that is difficult to fully understand. But, for the true Christian, we put our entire faith and trust in the One who spilled His Blood for our freedom. All of our hope is in Him! And, when we are on the other side, it will all make sense!
There is one last thing I would like to share as I finish this update. When Pastor R shared the story of Same with me, he told me that there was a man with him, Ahmed, who had been sent to relate the story about Same and his father to Pastor R.  Pastor R then called me to pass on the story to all the believers praying for HOB. Ahmed spoke some English and so asked me if I would pray a blessing over him as he prepared to travel back from Damascus to the Aleppo area. I prayed as the Spirit gave me the words to pray. I wish I had a way of conveying the feeling I always get when I have a privilege like this! Here I am, praying for a man 10,000 miles away. A man, who is right in the middle of one of the greatest moves of God upon this planet today. And he asks me for prayer?? I always feel like I should be the one being prayed for! It is an honor to pray for these folks. But, the honor extends to every single person that is reading this story! Please take it seriously. They really do depend on our prayers, and our prayers DO WORK! God continues to hear them and continues answering them!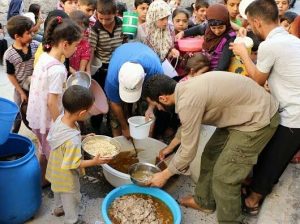 In closing, I want to thank all of you who support the HOB missionaries in prayer and also financially. These missionaries have no salary. They operate totally by faith. The need for more Bibles is always there, as is the need for wheat, medicines, and clothing, etc. HOB puts every dime into purchasing these.
I also want to share that I received an e-mail within minutes of the last update going out telling the story of the 37 widows. A check was sent and designated to helping get these women back on their feet, physically and spiritually. What a blessing it is to receive miracles such as this. God is multiplying everything that comes in, and it is wisely used. Thank you all. If anyone desires to help, send me an e-mail and I'll let you know the quickest and easiest way to do so, no matter where in the world you are located. I pray God's blessing on you all.
In His Continued Service,
Jake Geier
House Of Blessing; 3206 SW 45th Street; Redmond, Oregon USA 97756