As I look over my notes from my last conversation with Pastor R, I once again encourage you not to see the numbers of the newly killed missionaries, as well as the many reached with the gospel of Jesus Christ, as just that…numbers. I pray that these Mideast Updates never become routine reports, just giving an accounting of gains and losses. We must remember that every single loss of a missionary or new believer is the loss of a human being to this world, a person, just like me and you. It is the same with those who have made the decision to make Messiah Jesus the Lord of their lives. What is the value of a soul? That value is something we have no way of calculating. I have included three passages of Scripture speaking to the value of the soul.
And the LORD God formed man of the dust of the ground, and breathed into his nostrils the breath of life; and man became a living being (or soul) Genesis 2:7
For what will it profit a man if he gains the whole world, and loses his own soul? Mark 8:36
Now this I say, brethren, that flesh and blood cannot inherit the kingdom of God; nor does corruption inherit incorruption. Behold, I tell you a mystery: We shall not all sleep, but we shall all be changed–in a moment, in the twinkling of an eye, at the last trumpet. For the trumpet will sound, and the dead will be raised incorruptible, and we shall be changed. For this corruptible must put on incorruption, and this mortal must put on immortality. So when this corruptible has put on incorruption, and this mortal has put on immortality, then shall be brought to pass the saying that is written: "Death is swallowed up in victory. O Death, where is your sting? O Hades, where is your victory?" The sting of death is sin, and the strength of sin is the law, But thanks be to God, who gives us the victory through our Lord Jesus Christ. Therefore, my beloved brethren, be steadfast, immovable, always abounding in the work of the Lord, knowing that your labor is not in vain in the Lord. 1 Corinthians 15: 50-58
This third passage is a great reminder that this life we are going through, is very short. Eternity however, is where we are all heading, either to spend it in the glory of our Creator, as He wishes, or away from His presence. It is our choice, and nothing could be of greater importance. If you have the opportunity to reach even just one person in your lifetime, can you provide a value for that one soul? That soul was worth the price of the Blood of Jesus! This is what these Mideast Updates are all about. Note: the photos below do not necessarily have to do with the narrative. They are just some of the latest photos I have added to my files. They are however accurate and describe the current situations.
The House Of Blessing missionaries continue working around the clock. They sleep very little. People are being killed by the hundreds all around…all going into eternity. This is what drives them. They are living the greatest commandment. Jesus said, "Love the Lord your GOD with all your heart, with all your mind, with all your soul, and with all of your strength. And then, love your neighbor as yourself." Due to the most extreme circumstances they live under, their drive for life can be summarized in four words: just one more soul, before I myself go into eternity!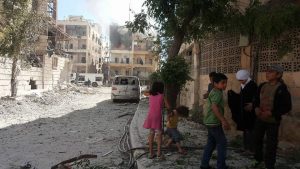 Everything about war is horrific, but one of the more disturbing things is when hospitals or medical clinics are hit. Many have been destroyed during this civil war in Syria. When Pastor R called me, he told me that the hospital he had just been released from had been destroyed as well. He had only been released a couple days earlier. God's timing is of course always perfect. He had been kept long enough to make sure he was truly well on the road toward recovery, but had also been released before the hospital was destroyed. I do have a news article that tells of the destruction of this clinic and thankfully, the people were spared. The facility however was totally destroyed.
In the Aleppo / Idlib and surrounding area, another nine hospitals have been destroyed. At least one of these was a large hospital. The incendiary device used many times acts much like napalm. This is of course against the Geneva convention's rules for war, but how often do the "rules for war" really get followed? Certainly not in the Middle East today.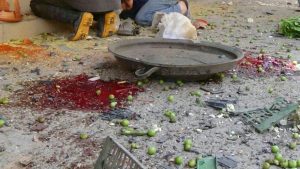 Starvation continues being a huge problem, and it is only getting worse by the day. We must pray that the Lord will supernaturally sustain these missionaries while they try to meet the enormous needs of the people. As I have reported many times, the United Nations is meeting only a small percentage of the need. In this case, it has been over 100 days since any supplies have gotten to this northern area. HOB has done everything possible to keep many alive–at least until the missionaries can share the good news of the Gospel of Jesus to them. Then if they die, at least their eternity is secure in the hands of the One who truly loves them.
Sister Mufiedah was able to minister healing to at least another twenty badly injured people. Each one also chose for Messiah Jesus to become the Lord of their lives. Praise God! Sister Hafezah was also able to share communion with over 600 believers this past week. This is while another 18 of the new converts and two of the HOB missionaries lost their lives.
Sister Sarah, about whom we have shared much, continues with her testimony. At least another 120 people were gathered together to listen to her encourage them with the great love of God. Many of these needed to hear the message God had given her to share. And, more souls were gathered into the Kingdom of God!
I asked Pastor R about the other women who had initially been so blessed by Sarah's story. He had no information about Bassanah but had heard that Sister Raghda is doing very well in ministering to those who have lost young ones in this Syrian civil war. Thank God for His life-changing power and the special assignments He gives to His ministers of mercy!
In the Fallujah area, there are many thousands of refugees. The reports I am receiving say that they are badly lacking in care. They have lost everything and now live in desperate circumstances. In spite of the fact that ISIS has for the most part been removed from the area, Pastor R tells me that there are many other jihadist groups that are no better in their treatment of the innocents. As of this report, another 28 new believers were killed. A great many souls continue being reached however. Praise God! We will have the privilege one of these days very soon to meet every one of these folks, as we all gather in the presence of the One who shed His Blood for us all! What a day that will be!
Sister Fatima has been able to continue with her ministries. One of them of course, is the communion services she has been doing since her husband, Salem, was martyred. Due to the very difficult circumstances these last few days, the numbers are not nearly as large, but yet, between 350-400 have been able to gather to celebrate their freedom from sin and fellowship with God through the Holy Spirit.
In Mosul things continue deteriorating. Things are ramping up more and more each day in preparation to try and break the ISIS stranglehold on this major city. In the meantime, hundreds continue to die every week…often daily. HOB lost another 28 new believers and four of their trained missionaries. It is always a tragedy, but they are now in the hands of the Lord.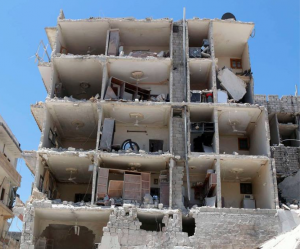 I could share more of the details from each area but will bring this to a close for today. In summary, it has been a hard week, but yet a week to celebrate. Many hundreds of souls have been reached across the Middle East. People continue to find out, through the preaching and teaching of the House of Blessing missionaries, that there is truly one God, who has loved them so much that He provided for their eternal forgiveness through the death, resurrection, and intercession of Jesus Christ, God in the body of a man. There is only one God, and it took the price that only He could pay to set us free. We just need to accept this free gift of salvation and allow Him to become our LORD.
God is good!
In His Service,
Jake Geier 
House of Blessing; 3206 SW 45th Street; Redmond, Oregon USA 97756